RKF's Ariel Schuster Makes Sense of a Changing Retail Landscape
---
---
Fridays are usually casual for Ariel Schuster, a vice chairman of the retail brokerage RKF, but this one was different.
On the day we met, he was wearing a suit and a shirt his five-year-old daughter picked out and drinking an iced-coffee from Starbucks without a straw.
Why no straw?
"For the turtles."
Schuster, who has been in the retail leasing business for 20 years, got his start at the International Council of Shopping Centers in 1999. At the time, Schuster was a college senior with a Wall Street job lined up. But a friend invited him to retail's biggest annual conference, and he was hooked.
Schuster joined RKF in 2000 and has remained with the company since. (RKF was acquired by Newmark Knight Frank in 2018 and is currently operating under its own name.)
Over the years, Schuster has worked with the city's largest landlords and most recognizable tenants. He has represented SL Green Realty, Related Companies and Edward J. Minskoff Equities among many others, and has worked with brands like Nike, CoverGirl, Whole Foods and the Gap family of brands. He is currently working on two large ground-up projects: Acadia Realty Trust's City Point tower in Brooklyn, and Brookfield Properties' Manhattan West development.
Schuster, who has lived in New York since he was ten, resides on the Upper West Side with his wife and daughter.
CO sat down with him to discuss the state of the retail market, just in time for ICSC, his favorite event.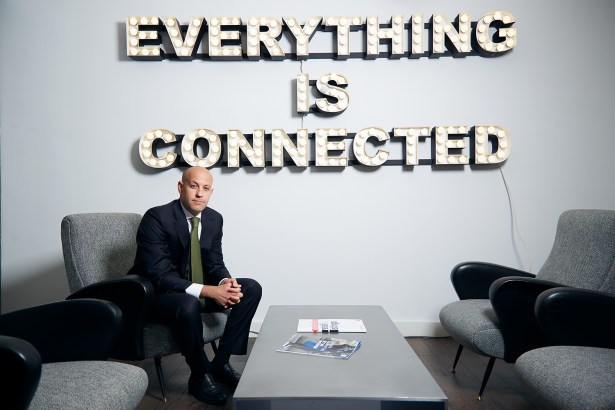 Commercial Observer: Let's start with your background, how you got started in real estate, and how you got to where you are now.
Ariel Schuster: I was introduced to the real estate business through a family friend, during my senior year in college at Tulane. I fell in love with the business and started at a small firm called Lansco, which I think is out of business now. I was there for six months and then I joined RKF in late 2000. RKF back then had just started two years earlier so it was a very small company.
What did you study in college?
I graduated with a degree in marketing and finance so I had visions of working on Wall Street. That was my plan. I had a job lined up on Wall Street, and then immediately fell in love with real estate.
You've been with RKF for close to 20 years. Has your job changed much in that time?
Yeah, I think that the natural evolution of brokers is, in the beginning, it's thousands of cold calls, trying to figure out the landscape. And as you evolve, your career becomes less about cold calling and more about your relationships. And as I grew, I began to grow a team, a team that continues to grow. That's a very big part of my business.
Do you go back to ICSC every year?
Yeah, I love ICSC. For our industry, it's the Super Bowl of the year, so it's very exciting.
What are the deals that you're most proud of?
I'm probably proudest of the Gap and Old Navy global flagship in Times Square. That took many years to put together. Many, many years. They're right in the heart of Times Square and that was a big deal for both companies. I'm also very proud of the fact we did the Nike deal at 650 Fifth Avenue, which is also their global flagship. So I think being in New York, it's an exciting place to work because you get to deal with some high profile deals.
What were the details of the Nike deal?
They had their store on 57th Street, that was the original Niketown for at least 15 years, and they wanted to upgrade their real estate. We represented SL Green Realty and Wharton Properties, the owners of 650 Fifth, and we went to Nike and we were able to convince them that moving to 650 Fifth was an upgrade. They're extremely happy with it. It's a great store and they're doing very well. So, they closed the other one.
That store has an experiential element, right?
Nike is a great example of retailers that are evolving and are becoming more specialized. Like their store they just opened on Melrose in L.A., which is kind of a local store. [The product there is based on data from NikePlus members living in Los Angeles.] The customer is walking in there and it's not just about picking up a pair of shoes, it's about understanding Nike and customizing things.
You know, people say that retail is dead, but the truth is that the smart retailers are integrating technology, understand the customer, and they are making the stores a lot more interesting. Experiential is way overused as a term.
Do you have an alternative term instead?
I never thought about another word, but if I think long and hard, I guess uniqueness is important, because I think the point is to differentiate the experience of going and buying things.
The whole shift between buying online and buying in stores has been very interesting because it's not a linear change. I mean, it's going back and forth between clicks and bricks, between online and offline, and I think the end result is going to be a very integrated process. Stores and online mobile shopping are all very connected already. Stores are going to be designed to accommodate that. And online platforms desire to work together with the store.
We're in a lot of board meetings with retailers and we're hearing how they're thinking about their stores [and] fulfillment centers, and how to service the end user, which is a customer. And as the consumer becomes younger and younger, how they view shopping is changing. It's an exciting time to be in retail.
Does being both online and offline change what brands need in terms of space?
It absolutely does, because you're seeing retailers thinking differently about inventory. You don't have to have as much inventory and therefore stores can be smaller. Bonobos is one of the leaders of initially having no inventory at the store, where you could not [go in] and take away an item. They've since evolved, like everybody, and now they have some product. I think the trend will continue. Retailers are looking to figure out the right way to have all their goods presented but not have oversized stores.
We were joking in the office that every retailer who wants to be "experiential" just adds a coffee shop. First of all, there are enough coffee shops in New York City. And if it's not related to their business then it's not really adding anything to the buying experience. So, what are other ways that retailers are getting it wrong?
You know, the whole Instagrammable retail space pop-up thing, I think, just doesn't make sense. That to me seems over the top. There's no barrier to entry, somebody across the street can do the same thing. There's nothing unique, or lasting about it.
I mean, Instagram has a huge role in this world. The fact that you can buy on Instagram, it's also changed the world.
Going back to my team, I think a very important reason that I've been successful is that my team is very diverse in terms of age. We have weekly meetings where people present with different topics. Recently, we had one of the younger brokers present about Instagram and how she uses it to really understand trends and brands. And, for me, that was very interesting to learn, because that's how people are finding out about brands, on the Business of Fashion or Women's Wear Daily [accounts]. It's not necessarily about following the Kardashians, but following creative directors and what they're doing. So it's evolving.
What other trends are you seeing in retail as it evolves?
The biggest trend, I think, is the direct-to-consumer, which is brands, large and small, striving to get their product to the consumer directly. That eliminates cost throughout the process. When I say small to big, it can be anybody. We did a deal for Coty for their first ever store for CoverGirl in Times Square. And Coty's a huge conglomerate themselves, has a huge wholesale business, and it was very important for them to get their product and their messaging directly to the consumer. So they took the entire building in Times Square.
And then, on the flip side, there are these small—literally—startups, and there's thousands of them that are coming up with products [like] Warby Parker and Allbirds and Casper. We're really focused on those brands because they seem to be the ones that are growing. And they're disrupting. There's going to be a lot of failures among that group, but there's a lot of successes already. And so that's a trend of really having stores that are focused on one specific brand, and they're the ones who really are fueling the expansion.
You work with both landlords and retailers. How has the relationship between them changed as the retail landscape has changed?
I've thought about that a lot. It used to be a much simpler process. You rent space [and then] 15 years later, you get the keys back or renew. Now it's a lot more partnership. There are certain clauses that are a lot more important—percentage rent is becoming more of a trend, [as is] flexible term [and] optionality with the term.
From a landlord's perspective, they care a lot more now than they did in the past about who the tenant is, beyond just the financials. Where's their business going? Will they be relevant in five to 10 years? Do we want to partner with them?
Tenants are looking for landlords who do care about co-tenancy and are going to put in tenants that are going to help them out. So our retailers are a lot more careful of who they're negotiating with now, and the landlords are lot more curious about our views are on these retailers.
Which is why it's very important for us to be global and to understand trends and see how tenants are doing in L.A. and San Fran or Paris because we need to be—we really are consulting for our landlords about the viability of a business beyond just their financials.
What does a typical day look like for you?
The fun thing about this business is every day is very, very different. So there are definitely days where I'm in the office, and days that I'm not in the office at all; I don't even come to the office because I'm running from meeting to meeting to meeting. For me, since joining Newmark, there has been a lot more traveling, which is exciting for me. I was in L.A. twice, Chicago, Boston, Seattle, London. I try to limit those trips, because I feel bad because of family. Typically, I'm out three nights a week with clients. And the days vary drastically.
In such a busy world, how do you disconnect?
That's a fantastic question. It's a challenge in this age. It's a big topic in our household, because I do tend to work all the time. I don't see my family as much as I want to. So, it's family—I love to travel with them—sports and cooking. I think it's really not what I do to disconnect, it's that the phone has to be off completely. This thing is constantly on. The key is to disconnect from this. [Points at phone.]
I follow how many times I pick it up and I realized I just picked it up to figure it out. But I'm very cognizant of this phone and its impact on society because it's not good for us long term. It doesn't allow for being in the moment, for intuitions. The biggest issue is that by being constantly interrupted by it, you're unable to have thoughts or assertions fully thought out.
And to bring it back to real estate, everything is faster. Consumers need things faster, conversations are faster. So I think that impacts how retailers are looking at things. I mean, Amazon's changed the way people expect things.
How has the transition been since you've been acquired by Newmark?
Great. It's great because for us, you know, we've been at this for 20 years and my mind is always wandering. What's new? What can we do differently? RKF was and is a great company, but it was only retail. And so now, the ability for us to be involved in other things is really exciting. Me, personally, I've been very entrepreneurial about leveraging that, whether that's fulfillment, office, understanding financing better, [or] the hotel group they have, which is fantastic. I think for people who are open minded and curious, it's a great opportunity.