NYC Retail Panel: 'It's a Little Bloody Out There'
---
---
Asking and taking rents at Manhattan's high street retail districts continue to drop while vacancies continue to rise and tenants keep asking for more and more concessions before leasing stores.
"It's a little bit bloody out there," Jared Epstein, a vice president and principal at Aurora Capital Associates, said during Commercial Observer's third annual Retail Forum on Wednesday.
Despite numbers Cushman & Wakefield (CWK)'s Richard Persichetti gave during his opening remarks show 20 percent differences between asking rents and taking rents in some Manhattan neighborhood last year, panelists said there's still a lot of bright spots in the market.
"It's not quite all gloomy and doomy," said Christopher Conlon, the COO of Arcadia Realty Trust. "We need to be more creative and we need to be more thoughtful as to how we look at this."
Conlon added that while things look dire around Soho—which Persichetti said has rents "dropping on almost a daily basis"—he's seen the side streets have healthy leasing activity.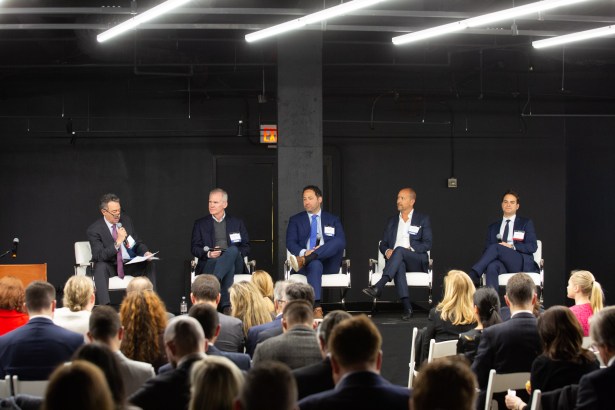 Another market that has fared well in recent years is the Meatpacking District, which had its availability rate drop in the past year, Persichetti said. Aurora is one of the most active developers in the neighborhood and Epstein has been able to ink deals with Hermès to open at 46 Gansevoort Street and Restoration Hardware to launch a massive 90,000-square-foot outpost at 9 Ninth Avenue.
It also has legendary West Village French restaurant Pastis geared up to reopen at 52 Gansevoort Street on May 29, Epstein said.
In his opening remarks, C&W's Persichetti said the retail market has been moving towards more experiential-driven experiences to drive customers into the doors while shorter, one to three-year leases, have become more prevalent.
Panelists said the shorter leases aren't necessarily a bad thing for owners and retailers since it gives them a chance to move on from a storefront that has gotten stale for consumers.
"After three, four years people are getting bored already," said Joshua Strauss, an executive managing director at Newmark (NMRK) RKF.
The first panel, moderated by Fried Frank's chairman of the real estate division Jonathan Mechanic, also included Crown Acquisitions' principal Richard Chera.
During the second panel, moderated by Zetlin & De Chiara senior partner Michael Zeltin, landlords reported focusing on having a wide variety of retail uses in their projects, like the five-floor Shops and Restaurants at Hudson Yards which opened in March.
"Our approach at Hudson Yards was to have a very inclusive tenant mix," said R. Webber Hudson, an executive vice president at Related's mixed-use division Related Urban, who expects Hudson Yards to hit its three millionth visitor this weekend. "To go literally from A to Z. From Cartier on the luxury end all the way to Zara."
Related has also focused on leasing space to "digitally native or digitally first" companies, like underwear brand Mack Weldon, looking to open their first brick-and-mortar location, said Hudson. Nearly 30 percent of Hudson Yards' retail space was set aside for those brands.
Landlords have focused more on placemaking in recent years with Dave Orowitz, a managing director at L&L Holding Company, adding the developer has gotten rid of banks in some of its buildings to bring in retailers the neighborhood needs more of.
"You move [banks] out for potentially a lower rent tenant and that we thought would elevate the office space [above]," Orowitz said. "We're not exclusively focusing on [retail] as the income generator. We're also thinking about placemaking and what the tenants in the building want."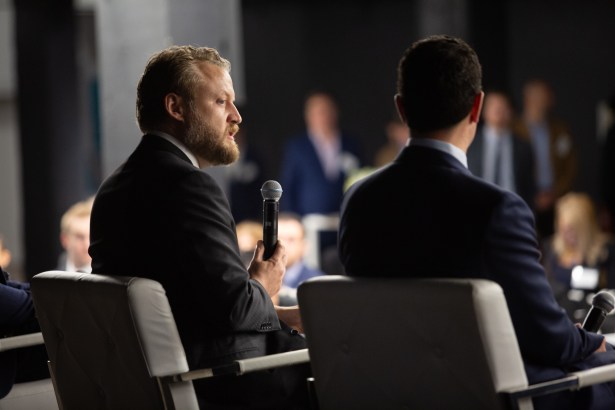 Other speakers on the second panel included Michael Goldban, the head of retail leasing at Brookfield (BN) Properties, Dan Weinhold, a co-head of retail investments at Fifth Wall Ventures, and Michael O'Neill, an executive managing director at C&W.
But even as successful retailers have more bargaining power to ask for tenant improvements without reimbursements because of the lagging market, there's only so far tenants can push.
"If you want quality real estate, you're still going to have to pay for it," said Eldon Scott, the president of food hall chain Urbanspace. "And that's why we don't have more units open."
Retailers on the last panel said they have been using more data and track consumer spending habits to make sure a neighborhood is right to open a new outpost. Brent Paulsen, the head of retail for clothing brand Untuckit, said when the company was planning on making the jump offline it looked to where it shipped out the most shirts and targeted there.
"We know where they live because of shipping and selling product to them," he said. "We know where the density exists. And then we go into target those larger markets."
And they have to constantly keep an eye out on customers habits once in the doors. Equinox left its lounges inside the gyms as almost an afterthought until it saw many members were bringing their laptops to do work at them, said Danielle Larsen, the vice president of real estate and acquisitions for fitness chain Equinox. Now that use is on the front of the brand's mind when building out new spaces or renovating existing ones.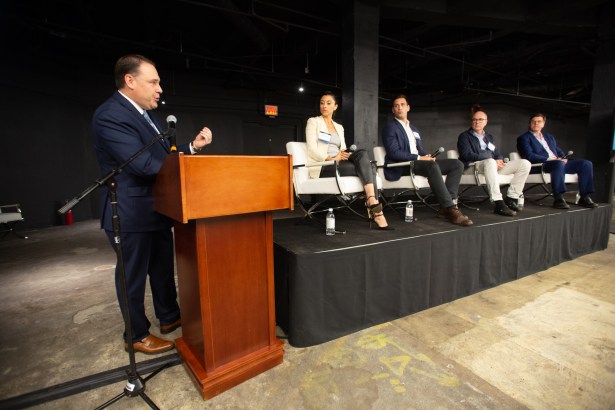 "We basically planted the right [food and beverage] that our members want and also the right seating to get people to stay longer," Larsen said. "That actually is becoming more and more important in our strategy going forward."
Paulsen, Larsen and Scott were joined by Bluestone Lane's vice president of real estate and development Joseph Pantano on the final panel of the day moderated by Matthew Schimenti, the president of Schimenti Construction.

52 Gansevoort Street
,
Arcadia Realty Trust
,
Aurora Capital Associates
,
Bluestone Lane
,
Brent Paulsen
,
Christopher Conlon
,
Crown Acquisitions
,
Dan Wenhold
,
Danielle Larsen
,
Dave Orowitz
,
Eldon Scott
,
Hermes
,
jared epstein
,
Jonathan Mechanic
,
Joseph Pantano
,
Joshua Strauss
,
Matthew Schimenti
,
Michael Goldban
,
Michael O'Neill
,
Michael Zetlin
,
Pastis
,
R. Webber Hudson
,
Related Urban
,
Restoration Hardware
,
Richard Chera
,
Richard Persichetti
,
Schimenti Construction
,
Untuckit
,
UrbanSpace
,
Zetlin & De Chiara
,
Brookfield
,
Cushman & Wakefield
,
Equinox
,
Fifth Wall
,
Fried Frank
,
L&L Holding Company
,
Newmark