Goldman Sachs, Barclays Deliver $650M CMBS Refi on Hawaii Four Seasons Resort
---
---
Goldman Sachs and Barclays have combined to provide a $650 million financing package backed by a Four Seasons Resort Maui at Wailea on the Hawaiian island of Maui, according to rating agency reports released yesterday.
Goldman provided $487.5 million in the deal, while Barclays contributed $162.5 million. The sponsor is an entity under the name 3900 WA Associates and operates as Four Seasons Hotels Limited.
The two-year first-mortgage loan includes five one-year extension options and includes interest-only payments with a rate at 203 basis points (bps) over Libor, or 5.03 percent. Should the loan be extended a fourth time, the interest rate is subject to an increase of 25 bps.
 Proceeds took out roughly $602.6 million in existing debt, returned nearly $36.2 million in equity, covered $10.7 million in closing costs and paid off $486,742 in stub interest, according to a report from Morningstar Credit Ratings.
The loan—securitized in the Hawaii Hotel Trust 2019-MAUI single-asset single-borrower commercial mortgage-backed securities transaction—is secured by the fee-simple interest in the 383-key five-star resort, which is at 3900 Wailea Alanui Drive in the town of Wailea, Hawaii.
In Morningstar's underwriting, it listed the resort's occupancy at 84 percent, with an average daily room rate of $1,010 and a $848.40 RevPAR (revenue per available room).
The rating agency's appraised value of the property contrasted significantly with that of the arranger's underwriting—nearly $678 million versus $963 million, respectively—although the agency's listed cap rate of 7 percent was higher than that of its counterpart's 5.02 percent figure. Based on its underwritten value, the loan-to-value ratio is almost 96 percent.
Morningstar has a positive view of the loan, given its outlook that the resort's net cash flow is "sustainable in the near term, based on [its] quality, location and the capital improvements invested over the past few years."
The sponsor acquired the asset in 2004 and has invested around $161.0 million—$420,400 per key—in capital improvements. The last renovation, a $56.8 million campaign, took place in 2015 and 2016; about $45.9 million was injected to upgrade the guest rooms.
After the most recent upgrades, occupancy increased to 86.8 percent from 84.9 percent, and RevPAR climbed 14.2 percent in 2017, compared with 2014, before the renovation efforts started.
"The value-add renovation and constant upkeep of the resort [is] a key element to sustain and enhance the hotel's performance because [of] luxury resort guests' typical demand for new, high-quality and exceptional guest rooms and amenities, especially given the leisure nature and the location of the property in Hawaii," read Morningstar's report.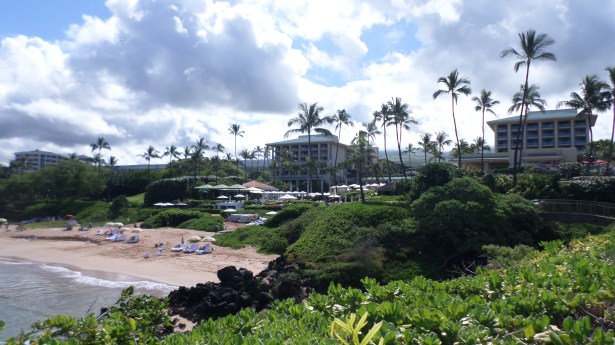 Although the resort's occupancy dropped slightly from March 2018 to March 2019 due to seasonal weather concerns and a rise in room rates, Morningstar said it believes the hotel "will continue to be one of the top-performing hotels worldwide."
The resort, which opened in 1990, is owned fee simple and the land is valued at $127.0 million, approximately 19.5 percent of the loan amount.
According to the Morningstar report, Maui is "an extremely supply-constrained market with significant barriers to entry, including a lack of available land zoned for resorts and an arduous entitlement process, which limit the opportunities for new hotel construction."
The hotel sits on a 16.2-acre oceanfront site, behind Wailea Beach, one of Hawaii's most popular beaches, and includes roughly 38,000 square feet of flexible meeting space including a  6,930-square-foot ballroom. Guests can get preferred access to the nearby 54-hole Wailea Golf Club, and other amenities include a 13-room treatment spa, a fitness facility, three outdoor pools, tennis courts, a game room and a range of luxury dining options.