Power Designers: The Most Powerful Eyes in the Business
---
---
Architecture sometimes feels like a winner-take-all game. Starchitects typically attract all the press, but it's often firms that fly below the radar who end up being the ones dramatically reshaping the five boroughs.
When Commercial Observer went to choose five firms to include in our Power Designers feature, we wanted to include companies that are working on big, transformative projects, but don't get featured as often as they should. We also tried to avoid firms that were on our previous iteration of the list, which was last published in 2017, as well as the more obvious, well-traveled starchitects like Bjarke Ingels and Norman Foster. So here, in no particular order, are our power design firms of 2019.—Rebecca Baird-Remba
Skidmore, Owings & Merrill
Since its founding 83 years ago, Skidmore, Owings & Merrill has been known for planning and designing some of New York City's largest projects. It seems natural, then, that SOM would be involved in three iconic developments on the Far West Side. First is Hudson Yards, the megaproject that has consumed the news in New York City for the past month. SOM's David Childs, who is known for designing 1 World Trade Center, created a stepped, angular mixed-use tower known as 35 Hudson Yards, which will include a 212-room Equinox-branded hotel, an Equinox health club, restaurants and 153 condominium apartments when it's complete later this year. Across the street from Related Companies' seemingly never-ending development is Brookfield's Manhattan West, where SOM is overseeing two 2-million-square-foot office towers, a residential building with 844 units, 225,000 square feet of retail and a hotel. The north office tower is almost complete, and work is starting on the south tower.
But SOM's most complex project in the neighborhood is Moynihan Train Hall, which involves converting the former Farley Post Office building across from Pennsylvania Station into a skylight-covered waiting hall for train passengers, retail and office space. The first phase of the project, a new entrance, opened in 2017, but the remainder of the train hall is expected to be complete in 2020.
On the opposite side of Manhattan, in the East River, SOM also oversaw the master plan for Cornell Tech's campus on Roosevelt Island, which includes academic buildings, a combination office and academic property, and a 26-story, 350-unit dorm designed to passive-house standards.
In the Financial District, the firm has helped Fosun revamp the midcentury office tower at 28 Liberty Street, which was originally designed by SOM's Gordon Bunshaft in 1961. The $150 million renovation has added a yet-to-open a new food and entertainment venue, an Alamo Drafthouse cinema, and Danny Meyer's Manahatta restaurant.
"When everyone thinks about [the revival of] Lower Manhattan, they think about the change at the World Trade Center," said SOM Principal T.J. Gottesdeiner. "Now east of Broadway can become a hub that's much needed over there."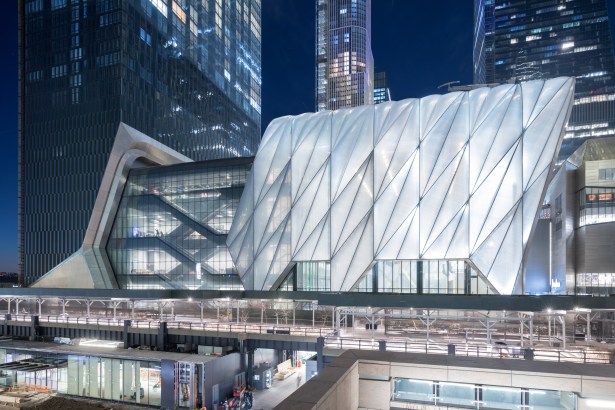 Diller Scofidio + Renfro
Elizabeth Diller and her 38-year-old firm Diller Scofidio + Renfro got their start doing installation art in the 1980s and 1990s. For the first two decades of its existence, Diller and her co-founder, Ricardo Scofidio, barely designed any buildings at all.
"I never thought I was going to be an architect in the conventional sense," the 64-year-old Diller told the Guardian in 2017.
But DS+R has come a long way over the last decade, racking up a slew of high-profile artistic projects in New York, Los Angeles and London.
The Chelsea-based firm made its bones in New York City by teaming up with FXFowle on the renovation and expansion of Julliard School's campus and Lincoln Center's Alice Tully Hall, both of which were completed in 2009. It also revamped the High Line, with help from James Corner Field Operations, and saw the multiyear project through to its final phase, which opened in 2014. At $35 million, the last four-block stretch of the park cost more per acre than nearly any New York City park before or since its opening.
This year will see four major projects from DS+R open. It worked on two buildings at Hudson Yards that opened in the past month—an 88-story, clover-shaped condominium tower with 253 apartments known as 15 Hudson Yards, and an eight-story, 200,000-square-foot performing arts venue with a retractable roof called The Shed. There's also the long-planned expansion of the Museum of Modern Art on West 53rd Street, which will include 40,000 square feet of new galleries when it opens this October. The controversial plan involves moving part of the museum into the first three floors of a supertall, Jean Nouvel-designed condo building at 53 West 53rd Street, as well as constructing a new building at 45 West 53rd Street that preserved the facade of the site's former occupant, the now-demolished American Folk Art Museum. Finally, DS+R is finishing up the $317 million London Centre for Music, a 2,000-seat concert hall and office building wrapped in translucent glass.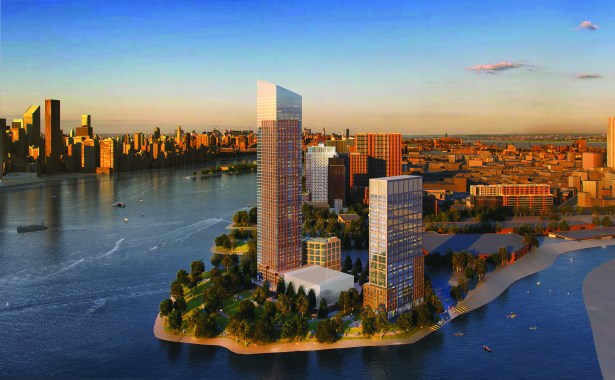 Handel Architects
With 24 years under its belt in New York City, Handel Architects has become a prolific and distinctive designer of residential properties throughout the five boroughs. The 180-person firm made a splash in 2016 with the completion of a 15-story, angular concrete and glass residential building next to the Cathedral of St. John the Divine in Morningside Heights, for the Brodsky Organization. The year before, the firm created a similarly unique residential tower at 170 Amsterdam Avenue on the Upper West Side, designing a 20-story glass residential building sheathed in a boxy, white concrete exoskeleton.
These days it's working on slightly more conventional projects, like a 710-foot-tall, curved glass rental skyscraper in Long Island City for the Durst Organization called the Sven, which will incorporate a landmarked clock tower building next door, repurposed as commercial space. Elsewhere in the neighborhood, Handel is overseeing the design and planning of Hunter's Point South, which will bring 1,100 apartments to the last undeveloped swath of land at Hunter's Point along the East River. 
The firm also helped master plan and design Greenpoint Landing, a multi-building residential complex developed by Park Tower Group, L+M Development Partners and Brookfield Properties on the Greenpoint waterfront in Brooklyn. Over the past two years, it has overseen work on three red brick, glass and black metal residential buildings there—the six-story, 93-unit 7 Bell Slip, the 30-story, 349-unit One Blue Slip and the 98-unit affordable building at 33 Eagle Street. It also just opened a waterfront park, which the firm's founder and managing partner, Gary Handel, touted as "the reclamation of New York's industrial waterfront and opening it up to the public."
And while many of Handel's projects are luxury residential, it occasionally handles interesting affordable developments. For example, Jonathan Rose Associates, L+M and Acacia Network hired Handel to design Sendero Verde, a 698-unit passive-house affordable residential complex planned for East 111th Street and Park Avenue in East Harlem that will incorporate community gardens, retail and community space. Downtown at Essex Crossing, another massive mixed-use project led by L+M, Handel recently finished the Essex, a 20-story residential tower and five-story commercial podium clad in folded gold metal panels. The setback apartment building has 195 apartments, half of which rent for below-market rates.  
It's also gotten into the senior living game on the Upper East Side. With Handel's help, Maplewood Senior Living is developing a 215-unit, 23-story assisted living tower at Second Avenue and East 93rd Street that incorporates extensive landscaping, balconies, floor-to-ceiling windows and a 16th-floor lounge and outdoor space known as the "Sky Park."
"A number of senior housing projects that we're working on are trying to reinvent that building type, to create offerings that are much more humane and much more upscale," Handel explained. He called Inspir "the best of a hospitality offering with the requirements [necessary] for an aging population."
Dattner Architects
Dattner Architects has its hands in every type of New York City project, whether it's sanitation garages, police stations, high-rise residential buildings or affordable housing. Right now, the 110-person firm is working on two passive-house affordable residential buildings, which will help model the concepts of energy efficiency and green construction in low-income housing. The passive-house standard involves developing a building that produces as much energy as it consumes, typically by incorporating solar panels, green roofs, ultra-efficient heating and cooling systems and an air-tight exterior.
"We really think this is the way to build," said Kirsten Sibilia, a managing principal at Dattner. "Everything is driving us toward it. You're almost eliminating any of the heating load in the building by having a well-insulated [facade] envelope."
In the Mott Haven section of the South Bronx, it hopes to begin construction this summer on a 26-story, 277-unit passive-house project at 425 Grand Concourse, which will offer units for low- and moderate-income families. In East New York, Brooklyn, Dattner is designing a second passive-house development called Chestnut Commons, which will have 275 apartments for low-income and formerly homeless people. The mixed-use project will also hold a satellite campus for City University of New York's Kingsborough College, a food manufacturing incubator, a credit union and a rooftop vegetable garden.
The firm's other residential work encompasses master planning efforts, like overseeing Durst Organization's Hallets Point megaproject on the Astoria, Queens, waterfront and designing the development's first residential tower, 10 Hallets Point. It also recently finished Caesura, a 40-percent affordable Downtown Brooklyn building with 123 units, 34 of which are micro apartments no larger than 384 square feet.  
Thanks to a long-running contract with the Department of Design and Construction, the Garment District-based firm has designed unique buildings for the Department of Sanitation, the School Construction Authority, the public library system and New York Police Department. The firm's municipal work includes the iconic Spring Street Salt Shed at the corner of West and Canal Streets, the Hudson Yards 7 train station, and a new station house planned for the 116th Precinct at the eastern edge of Queens in Rosedale.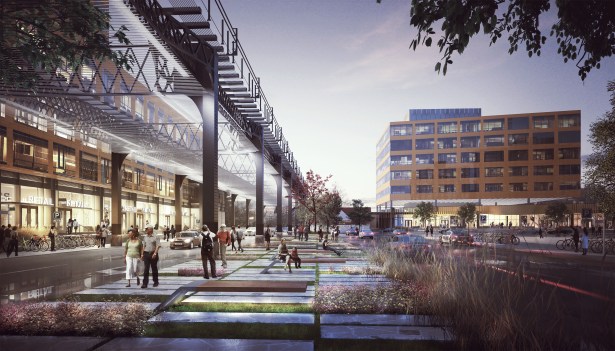 S9 Architecture
S9 Architecture began seven years ago as an affiliate of Perkins Eastman, a massive, established architecture firm that employs 820 people across 13 different offices around the globe. Since co-Founders Navid Maqami and John Clifford bought out Perkins Eastman's stake in their firm in 2015, the 82-person outfit at S9 has taken on increasingly interesting and large projects, particularly in Brooklyn.
Their credits include the conversion and renovation of abandoned tobacco warehouses on the waterfront in Dumbo into Empire Stores, a 450,000-square-foot office and retail complex that meshes with Brooklyn Bridge Park next door. The company is also responsible for the design of Dock 72, a 675,000-square-foot, stepped office building anchored by a WeWork in the Brooklyn Navy Yard. The Boston Properties and Rudin Management project is expected to wrap this summer. And it's overseeing the redevelopment of several other buildings at the Navy Yard, like the conversion of a warehouse into office space at Building 127 and the construction of a new Wegman's along with other retail and industrial space on Admiral's Row.
Moving south, S9 is the master planner and architect for Industry City, the 6-million-square-foot industrial, office and retail campus in Sunset Park, Brooklyn. Majority owner Jamestown even tapped the firm to work on Industry City's thorny rezoning, which would add more than 3 million square feet of academic facilities, light industrial space and hotels to the sprawling 1910s warehouse complex. Clifford argued that the rezoning was important because "now people work closer to 24-7 and they need all kinds of services. If you have a business district that employs 20,000 people, you're going to need lodging [hotels]." He added that a lot of industrial users would leave New York City if Industry City couldn't house them and allow them to expand.
The firm is also at work on one of South Brooklyn's largest mixed-use projects—a sprawling retail, office and residential development in Coney Island known as Neptune/Sixth. It finished the seven-story, 161,000-square-foot retail and office portion of the project last year and is working on another 70,000 square feet of retail now. Eventually, the site at 626 Sheepshead Bay Road will hold a 40-story, 575-unit residential tower.
On the purely residential end of things, the firm has two notable projects under construction, both in Hudson Square. Madigan Development is putting up a wavy, gridded 100-unit rental tower at 111 Varick Street, and Toll Brothers is developing a 161-unit condominium building at 77 Charlton Street.