Co-Living Large: Inside the Growing Co-Living Sector
The young sector is growing faster than ever and drawing more investment than ever, but does it have a built-in bug?
---
---
Quarters, which bills itself as the largest co-living company in the United States and Europe today, launched from a new spin on an old business model: the company town.
Just as firms of yore used to provide housing for workers to lease or buy into—think Hershey, Penn., synonymous with the chocolatier—Quarters grew out of a technology company in Berlin wanting to draw and retain talent in the German capital.
Gunther Schmidt was a co-founder and the managing director of that Goldman Sachs-backed company, eKomi, which facilitates transaction-based product reviews. Schmidt recalled that drawing talent to Berlin was difficult because of the tight, expensive housing market and the usual difficulties in relocating to a new city from within Germany (and outside of it.) 
The solution? In 2011, his company outfitted and leased a co-living space for single employees. It provided not only a ready-made social scene, but covered necessities such as furniture and utilities. 
"On the one hand, you can land the job of your dreams," Schmidt explained of the reasoning behind it. "And, on the other hand, everything else is already taken care of." This drew people from inside Germany and internationally.
The co-living space's popularity for eKomi employees led Schmidt and his partners to launch the Medici Living Group, which provides co-living for professionals and students, the following year. From that grew Quarters, the Medici Group's co-living wing for professionals. (There is a Medici Living division for students as well.) Quarters currently has three domestic locations—two in New York City with 72 units total and one in Chicago with 75—as well as locations in various European cities. Rents in Chicago start at $1,079 a month, in New York at $1,549.
Quarters announced in January that it is planning a massive expansion behind a $300 million investment from Quarters' parent company, Medici, and the W5 Group family office of billionaire real estate investor Ralph Winter.
Over the next three years, Quarters says that it will create 1,300 new co-living units in markets such as Washington, D.C., San Francisco, Los Angeles, New York, Chicago, Boston and Miami through retrofits or new construction via leases or purchases. The first of this wave in New York City will be in Brooklyn's Bedford-Stuyvesant neighborhood, and it will join locations in the East Village and on the Lower East Side. 
Quarters is one of a handful of co-living companies to either expand or announce an expansion in the U.S. since the start of 2018. Offering tenants a bevy of amenities to augment their small units or bed-shares (a room in a shared apartment), all appear to be bidding to become—in the words of a Quarters press release—"the WeWork of co-living in 2019." The expansions, though, come with a risk that would be familiar to that coworking giant. 
Meeting demand 
Manhattan-based developer Property Markets Group (PMG) announced in the fall that its X Social Communities—which considers itself a multifamily housing division—has some 10,000 co-living units planned nationwide. Like Quarters' plans, PMG said its own were due to a major investment: $300 million from the parent company itself and Manhattan-based private equity firm Raven Capital Management.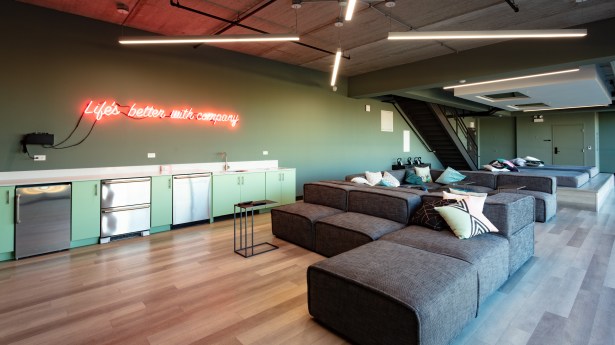 Other co-living concerns—like Ollie, Bungalow, the Collective and Common—have raised tens of millions in investments during the past year or so. The Collective, a London-based operation, has probably raked in the most; in March 2018, its founder, Reza Merchant, told Forbes the company had raised $420 million, including from an early backer of apartment-sharing giant Airbnb, to expand by 4,500 units.
The Collective currently has 7,500 units either operating or under development, and in March announced it had acquired the Paper Factory Hotel in Long Island City, Queens. It paid a reported $58 million and plans to spend millions more converting it into the company's first New York location, where guests will be able to stay up to 29 days. It is currently slated to relaunch in 2020, and is open through renovations.
And, as for the WeWork that all of these co-living companies wish to emulate, its co-living division is itself expanding. 
WeLive is partnering with developer Martin Selig Real Estate on a 36-story mixed-use development in Seattle. WeLive will occupy 23 of the floors, which will also come with access to WeWork facilities at the same site. The WeLive portion is supposed to open in spring 2020 and will join WeLive's other two locations in Lower Manhattan and Crystal City, Va., just outside of Washington.
Both of these existing locations—each with 200 units—are "nearly at capacity," according to a spokeswoman. Other co-living companies report similarly high occupancy rates, including a Collective site in London at 100 percent occupancy and three locations in the D.C. area run by co-living company Ditto, which is planning a fourth site in the region.
What is driving the expansion? It is due almost entirely to the real estate costs in the cities where these co-living providers are pursuing expansion. Schmidt of Quarters estimates that his units cost tenants in total 10 to 20 percent less than comparably sized studios "in a time when real estate prices are rising in all the major cities around the globe." 
Fully furnished, studios at WeLive's 110 Wall Street start at $3,175 a month, for instance. That total also includes high-speed internet, electricity and other utilities, flat-screen TVs, as well as access to a range of on-site amenities, including free cooking classes and happy hours, a fitness studio and on-site laundry facility. 
The median rent for a conventional studio in Manhattan as of January—one without the furnishings, the linens, the utilities, the amenities—was $2,600, according to appraiser Miller Samuel. The terms of a co-living agreement can also be more flexible than those of a conventional lease. Most co-living companies offer shorter-term stays—as little as a few nights or a handful of months. 
Hotel Alternatives, a trade group for investors and operators of non-hotel hospitality assets, put it this way in a February 2018 report: co-living is not just with the current pricey real estate markets of many major cities, but with how cities themselves will function in the future. People will choose functionality above all, a place to crash over a place to own. 
The "private sector has spotted a gap in the market with co-living," the report says, "aimed at enticing young professionals with a sociable environment and lifestyle offering (such as access to games rooms, community events, cinema, sauna and spa), all with a hassle-free system of paying just one bill."
So long as real estate costs remain high in major cities, backers of the expanding co-living universe see it as virtually indestructible—or at least as sturdy as the coworking model that it followed. 
"Co-living provides a much more affordable price to get into a Class A asset without sacrificing location and amenities and so forth," said Ryan Shear, a principal of PMG's X Social Communities, which develops its own co-living communities from the ground up. "It opens up the market to a large group that otherwise couldn't afford to live in an otherwise typical multifamily building. That's the long and the short of it." 
Reward and risk
Brothers Chris and Andrew Bledsoe started Manhattan-based Ollie in 2012. The kernel of the idea sprouted six years earlier, though, when Andrew Bledsoe moved to New York City and converted his 755-square-foot one-bedroom apartment's living room into two extra rooms.
"He put the spare bedrooms on to Craigslist," his brother explained. "He got 90 responses in two days' time." 
To the Bledsoes, that showed that there was demand for certain housing product at certain price points—the two rooms went for $1,400 a month each in the mid-2000s—but not necessarily the supply of it. That led to Ollie to a general bullishness on the part of the brothers regarding the co-living industry. 
Chris Bledsoe said they also gained confidence from the performance of Ollie's space at the Alta LIC, a 46-story apartment tower that Manhattan-based Simon Barrow Development built and that opened in Queens' Long Island City in 2018. Floors two through 16 are Ollie co-living units with 169 apartments and 422 beds total. The rest are conventional apartments. 
Alta LIC's co-living units earn an average of 44 percent more income in rent per square foot than the conventional units, according to Chris Bledsoe. The net operating income from the co-living spaces is also 30 percent higher per foot, he said—even with the cost of the co-living amenities and perks. 
Such returns have Ollie planning six new sites nationwide, with as many as 74 more in the pipeline. The company is also for the first time drawing serious interest from institutional investors, Chris Bledsoe said.
These returns also have co-living developers and operators confident that their developments could survive—even thrive—during a housing downturn. A similar thinking holds for coworking companies such as WeWork. Rather than a downturn costing those companies tenants as firms shed jobs and entrepreneurs retreat, coworking companies might be in the best position to benefit from the anxiety. 
Or so the thinking goes. A CB Insights report from late 2017 cited coworking company Regus' "strong performance in 2009," following the last economic crash. That performance "suggests that coworking spaces actually perform well during economic downturns, as firms tend to be wary of making large overhead commitments and thus prefer short-term leases."
Might a crash keep individuals, like firms, from wanting to make any big, long-term changes—and instead stay put in their tricked-out co-living spots? Yes, say co-living companies, so long as prices in their host cities don't drop too far. If that happens, there could be exoduses to cheaper conventional spaces and difficulty in attracting new co-living residents. 
"We're not inelastic, but it's more recession-proof than a typical multi," said Shear of PMG's X Social. "Our biggest competitive advantage is not the coworking [on site] or the bar downstairs, it's price. In almost every single market we operate, we are the most affordable entry point for a Class A asset."
Update: After publication Gunther Schmidt revised his initial estimate of the cost of Quarters units from 20 to 30 percent to that of comparable units to 10 to 20 percent.
Bungalow
,
Chris Bledsoe
,
Common
,
eKomi
,
Gunther Schmidt
,
Medici Living Group
,
Ollie
,
Property Markets Group
,
Quarters
,
Ryan Shear
,
the Collective
,
X Social Communities