Presented By: Edge Fund Advisors
A Midtown Oasis: A $40 MM Renovation Makes 1540 Broadway the Ultimate Office Experience
---
---
Designed by the award-winning architecture firm Skidmore, Owings & Merrill, the 44-story, Class-A office building at 1540 Broadway, with its entrance on West 45th Street (between Sixth Avenue and Broadway), has been at or close to capacity since serving as the headquarters for Bertelsmann AG upon opening in 1990.
Now, a significant block of space is about to become available for the first time in over a decade. Floors 18-24, totaling over 190,000 square feet, are available immediately. Another 278,000 square feet, encompassing floors 26-35, will become available in May 2021.
A recent $40 million investment by the building's owners, Edge Fund Advisors and HSBC, includes an enhanced entranceway, new lobby and elevator cabs, and a best-in-class amenity floor. Additional upgrades consist of a new elevator system with destination dispatch capability and upgraded mechanical systems, including new DX units and a co-generation plant that produces 70 percent of the building's energy on-site.
The showpiece of ownership's recent investment is the new 27,000-square-foot, fully-staffed amenity floor, located on the building's 8th floor and designed by the global architecture and design firm Gensler. It will include a fitness center run by FitLore, a barista bar serviced by Joe Coffee Company, a micro food hall curated by Fooda, an expansive but cozy tenant lounge, and three multi-sized conference and event spaces. Construction is underway and it will open this summer.
"It's being gutted and completely redone. Everything will be brand new," said Howard Fiddle, Vice Chairman of CBRE, who is spearheading the leasing efforts at the building. "Every elevator in the building stops on this floor. That accessibility is unique. And the design, by Gensler, will be as good aesthetically and functionally as any amenity floor in the entire city."
Through Fooda, tenants will have four different food choices each day. "It could be sushi, Mexican, tapas, any number of different cuisines," said Fiddle. "Everyone in the building will know a week in advance what the choices will be, and they can order it on an app."
The fitness center, run by FitLore, will offer classes, including fitness boot camps and yoga, and a variety of the latest equipment, including TechnoGym treadmills, elliptical trainers, Peloton bikes and strength equipment. Personal training and custom wellness offerings will also be available for those seeking a more individual and intensive experience.
The exciting new offerings will be complemented by the redesigned tenant lounge, which will allow tenants to have coffee or lunch, or just meet with co-workers in a comfortable, welcoming environment.
All of this adds up to a complete office+ experience, creating a full-day oasis that provides everything tenants could want and need throughout the day without ever having to leave the building.
"The people in my company think it's terrific," says Robert Ward, Head of Site Operations for the East Coast of the Americas for Adobe, which has been a tenant at 1540 Broadway since 2010, of the new amenity floor. "They're excited about the new food concept and cafe, and the holistic approach to it. The ownership is really investing in the building, the environment, the lighting, just the whole experience. They're making it more of a comfortable space where you'll want to stay and eat. It'll have more of a high-end cafe feel, and a little bit of vibrance to give people a destination away from their own spaces in the building."
In addition to the exciting amenity offerings, another decided advantage for modern tenants is that the building was constructed in a way that was far ahead of its time. With floor-to-ceiling glass, 13'0" slab heights and no convectors, the floors provide fantastic light and incredible views of Manhattan from the heart of Midtown, and flexible, column-free floor plates that work well for a multitude of tenants.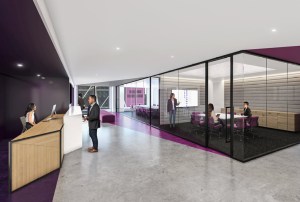 The building offers these advantages, which are generally found in newer buildings, at lower rates than typically found at new construction properties, making it an outstanding value in today's market. In addition, its location makes it one of the most accessible buildings in the city, as 16 subway lines plus Grand Central, Penn Station, and the Port Authority are all within easy walking distance.
Edge Fund Advisors, in partnership with HSBC, purchased 1540 Broadway in 2010, making it a key component of their three-million-square-foot New York and Washington, DC commercial office portfolio. As their recent multi-million dollar investment demonstrates, ownership is committed to providing the most desirable building and the most responsive customer service.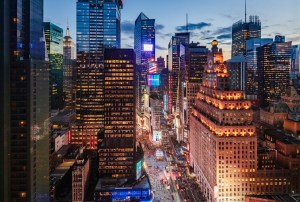 Edge Fund Advisors provides the on-site property management to ensure that the daily experience for tenants meets the ownership's high standards. "When you deal with a company like Edge, you're dealing with a small, nimble ownership that has a very hands-on approach to building management, which translates into a high level of attention to detail and service for tenants," said Michael C. Jones, Executive Vice President of Edge Fund Advisors, discussing how Edge blends flexibility and agility to excel at tenant services.
"The building's management really provides a concierge experience," said Ward. "The guest reception area for greeting is very positive. The staff always has a great attitude – they're very friendly and helpful. If someone in our leadership comes to visit, the folks at 1540 really make sure they have a seamless experience."
A distinct example is Adobe's annual New Year's Eve party at 1540 Broadway. Over three hundred people attend from around the world, coming from as far as India and Australia, to usher in the New Year and watch festivities and fireworks as far as the eye can see from the company's 43rd floor offices.
The reason Adobe can hold this extravaganza at its office is that 1540 Broadway is blessed with some of the most majestic views in the city, and is designed to take advantage of these views with floor-to-ceiling glass windows.
"It's a flagship event for us here in New York," said Ward, who highlights the importance of the company's location. "It's a tremendous experience, and the fact that we're in this space allows us to do it," he said.
In addition, Ward said attention to detail at the building is noticed not just in the surface features, like the building's brand-new lobby and elevators or the immaculate views, but in the invisible, functional aspects as well.
"What's great about the building is that everything just works. The landlord really cares about the tenant experience. They're just a phenomenal group of people operating a phenomenal building."
1540 Broadway
,
CBRE
,
Edge Fund Advisors
,
Fooda
,
Gensler
,
Howard Fiddle
,
HSBC
,
Joe Coffee Company
,
leases
,
Michael C. Jones
,
office
,
Robert Ward
,
Skidmore Owings and Merrill
,
Sponsored
,
sponsored-link