Jeff Blau on Hudson Yards Opening, the Shaky Retail Climate and Future Projects
Eleven years of toil, 28 acres, 18 million square feet of space, seven levels of retail, and a culture shed that slides open. There's a lot resting on Jeff Blau's shoulders.
---
---
Jeff Blau has had a busy couple of weeks.
The 50-year-old CEO of Related has been overseeing the final preparations for the developer's latest masterstroke on the skyline of New York City: Hudson Yards. After seven years of construction, Related finally opened the first phase of its 28-acre, 18 million-square-foot mega-development on top of rail yards on the West Side last week.
The first section, 11.9 million square feet, has nearly a dozen structures and includes residential condominiums, office space, the seven-level Shops & Restaurants at Hudson Yards and the climbable Vessel sculpture in the center. The 200,000-square-foot cultural center The Shed and a 212-room Equinox hotel will launch later this year.
But days before the ribbon was cut, Blau was scrambling to get everything into place. He was constantly fielding phone calls, touring the retail spaces and signed a brick with Related president Bruce Beal and founder Stephen Ross to mark the opening.
"It's kind of like if you were renovating your apartment and two weeks before you're ready to move in you walk in and say, 'How in the world is it ever going to get finished?'" Blau said. "This will be a photo finish for sure, but we're going to make it and it's going to be the most spectacular first event ever done in New York. And then, ultimately, the most spectacular place New York has ever seen."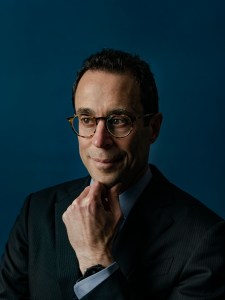 Blau, who lives on the Upper East Side but plans to move into Hudson Yards later on, has been with Related for almost 30 years and took over as CEO from Ross in 2012. The father of three has had his hand in every major project at Related since, and is now looking towards doing similar massive ones in Chicago, California and London.
Blau sat down in a conference room at 10 Hudson Yards with Commercial Observer days before the opening to talk how Related got to this point, its recently criticized tax breaks on the project and how Hudson Yards can survive this shaky retail climate.
Commercial Observer: Retail has changed a lot since Hudson Yards was first planned, with some arguing that it's dying. A big part of this project, especially the first phase, is retail. How have you been feeling about that?
Jeff Blau: We changed up the mix quite a bit from the beginning. It's much more restaurants than originally planned. Entertainment and activities are an important part of it. We have this great concept called Snark Park where people can come in and interact with whatever the exhibition is at the moment. And then there's an ice cream place called Kith Treats right outside. It's about creating a day out and then some shopping along the way as opposed to just a place to shop.
We also brought in a lot of atypical brands, a lot of digitally native brands. Those just-online places are realizing they actually could use a physical presence. We created, on the second floor, [a place] to see brands that have never had stores before. We helped them do that, we invested in some of the companies, we helped them build out their spaces. When people come here, they're going to see something they've never seen before. I think that's the new retail and yes, some retailers are going to go bankrupt and they should because they haven't evolved and changed. Retail is not dead, it's just changing.
You recently came up with a deal to end the battle with the construction unions over the use on non-union labor at Hudson Yards. How did that come together?
We had our disagreements with the trade unions and we worked very closely with [Building and Construction Trades Council of Greater New York president] Gary LaBarbera to make it happen. I think the outcome was a very fair one. We're going to work hard with each of the construction trades to have a forum and to wind up in a place that works for everybody. Assuming that all that happens, we will be building with a lot of union workers.
Related won the bid from the city in 2008, in the midst of the economic downturn. What was it like starting this massive project during the recession?
When we finally signed [the deal with the city] it was about five minutes before Lehman Brothers filed bankruptcy. You know what happened—we obviously went into a pretty bad recession. It was very scary at the moment given that we had just signed this, but in hindsight, it probably turned out to be the best thing. We had a lot of downtime to really think about what Hudson Yards should be, how we wanted to design it, what architects we wanted to use on all the buildings and how to make it a great place. I think today you're seeing, 11 years later, the results of all that pre-planning.
Were there times where you were worried this wasn't going to happen or that you might have made a mistake?
Unfortunately, what happens in downtime is you never think how it's ever going to get better again. And in good times you often forget how it's going to turn bad again. You're struggling to manage through a very difficult recessionary environment, your brain has to go, 'Yes this is going to change, and we need to plan for when it changes.'
But we had some great breaks that really gave us credibility. I think certainly Coach [the first anchor tenant in the project] in the beginning was one. [Investment firm] KKR was another one. After KKR, we got Wells Fargo then Time Warner.
How did you convince tenants to sign on at first?
The story when we started was we're going to create these brand-new buildings. New York City's got old buildings—60 percent of the buildings are over 50 years old—and we're going to create these new buildings with the latest technology, with better HPAC systems, great floor-to-ceiling glass, great views, great elevators, none of which really existed.
What we realized from talking to so many CEOs over and over again and asking them to tell us about their businesses, tell us what their concerns are, the answer was 100 percent the same. It was finding and attracting talent. We kind of repackaged our story a little bit and went back out to the CEOs and you suddenly saw a huge difference. That's why KKR came. New York City has gone west, Chelsea is the fastest growing residential neighborhood, so where their future recruits want to live is right here.
How important was the 7 train extension [which opened in 2015] to this project?
There wouldn't be a Hudson Yards without the 7 train. We need transportation. The best example is Canary Wharf [in London]. Canary Wharf is different in a bunch of ways: It's not attached to Midtown, it's 10 miles away, but they didn't have transit when it started and it failed. One of the things we did was study all these big developments around the world and what worked and what didn't, and clearly not having transportation doesn't work. In fact, while we were constructing the buildings we had to guarantee [the commercial tenants] that the 7 line would be open when they moved in even though we didn't have any control over that.
That's why it's very frustrating to see an article like the one The New York Times put out about Hudson Yards getting more subsidies than Amazon. The biggest thing that they cite is that we got a subway and parks. I didn't know that subways and parks were subsidies. The role of government is to provide transportation and create economic development.
I was going to ask about that. What do you think of the comparison to Amazon's deal?
[The Times'] number [for our project] was like $6 billion. The biggest amount of that is the subway, by far the subway, and the parks. That's just a non-starter in the discussion. The only other thing that exists is a real estate tax abatement. That tax abatement was not anything given to us or to any of our tenants, it was in place for this area first because the city wanted to encourage economic development and get companies to move here. It wasn't like an Amazon where they got a subsidy first.
Since the Amazon deal, there's been a lot of discussion about ending tax subsidies to major companies, what do you think about that?
It's a terrible argument. It's the job of government to encourage economic development and all that they call subsidy is increment. No one wrote a check to Amazon, that was for when they come here they could avoid paying some incremental taxes. The number which was quoted, it was $3 billion of waiver of future of increment taxes.
In exchange, Amazon created $25 billion of economic activity for the city. That sounds like a pretty good trade to me. If anybody wants to send that trade my way, I'll do it. I think it was a great loss for New York.
It was difficult during the recession getting the constructing financing for Hudson Yards. How did you go about getting the first loan?
We started with getting a tenant. We tried to go out and get an anchor to replace News Corp. [which backed out of Related's original bid]. No one wanted to move to the West Side because this was an industrial wasteland when we started. But we had this vision of changing it, which was a hard vision. We talked to CEOs you'd hear, 'What is Hudson Yards and why would I ever move my company there?' Coach, because they were here, understood the neighborhood and they quickly got our vision. They had to move and they wanted to stay in the neighborhood so they were perfect, but they took a big risk and they wound up with a great deal for doing it.
That Coach lease gave us a lot of credibility, but we were still really just coming out of the downturn. All the U.S. banks were basically shut down for construction lending and so we went to non-banks and we talked to all the non-bank lenders and ultimately wound up with Starwood Property Trust as our financing source. It wasn't such a big loan [$475 million] when you think about all the financings we've done [since] then, multiples of that, which we can arrange super fast—we just call the bank and it gets done—[but] that by far was the most difficult one.
What were the challenges of building Hudson Yards on top of a working train yard?
From an engineering perspective, that was actually the least of the challenges. There's proven technology on how to do this. I would say it was a tremendous logistical challenge, working with the MTA. We were only allowed to close four tracks at a time. So the train shed was active while we were doing this and so just being able to coordinate all that and having the time to do construction lined up with the MTA's the Long Island Railroad schedule was pretty intense.
You're now in the works on building similar projects to Hudson Yards in Chicago and California. How did those come about?
We really see this has become a kind of an expertise of our company. Today we have about 4,000 people in our company—I think we have the best real estate talent in the industry—and our focus has clearly been on these large scale mixed-use developments. Time Warner Center was the first of the big ones that we did and then Hudson Yards. Outside of New York, we have a very large site in Chicago, in Santa Clara [Calif.] and in London. The idea is, when we did Time Warner, we became much more well known for what we had produced there. And I think that will happen in spades here, even more so. This will lead to many other opportunities around the country, around the world. And it's that team that we put together that really allows us to execute which is really our differentiator and our competitive advantage.