Fisher Brothers Tapping Convene to Run 18,500-SF Amenities Space in Midtown
---
---
Fisher Brothers is once again looking to Convene to operate an amenity space at one of its office buildings, Commercial Observer has learned.
Kenneth Fisher, a partner of Fisher Brothers, told Commercial Observer over drinks while attending the 30th annual MIPIM (Le marché international des professionnels de l'immobilier) conference in Cannes, France on Tuesday that Convene will operate the 18,500-square-foot amenities space at 1345 Avenue of the Americas between West 54th and West 55th Streets. It will include a fitness center with locker rooms, a conference room, a grab-and-go food outpost and lounge space.
Convene is in the process of signing a five-year management agreement with the landlord, Fisher said. A spokeswoman for Convene said the company declined to comment since the deal is not sealed.
The build-out of what was previously "dead storage space," has commenced and the new amenities center should be completed by the end of the year, Fisher said. Tenants in the 50-story, 2-million-square-foot building will pay a fee to utilize it.
Designed by the Rockwell Group, the space will include a "monumental, room-sized terrarium," per the architecture firm. The design will include "smoked oak wood wall paneling, perforated smoked oak ceilings and concrete floor slabs…pops of dark green and blue with bronze, stone and terrazzo accents." Plus, Rockwell Group noted, "sculptural, playful lighting and metal mesh curtains," will be used to "help define flexible spaces."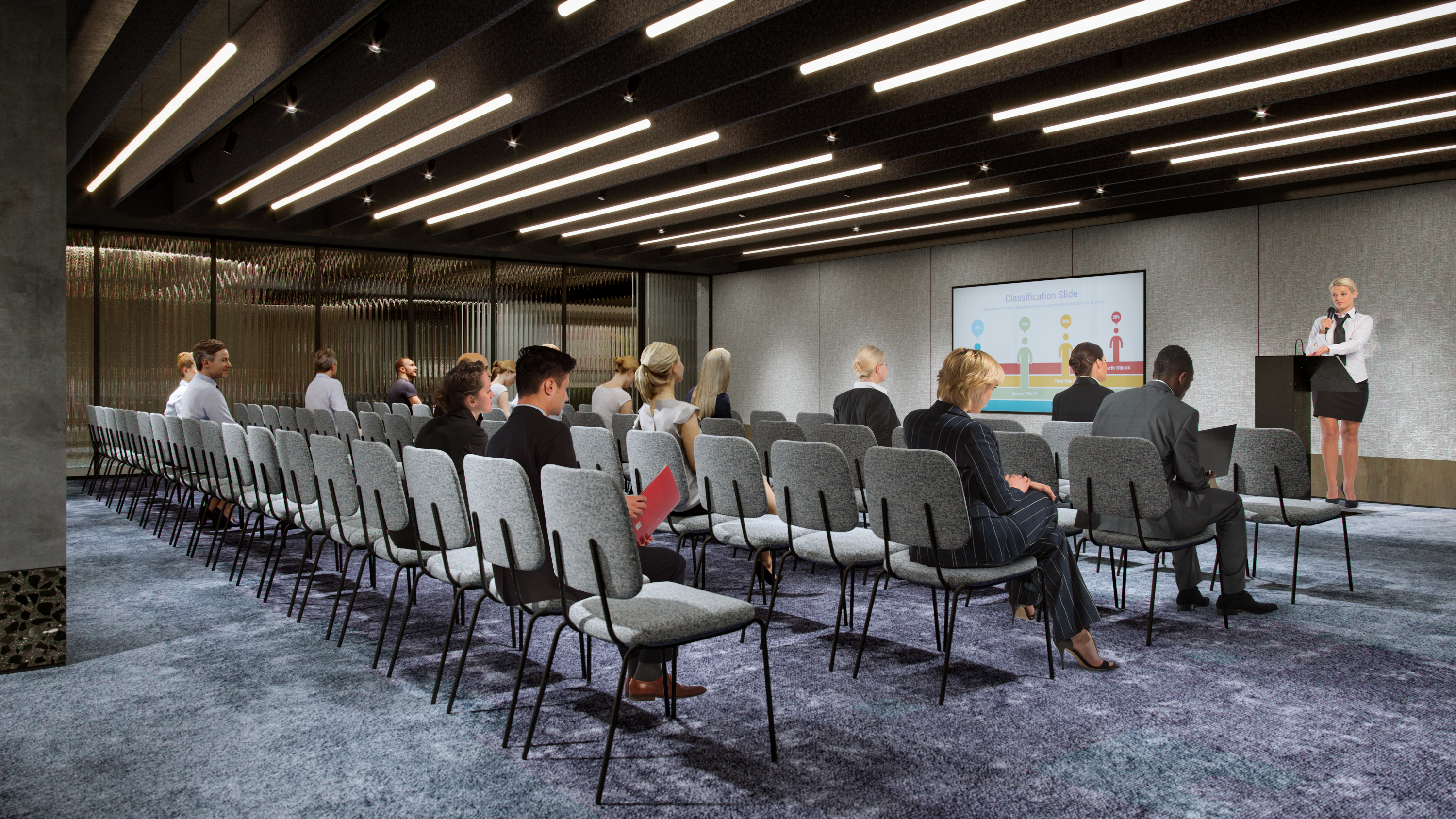 The goal of adding the amenities center is not about increasing rent—which only private outdoor space could possibly do—but making the "building as desirable as possible," Fisher said.
Fisher Brothers has been upgrading its assets in order to better compete with newer office product, as CO previously reported.
"We fall into a demographic where 60 percent of the inventory of Manhattan now is an average of 70 years or older," Fisher said on CO's "U.S. Developers' Outlook" panel yesterday. "And all of our properties fall into that mix. So we've had to look and see what we needed to do in terms of reinvesting in our portfolio to keep ourselves on the short list. What we are doing is not adding value to our rents. The value for us is being on a shortlist and staying on that shortlist."
Bruce Mosler, the chairman of global brokerage at Cushman & Wakefield, said as moderator of the panel that adding amenities is a "must do." He added: "The essential part of reinvestment [at an older building] is to amenitize that asset so that it can compete in the war for talent."
Building out an amenities space at this time makes sense as the building's main tenant, AllianceBernstein, will be leaving its 1-million-square-foot headquarters for Nashville. The money manager has been a tenant at 1345 Avenue of the Americas since 1985, when it started with 60,000 square feet, Fisher noted.
Fisher Brothers and Convene have worked together before. Last April, CO reported that Convene would be opening an office tenant amenities center in the landlord's 605 Third Avenue. Convene signed a 10-year lease for the entire 28,612-square-foot seventh floor at the Midtown East building.