Presented By: Brookfield Properties
655 New York Avenue: Unique New Commercial Space at the Center of Everything in DC
---
---
In Washington, D.C., Brookfield (BN) Properties and Douglas Development have partnered to create a truly distinct Class A commercial destination with 655 New York Avenue—a brand new office building that blends the historic and cutting-edge, creating a world-class tenant experience in one of the best locations D.C. has to offer.
Modern Meets Legacy
With 655 New York, tenants get all of the benefits of a brand new modern office building combined with the authenticity of D.C.'s history. At 768,000-square-feet and encompassing almost an entire city block, 655 New York Avenue incorporates 19 historic structures into a new 11-story building in the heart of the Mount Vernon Triangle neighborhood.
Groundbreaking methods in engineering and preservation were utilized to create this one-of-a-kind property. In order to fully respect and preserve their rich history, historic structures were physically moved across the site, carefully deconstructed and reconstructed in different positions, and supported with custom beams while work was completed under the buildings. All of the historic buildings underwent significant restoration and modernization, allowing them to be fully integrated into the new construction. You can walk seamlessly through the building, passing from the new office spaces into the historic properties without interruption. The result, designed by Shalom Baranes Associates, is a premier building that reflects the history of the Mount Vernon Triangle neighborhood.
Large floor-to-ceiling windows provide an abundance of natural light at 655 New York, and the building's unique design creates a dynamic experience for tenants and visitors to enjoy. In addition, 655 New York Ave features unrivaled, top-tier tenant amenities including a two-floor fitness center, landscaped rooftops with views of the D.C. skyline, a rooftop conference room, lounge, terraces and game rooms.
Currently, the top three floors of this sought-after landmark building are available, with the tenth floor featuring a private terrace. Coupled with premier tenant services and curated events through Brookfield's "Activated" program, 655 New York Avenue is set to offer an unparalleled tenant experience.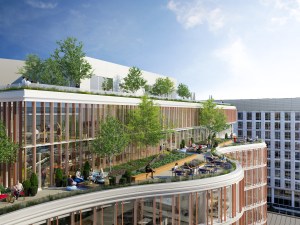 At the Center of Everything
655 New York stands in one of the best locations in D.C. It benefits from being within a short walking distance to the popular neighborhood Shaw, which is seeing a booming population of young professionals, the restaurants and bars along Blagden Alley, and D.C.'s Chinatown. In addition, the Capitol is within 10 minutes' drive. Located less than a block from the Green and Yellow Metro lines at Mount Vernon Square Metro station, the building is highly accessible for visitors and workers from across the DMV area.
Whether you're grabbing your morning coffee, taking a client out to dinner or have to run errands during the day, 655 New York is at the center of everything you need. The building itself boasts 80,000 square feet of placemaking retail space, with Rumi's Kitchen, Compass Coffee and Leon among the first to announce they'll be opening at street level.
The building sits directly across the street from the much-anticipated new Apple store, opening this spring, as well as local favorites and nearby Michelin-starred restaurants Kinship, Metier and The Dabney. (Need a reservation? Brookfield's Activated concierge can help you out!)
From its groundbreaking and innovative preservation methods to its modern amenity offerings, 655 New York is a world-class office building unlike any other. With its thoughtful design and focus on creating a compelling work environment for modern tenants, 655 New York Avenue is set to become a destination for both the local community and Washington, D.C. as a whole.
655 New York Avenue
,
Blagden Alley
,
Compass Coffee
,
DC
,
Kinship
,
LEON
,
Metier
,
Mount Vernon Triangle neighborhood
,
office
,
Rumi's Kitchen
,
Shalom Baranes Associates
,
Shaw
,
Sponsored
,
sponsored-link
,
the Capitol
,
The Dabney
,
Washington
,
Brookfield
,
Douglas Development Corporation