Will New Zoning Help LIC's Jekyll and Hyde Hotel Scene?
---
---
On the one hand, even in the very recent past, commentators were griping about what they saw as possibly unsustainable supply numbers.
"The supply is where the concern is," Colby Swartz, then a Suzuki Capital managing director, told Commercial Observer in 2016, in an article that asked, "Just how bad could Brooklyn and Queens' hotel oversupply get?"
Since then, the picture hasn't been prettified by the seemingly underused lodging properties in the neighborhood that the city has unceremoniously converted into homeless shelters—like the Fairfield Inn, a hotel-cum-shelter at 52-34 Van Dam Street that changed hands late last year for $36.5 million.
And yet on the other hand, even as the City Council has recently moved to sharply curtail hotel building in areas like Long Island City, Queens, with new zoning measures, lodging owners turned in an unimpeachably solid 2018. Don't look now, but the ungainly, oversupplied beast fretted over by commentators like Swartz has turned out to be surprisingly steady on its feet.
As it stands, the neighborhood boasts about 3,000 hotel rooms today, according to Mark VanStekelenberg, a lodging executive at CBRE. Precise performance statistics are hard to come by, because lodging data providers tend to lump the area in with hotels elsewhere in western Queens, in Downtown Brooklyn and on Roosevelt Island. But as a group, assets in that trio of districts have flourished of late.
Rooms in Queens and Brooklyn "did very, very well in 2018," Jan Freitag, an analyst at lodging research firm STR, said. Revenue per available room in that East River market increased by 10.5 percent last year, he pointed out, an increase that was "driven by very strong room rate growth—7 percent—and a healthy increase in occupancy, which grew 3.4 percent." Occupancy in the area stands at 83 percent—just a few points below the New York City average, and well above the national rate, mired in the low 60s.
"In the span of just three years, we've seen a huge influx of new rooms, and the good news is that that has been in lockstep with very, very healthy demand increases," Freitag said.
Indeed, the buy-side of the lodging picture in Queens over the last 10 years looks less like demand growth than an out-and-out demand explosion. After all, a decade of explosive development in the neighborhood around the east landing of the Queensboro Bridge has rendered Long Island City unrecognizable. Jay Stein, the CEO of New York City's Dream Hotels Group, can recall when the first significant tower in the area was a strange creature.
"When Citigroup did the first skyscraper there 25 years ago," Stein said, "I would always say to my daughter, 'Wow. That skyscraper escaped from Manhattan and went over the water.' "
The building remains the tallest on the Long Island City landmass, but it's now in good company thanks to the myriad hotel rooms that have come to the neighborhood in the last decade or so.
Accommodations in the neighborhood run the gamut from the basic—such as at the Q4 Hotel, at 29-09 Queens Plaza North, where rooms start at $39 per night—to the luxe. The Ravel Hotel, at 8-08 Queens Plaza South, built in 2007, offers guests dining on a private terrace with East River views, high-concept rooms with wood floors and a rooftop pool that even has a picky dress code. (No jeans or sneakers allowed.) Rooms at the Ravel this month for a weekend stay start at about $149 per night, according to its website.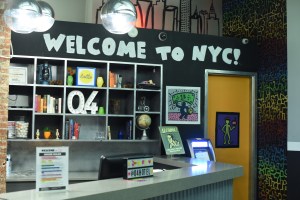 Ravi Patel, the property's owner, agreed that  even though the neighborhood's hotel scene is jam-packed, that's not entirely a detriment to hoteliers already on the scene.
"If you're a place where guests can rest their head in a bed, you're my competition," Patel allowed. "But by having so many hotels here, it's brought more awareness to Long Island City. It's good in the sense that there's more awareness of Long Island City as a destination spot that's conveniently located."
But at any price point, the neighborhood's lodgings share one thing in common: a significant discount to the stock of rooms on offer across the East River.
"Long Island City has historically been a very attractive value play from a New York City perspective," VanStekelenberg said. "You have a lot of business travel and more and more leisure travel that will go there. Rates here are typically $50 to $100 less" than in Manhattan, he noted.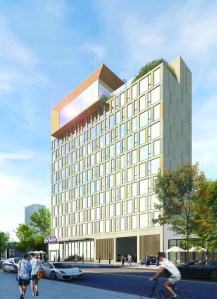 Dream Hotels, which runs high-concept luxury lodgings, had been collaborating with Barone Management on a Long Island City outpost in 2016 and 2017, but those plans were canceled two years ago when Barone opted to build an office building on its lot there instead, at 9-03 44th Road.
Stein declined to go into detail about why the idea didn't pan out, explaining only that Dream's strategy has since shifted away from developing properties to the role of a branded management company. But he said he still thinks there could be room for a hipper—and pricier—hotel to elbow its way into the crowded neighborhood.
"I think there's an opportunity for someone to do what we do—make a bigger buzz," Stein said. "There are still great opportunities to do a really cool rooftop bar scene and attract the locals. [The neighborhood should] become known as that hip, cool vibe for nightlife."
Meanwhile, the neighborhood's ability to attract bargain-hunting guests continues to spur a new wave of developer interest. Yotel, a London firm that runs hotels with small but sleek rooms, is one of a slew of builders at work on new lodgings in LIC. Jason Hsiang, a North American development executive with the company, said the neighborhood will be the perfect place for the hotel's core customers—"digital natives who love to travel and explore the city"—to stay. (The project is going up at 38-75 11th Street.)
"With all of the new cultural and professional development in LIC, educational establishments like the Cornell Tech Campus and prominent businesses such as Citibank and Uber all within walking distance of our hotel, our target demographic will naturally be flocking to the area," Hsiang said in an email. "We tend to attract guests who love quirky boutique hotels, but don't like the hefty price tag."
The company opened a Midtown Manhattan location in 2011, but had been on the lookout for a second property in the five boroughs and settled on Long Island City even before Amazon announced its plans for the neighborhood late last year. (Although, Amazon is reportedly having second thoughts about Queens.) In that light, Hsiang considers the new hype around Queens' waterfront real estate an unexpected boon.
"It has definitely unexpectedly supported our development plans," Hsiang said. "The hotel offering here has been mainly traditional and we hope to bring something interesting and fresh to the neighborhood."
If the LIC branch is anything like the Manhattan Yotel, it certainly won't look much like its neighbors of other brands: rooms in the Midtown property, designed by Rockwell Group and Softroom, are in some cases as small as 114 square feet. Rooms that size were available for $129 per night for a February weekend.
Patel, the Ravel's owner, has similarly great expectations for Amazon's arrival.
"It's literally down the block from us—we're  one of the closest hotels to their proposed location," he said. "I don't think it's going to hurt."
But as keen as current owners' feelings are about the path forward, they'll neverthless be contending with supply that's growing at a breakneck pace. VanStekelenberg said CBRE is aware of at least seven other lodging developments under construction in the area, representing 1,000 new rooms—a full 33 percent increase over the current stock. What's more, an additional 18 projects are in the planning stages. If all those came to market, the room stock would grow by an additional 2,500—nearly doubling the current volume.
In the past, that breakneck pace of growth "would be a little unusual," VanStekelenberg said. "But that's the new normal for at least the Greater New York City area . There are submarkets that are being created and growing to full maturity within a decade."
Still, it's a "new normal" that city planners have found challenging to countenance. In December 2018, the City Council passed a bill requiring developers to get special permits before breaking ground on hotels in M1 zones—historically manufacturing-centric areas that cover a good portion of Long Island City.
The bill, which passed with nearly unanimous backing, bodes ill for would-be developers in the neighborhood. Nothing can throw a wet towel on development like red tape, hotel insiders said.
"There will be zero applications," Gene Kaufman, the president of Gene Kaufman Architect, told the Long Island City Post about the neighborhood's hotel scene. "It will now be a five-year development cycle—with two years in the public review stage—and then they may not get it."
What's more, industry watchers remain cynical about whether the zoning restrictions were really about controlling oversupply to begin with. The proposal long enjoyed the support of both Mayor Bill de Blasio—a vocal pro-union advocate—and a major hospitality guild, the Hotel and Trades Council. In 2016, as the zoning bill progressed towards enactment, The New York Times reported that city lawmakers, including the mayor, significantly expanded the bill's restrictions at the union's behest. That raised the possibility that part of the bill's true intention was to let city planners hamstring non-union hotels while letting those with unionized workers proceed.
At the time, the mayor's office pushed back against the idea that the union had influenced the process. A spokeswoman for the office didn't respond to an inquiry for this story.
Whatever the bill's intentions, the supply restrictions will likely serve as a boon to hotel owners with established portfolios—in city lodging markets that are already humming along.
"It's a reduction in more hotel rooms, for a guy whose company has ownership of nine hotels in Manhattan," Stein said. "For me, I like it."