The Devli You Don't Know: the Devli Family on Switching From Handbags to Hotels
Erol, Christopher and Mark Devli, the makers of Sasha Handbags, try their hand at hotels. It's looking like they got it Made.
---
---
Owning a hotel was one of the last things on Erol Devli's mind when he first came to New York City from Turkey in the 1970s.
Fresh from ditching London after about a year to chase the American dream, Devli was studying at Fairleigh Dickinson University in Teaneck, N.J., when he had a roommate during his second semester who was in the handbag business. Chats in the dorm room eventually led to the roommate convincing Devli to go into business with him and open a leather handbag factory in the city.
About a year into the business, Devli dropped out of college and used his tuition money to buy his partner out and became the full owner of a handbag factory when he was 19.
"A lot of people told me, 'What are you doing? Are you crazy?'" said Devli, now 57. "I had the drive in me and my dad told me, 'Don't worry about taking chances.' "
There were some speed bumps along the way for Devli's Sasha Handbags. From people not believing he was the owner because he was so young to delivering his products himself until a customer finally told him about a great service he never heard of before: the United Parcel Service.
"I didn't even know there were trucks that could deliver the bags," he said. "There was nobody for me to ask. It was not easy, but as time goes on you learn."
And learn he did. Sasha Handbags eventually grew to become a multi-million dollar business, distributing wares to shops and chains around the country like J.C. Penney, Nordstrom and Macy's (even though Devli hit a stumbling block in the 1990s when he was charged with counterfeit bags, according to The New York Times, but the case was sealed and Devli told Commercial Observer the charges were dropped) and the business is still thriving today.
But in 1988, Devli got tired of facing constant rent hikes for his factory so he decided to cut the landlords out. He bought his first building at 44 West 29th Street in 1988 for Sasha Handbags, but didn't stop there.
"Growing up in Turkey, inflation was a major problem," said Devli. "My father always told me the best way to secure yourself is to buy your own property, invest your money in real estate."
Devli continued by simply buying buildings near his factory in NoMad, but later expanded to other neighborhoods and New Jersey. His real estate company, dubbed the Devli Group, now encompasses more than 30 buildings in both states.
And several years ago, Devli—along with his sons Mark and Christopher—decided to get into a third business together, hotels, and started at the Devli Group's first holding at 44 West 29th Street, seeing a need for hotels in the area.
After constantly being approached by brokers to redevelop the four-story property, the family decided to do it themselves in 2010. They came up with a plan to demolish the building and replace it with the 18-story, 108-room hotel they named the Made Hotel.
"This was all new to us," said Mark Devli, 26. "We literally did not know anything about hotels."
To figure it out,the Devlis met with people in the hotel industry and drew on their knowledge of leasing space to tenants and residents along with the handbag business to guide the way.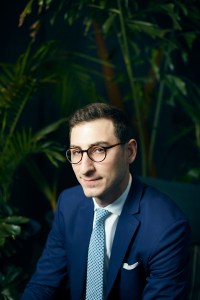 "A lot of it goes back to handbags," said Chris Devli, 24. "If you have a bad-quality item, your customers won't buy it. That's sort of where this hotel came about with the quality and making sure that people like what they see."
The Made Hotel between Avenue of the Americas and Broadway opened its doors in September 2017, with rooms averaging $325 a night. The family tried to make the design of the hotel so it would make guests "feel at home" when they stay.
The design leans heavily on exposed, natural wood, which is everywhere from bar stools in the lobby to platforms for the beds in the rooms themselves.
"We've been very detailed in the way we've designed this to be as functional as possible as well as appealing as possible," said Mark Devli. "We didn't build this building just to build a building; we wanted to actually make an impact in the community."
To facilitate this, the first-time hoteliers really focused on adding food and beverage offerings for guests that would also attract people in the surrounding neighborhood, which actually worked.
The hotel has Paper Coffee on the ground floor—which recently started roasting its own beans in Long Island City, Queens—and a Tiki-lounge-inspired bar on the 18th floor. One of the biggest successes is the New American eatery Ferris, led by chef Greg Proechel, in the basement. Last year, the restaurant earned a two-star review from the feared and hard-to-please New York Times critic Peter Wells.
"As a New Yorker, this neighborhood doesn't really feel very neighborhoody," said Charles Seich, who operates the F&B in the hotel and lives a few blocks away. "What's been really interesting and surprising is the amount of regular guests that live around the block or two blocks away. I was surprised and relieved to find there is quite a neighborhood."
Part of the reason the F&B has worked so well was that the Devlis gave Seich, who previously worked for international restaurateur Major Food Group, enough freedom to lead the way.
"I was allotted enough autonomy and support to do what I believed was the best thing for the property," he said. "When they have an opinion they're voiced, but otherwise the correct amount of autonomy is given."
Seich is one of several hotel industry vets the Devlis tapped to get Made Hotel off the ground and, despite this being the Devlis' first time developing a hotel, Seich had no hesitations about jumping on board.
"We had a meeting or two and kind of hit it off," he said. "I thought that the project sounded really exciting and new and fresh and challenging."
Aside from the F&B being a hit, the hotel itself has done well with low vacancy rates and plenty of repeat customers, Erol Devli said.
"We had one guest that stayed 19 times," he said. "We have a lot of guests coming back."
"That was the vision from the beginning," Mark Devli added. "To see it come to life the way it has and actually bring people back—and they're excited to come back in—we love that."
The experience opening Made Hotel got the Devlis ready for more. Mark Devli said they are "aggressively" searching for space in Manhattan and expect to be able to make an announcement for a second hotel in the borough in the coming months.
Outside of New York City, the family has been approached by people in several towns in New Jersey who want them to bring a Made Hotel there.
"Being first-time hotel builders, we never thought we'd get a reception like that," Mark Devli added.
While they still plan to open more Made Hotels in Manhattan, Mark Devli said the family is really focused on trying to bring multiple Made Hotel locations around the Garden State in the future.
"We see that there's a tremendous lack of products like this in New Jersey," Chris Devli said. "There is definitely a need for this. There's a lot of New Yorkers moving into New Jersey and so we want to cater to those people and also existing New Jersey residents as well."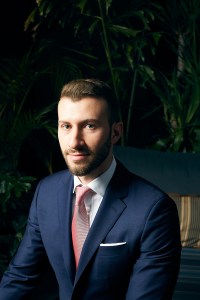 New Jersey isn't just the next area for expansion for the Made Hotel, it's also where the Devli family lives in neighboring townhouses in Weehawken, N.J.
Erol Devli settled in Saddle River, N.J., years ago—where Chris and Mark grew up with their sisters Stephanie, 20, and Nicole, 15—but got sick of the long commute. His sons were living in Weehawken with an only two-mile commute, and after spending a few nights there bought the house next door six months later.
And while his sons were instrumental in getting the Made Hotel concept off the ground, they also have a hand in every aspect of the family businesses, including Sasha Handbags. But their real passion is real estate.
Both graduated from New York University with real estate degrees. Mark focuses his time on acquisitions and the rare disposition of properties in the Devli Group's portfolio while Chris is dedicated to operations across the company, from the management of properties to leasing of office space.
"The favorite part for me is taking something that's dilapidated or antiquated and really creating something that really is great across the board," said Mark Devli, adding he hopes to continue to do that with more Made Hotels. "It's great for the community, it's great for us, it's really great for everyone."
Charles Seich
,
Christopher Devli
,
Erol Devli
,
Ferris
,
Greg Proechel
,
J.C. Penney
,
Macy's
,
Made Hotel
,
Mark Devli
,
nordstrom
,
Sasha Handbags