Related Group's Jorge Pérez Talks Real Estate, Lawsuits and Donald Trump
---
---
Jorge Pérez does not mince words.
First, there's his hotel. He didn't enjoy his recent stay at the Viceroy in Manhattan.
"This [Viceroy] is like, oh my God," the 69-year-old chairman and CEO of Miami's Related Group said. "You know, the carpets going through the hallways are horrendous, the rooms are tiny…The only reason I guess we stay here is because it's like a block away from the Armani people who we are meeting with."
He and his son, Jon Paul, a 34-year-old vice president at the company, were visiting from the Sunshine State to meet with Giorgio Armani's team to talk about their collaboration at Residences by Armani/Casa in Miami.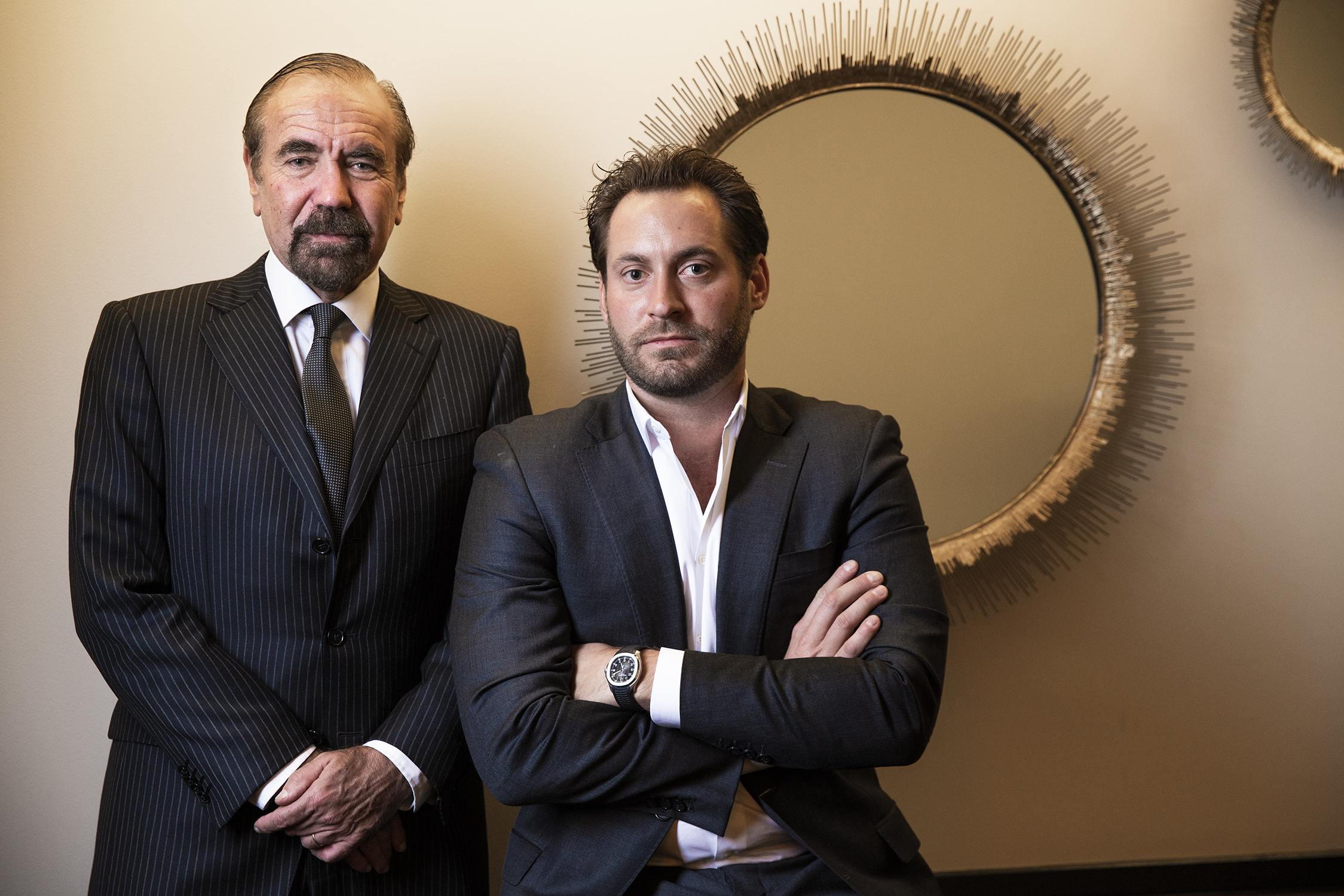 Residences by Armani/Casa will be a high-end residential condominium with 308 units averaging about 3,500 square feet and prices ranging from $3 million to $18 million. About 80 percent of the building is already spoken for, Jon Paul said. The topping out is slated for this summer.
That's just one of 70-plus properties—from condominiums and rentals to mixed-use—the company has in the works. Since 1979, the 300-person firm has built, renovated or managed more than 90,000 units.
In a year or two, the senior Pérez, called Miami's "condo king," plans to relinquish the president title to Jon Paul, but will remain the company's chairman. (Jon Paul's brother Nicholas, 30, is also a vice president at the company, since joining a year ago. Their sister Christina, 35, is a social worker.)
Outside of work, Jorge Pérez collects art and hobnobs with the upper echelon of society including the Trumps and the Clintons. ("[Donald] Trump was a very good friend," the Argentine-born developer told Commercial Observer last month. "We talked every two weeks. You know we've done several Trump buildings—I think five or six towers—and we were friends. I saw him once a month.") But Pérez's friendship with Trump took a hit when he became president. Pérez rejected two invitations from the president to serve in his cabinet and has scoffed at Trump's demands for a wall along the U.S. border with Mexico. (Pérez, who became a U.S. citizen in 1976, is developing three large projects, and recently completed one,  in Mexico.)
Here's what Pérez had to say to CO on a whole host of issues last month.
On new construction in Miami…
Well, let me break that down into the different aspects of real estate. I have a pretty good pulse of the market and what you've heard is that there's been a lot of condominium development in the last five years, in particular the higher-end condominium product. There is starting to be an oversupply. So, while we were selling anywhere between say, four or five units a month on average, after the large presales that launched the project, today those sales have dropped substantially. That is mostly because of the problems in Latin America.
[At] our condominiums on the water and downtown, 70 percent-plus [of sales] were coming from Latin American buyers. The main Latin American economies—Mexico, Argentina and Brazil—have been in a state of flux. So, there is a certain amount of fear in the business sector. Miami suffers from that.
Because of these huge [currency] devaluations in [Latin America], the condominiums that we had in Miami have become much more expensive and that all has led to a decrease in demand while at the same time we're building a lot of condominiums. Nevertheless, there are certain areas that we have in South Florida that we think are still strong—Fort Lauderdale on the water, Pompano, Boca [Raton].
On who is replacing Latin American homebuyers…
I think you're getting a lot of people from the Northeast, particularly in high-tax areas with the Trump tax laws. I think people are coming to Miami—in addition to the sun and fun and business and so forth—because of taxation. Barry Sternlicht is the perfect example. He's moving his company there. [Sternlicht will be moving his firm, Starwood Capital Group, to Miami Beach from Connecticut by 2021.] We're seeing people coming in from different countries in Europe, but it's not making up for the drop in Latin America.
On developing rentals…
The condominium demand has been supplanted by rental demand. In areas that we think there's supply in we [have] changed our resources to the development of market-rate rental projects, which we're doing a lot of. And we have a huge affordable-housing division.
On the lawsuit against Related at Parque Global in Brazil…
We've been in a case in court [since 2014]. It was an environmental lawsuit, which is a frivolous lawsuit. As a matter of fact, in one of the court cases they showed [an image] of us knocking down trees and they didn't show our site. Our site was junk. Really.
So, we go to Brazil. Everybody tells me [for my five towers, its] a nice site, not the greatest site, but a nice site. And we do a marketing campaign, second-to-none in the world [with the tagline] "Rediscover Sao Paulo." We bring an English designer, United, we bring architect Arquitectonica—one of the great architects here—[and] beautiful landscape [architect] from Switzerland, Enea. I line up the brokers and….we do great. I do my thing and sell over 80 percent of the first three towers. People couldn't believe it. I mean, we were popping the champagne. The lawsuit happens. You know what you have to do in Brazil when they sue you? Return all deposits to the buyers. And we had used all the money—20 percent deposits—to do piles. We were already digging piles.
[The project has] been stopped. So now even if I win I have so much money on this piece of land that I never win. I might win a little battle and get some money back and make some money, but it's disastrous.
We've won all the old battles so we're going to Brazil next month. [There will be a] partners' meeting to determine whether the market has come back. Remember when we sold, [the market] was good. And then Brazil has dropped in the last eight years. 
On the differences between himself and Stephen Ross, the chairman and founder of Related Companies, who co-founded Related Group with Pérez…
He's different than I am. He is New York. I'm Latin American. You know when I first came, the way of doing business was very different for me. I had to really adapt myself to a totally different way of dealing with people. New Yorkers are very in your face; they tell you exactly what it is. We're much more "let's go to lunch." Not as bad as the Japanese, never [getting to] say, "no," but we're not confrontational. I've become much more like Steve is. People will tell me I am very "I don't have any time to waste." [In working with our] Mexican partners in Argentina—it drives me insane; everybody's like, "mañana, mañana."
On Trump today versus Trump pre-presidency…
It doesn't compute. I mean he was a guy that was just not political at all. So as a matter of fact, we had talked about going to Cuba to build golf courses and, all of a sudden, he's anti-Cuba? Trump was an internationalist. He went all over the place trying to build condominiums. I don't know if this was all the time his politics or not. We never discussed politics. We just knew him as a very, very generous good friend. I mean he was always courteous, great with my wife. We like spending time with him. But I'm just diametrically opposed to everything that he stands for.
On a future friendship with Trump…
I mean he was a very kind nice guy. We got along really, really well. And I hope that after all this stuff we can talk again…but not about politics. That doesn't mean that you can't be friends. I mean, it's not like these guys are criminals. They believe in certain things that I just think are wrong.
On Trump's kids…
His kids are all really well-behaved, good [people]. You know they're very honest, very hard workers. Somebody did a good job with them!
On the number of homes he personally owns…
You know how many units I've got? Lots. We built a hundred thousand units. I own units in seven of my buildings. I'm proceeding to sell all those because I thought at one point that my children were going to use some and they've all been buying their own houses. I'm moving into this new unit that Rem Koolhaas is designing—a penthouse in another one of our buildings, called Park Grove, which is a very luxurious building in Coconut Grove.
On remaining on the Forbes list of the 400 richest people in America (Pérez was ranked 316 on the 2018 list with a net worth of $2.6 billion)…
I haven't gone broke yet.
With additional reporting provided by Max Gross.
Arquitectonica
,
Barry Sternlicht
,
Donald Trump
,
Enea
,
Giorgio Armani
,
Jon Paul Pérez
,
Jorge Perez
,
Park Grove
,
Parque Global
,
Related Group
,
Rem Koolhaas
,
Residences by Armani/Casa
,
Starwood Capital Group
,
Stephen Ross
,
United
,
Viceroy Central Park New York