How Do You Build New Offices in Williamsburg? Add Manufacturing!
---
---
Building new office space in North Brooklyn is no mean feat.
Williamsburg's 1960s industrial zoning doesn't typically allow new multistory office projects. But in 2015, Rubenstein Partners and Heritage Equity Partners decided to build the first new office building in the neighborhood in 50 years. Today, their 500,000-square-foot project at 25 Kent Avenue is nearly complete. Four years ago, they seemed like pioneers. They had to work with the Department of City Planning (DCP) to create a new zoning framework that gave them the right to build additional offices in exchange building new manufacturing space. The two development firms were able to get a rezoning that allowed them to develop eight stories of commercial space where they would normally only have been able to build one or two stories.
Twenty-five Kent's ziggurat-shaped brick and glass building on the Williamsburg waterfront holds 350,000 square feet of office space, 70,000 square feet of retail and 80,000 square feet of light manufacturing.
Not too many people have followed in 25 Kent's footsteps, but at least two other developers are using the zoning created by 25 Kent for new manufacturing-office hybrids.
When Rubenstein approached the city, planners hoped that they could update North Williamsburg's outdated land use rules to answer the growing demand for office space in the area, demand fueled by hip tech, advertising and media firms that wanted to establish offices closer to the Brooklyn neighborhoods where their young workforce lived. Since the city rezoned Greenpoint and Williamsburg in 2005, officials looked on as companies like Kickstarter and Vice moved their employees into old warehouses in the once-thriving industrial area and the asking rents for the neighborhood's small stock of office space grew more and more expensive. So, when 25 Kent came along, city planners saw the opportunity to create a zoning incentive for office developers in a neighborhood that had only seen hotel development for the last decade.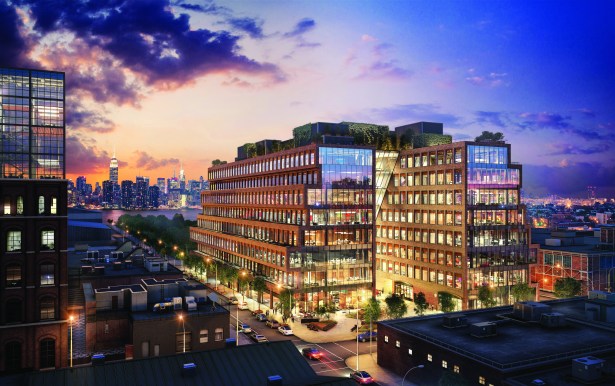 "If you have 200,000 people commuting from Williamsburg to Chelsea to go to work, you might as well bring the office to them," said Jeff Fronek, the director of investments for Rubenstein Partners.
The special permit they created allows office builders in North Williamsburg to get a bonus: They get to build bigger office buildings as long as they set aside 20 percent of their new project for light manufacturing, like jewelry designers, food producers, breweries and furniture builders.
A City Planning spokeswoman said in a statement that 25 Kent's rezoning "was a pilot designed to foster the types of buildings that can support industrial and commercial offices together—something the Greenpoint-Williamsburg area had not seen created in  decades. While the first building to use the special permit has yet to open, two other projects are in public review seeking this same special permit.  Together, if approved, these two projects would supply 194,00 sq ft of space for jobs in addition to the 400,000 sq ft at 25 Kent. We're working to encourage more jobs closer to where people live and we are seeing private sector interest in doing just that."
Earlier this month, Rubenstein announced a second project at 30 Gem Street that will take advantage of the new manufacturing-and-office model. The firm has teamed up with a local lox maker, Acme Smoked Fish, to develop an entire block in Greenpoint into a glass-clad commercial building designed by Gensler. The 65-year-old business owns and occupies about half the block with its production and distribution operation. Acme and Rubenstein will enter into a joint partnership to purchase the remainder of the adjacent lots between Meserole, Banker and Wythe Streets. Then they'll build a new, 80,000-square-foot fish smoking facility for Acme on the northeastern portion of the site. It will be 20 percent larger than Acme's current, 60,000-square-foot building, and allow the company to grow its fish processing capacity to 8 million pounds from 5 million a year.
Acme's main requirement was that it didn't want to move more than once, because its curing and smoking processes require heavily refrigerated rooms and built-in ovens.
"When you get into food processing they really own the full life cycle," Fronek explained. "They get salmon that are frozen overnight and then you get fully filleted, smoked, packaged salmon. The specialties are what comes out of the process. The production processes are incredibly intensive from a mechanical perspective. They have huge power and refrigeration requirements. It's all done in a custom way: it looks like a rectangular box from the outside, but inside you have a wet portion of the space and a dry portion of the space."
The smoked salmon manufacturer recently finished a new facility in North Carolina that it could double in size if need be, but it wanted to stay in Brooklyn where it has occupied the same building since 1954. It also employs 170 workers—100 of whom handle the fish processing—and the company wanted to keep those manufacturing jobs here. So, Acme executives approached Rubenstein with the joint-venture proposal in which they essentially traded an ownership stake in the land for a new factory, which Acme will occupy as a paid tenant for the foreseeable future.
"You can't just lift the plant up and put it somewhere else temporarily; the moving costs and the equipment costs are cost prohibitive," Fronek said. "They're producing every day. Their customers aren't going to say, 'Yeah take six months and go offline so you can build a new facility.' They told us, 'Moving next door, to us, is the same as moving to New Jersey or to North Carolina.' "
The company has both sentimental and clear economic reasons for staying in Greenpoint, said Acme co-CEO Adam Caslow.
"Back in the 1950s there were dozens and dozens of smoke houses in Brooklyn that sold to all the delis in the tri-state area, and we're one of two or three that's left," he noted. "There's an authenticity to what we're doing here in Brooklyn that we wanted to stay here. And it's part of our brand, being the Brooklyn smoked fish company."
He added that the tri-state area is the biggest smoked fish market in the country, and "being here and being able to service these customers five-plus days a week is really the heartbeat of our business."
Once Rubenstein has moved Acme from its old factory into the custom-built space, it will begin work on a nine-story, 420,000-square-foot office building next door. Although the designs are still tentative, Fronek expects it will be similar to 25 Kent.
He added that it would be "nearly impossible to justify building [Acme's] facility in New York today and making it affordable." The office project helps cross-subsidize the manufacturing. "I think this is kind of a new model for how manufacturing space can be created and preserved in New York City, as a lot of things are changing around us," Fronek said.
Few real estate firms have taken advantage of the 25 Kent model because it's still relatively new, and there aren't many sites large enough to accommodate office projects of scale in Brooklyn's industrial areas.
"The reason we haven't seen a lot of it is because this is a fairly new way of approaching [commercial] zoning," said Dan Marks, an investment sales broker and partner at TerraCRG. "It's yet to be proven that it actually works. If you build it, will you be able to actually get tenants to occupy it? And at what rent? And it's very hard to find commercial development sites of scale in this part of Brooklyn or any part of Brooklyn. It's a way to increase your density, but there's not a lot of sites you can do it on."
There is a third project using the new industrial-office special permit, but it has largely flown under the radar thus far. Simon Dushinsky's Rabsky Group is about to enter public review for a seven-story office, retail and industrial development at 105 North 13th Street in Williamsburg, where it had previously planned a hotel. The company couldn't be reached for comment by press time.
Meanwhile, another firm taking the office-industrial combo plunge is Simon Baron Development, which is planning a seven-story office-and-industrial project at 12 Franklin Street, on the border between Williamsburg and Greenpoint.
Matthew Baron, one of the firm's principals, compared the zoning bonus for industrial space to the city's mandatory inclusionary housing program, which allows developers to build on rezoned land as long as they rent 20 percent of their apartments at below-market rates.
"The point is to keep these maker spaces available and affordable in New York City," Baron explained. "I think it's a smart thing that the community is doing because it makes commercial development make sense and it allows us to set aside these affordable spaces for makers."
The zoning mechanism fills a desperate need for new manufacturing space and makes office construction in industrial zones financially feasible. Without the special permit, developers can only build projects that are 4.8 times the size of the lot they sit on, otherwise known as floor area ratio (FAR). But they must devote nearly half their new building to "community facility space." That square footage can only be rented to narrow categories of tenants: medical facilities, doctors' offices, schools, religious institutions or nonprofits. Owners often struggle to find those kinds of tenants who want to pay pricey new construction office rents—which can clock in as high as $80 a square foot in developments like 25 Kent—and end up breaking the rules by renting community facilities to typical office tenants.
"Most of what we've seen is people abusing the community facility spaces and leasing them out as offices," Baron said. "The community facility has little to no value. So the ability to create additional commercial space is really what makes sense and what then allows [us] to create that affordable [industrial] space."
His 167,000-square-foot project entered the city's public review process last August and is expected to get a signoff from the full City Council later this month. Baron hopes to break ground this summer and has yet to determine what kind of tenants he'll be able to attract.