Greg O'Connell Talks Red Hook Real Estate, Superstorm Sandy and Life as a Cop
Charting Greg O'Connell's course from NYPD detective to one of the biggest real estate developers in Red Hook
---
---
Greg O'Connell, the general manager of the Red Hook-based O'Connell Organization, was a police officer and detective in New York when he began dabbling in the purchase of Brooklyn real estate decades ago. While he enjoyed his time as a cop, his passion for real estate investment took priority over time, and the now-76-year-old left the force in the 1970s to focus on real estate full time. In the decades that followed, O'Connell, whose prized properties include Pier 41 and the Red Hook Stores Building, redeveloped the sleepy Red Hook waterfront, eventually bringing Fairway to 480-500 Van Brunt Street and turning the area into a destination.
Commercial Observer spoke to the 6-foot-4 O'Connell—whose father and two of three brothers were police officers—about the current state of Red Hook real estate, how he faced the area's greatest challenge, and how he's making his experience a boon for upstate New York.
Commercial Observer: You're a Queens native. Why was Brooklyn where you chose to do your investing?
Greg O'Connell: I grew up in Cambria Heights, Queens, but after high school I went to college upstate at SUNY Geneseo and then I never came back. I went into the New York City police department for 17 years, and I started with real estate while I was in the police department. I worked for a short time in the 20th Precinct, where the city had the 10-square-block West Side Urban Renewal Program, from Central Park West to Broadway, around 86th to 96th Streets in the late 60s, and I saw what was able to be done there. I saw people coming back into the city. You needed $15,000 to get involved with one of these programs, but by the time I saved the $15,000, everything was gone. So, I thought the next area would be Brooklyn. So, I began to purchase buildings in Cobble Hill and Carroll Gardens. But then I wanted to have more of an effect on the community. I knew you could do one, two, or three buildings on a block, but to really have an effect on a community, we could do a little bit of affordable housing and businesses and re-adapt—do stark renovations and open the waterfront to the public. That's when I began to look in Red Hook.
What was your first property you bought?
432 Henry Street in Brooklyn. I bought it for $22,000.
How did you afford it?
Got a loan from my parents.
It says on your website that you own 150 properties. Is that accurate?
Yeah. We have things in Carroll Gardens, Cobble Hill, and then the rest in Red Hook.
What's the total square footage of your portfolio?
I really don't know. It's got to be a million square feet of industrial commercial property and I don't know how much residential.
Any significant purchases of late?
No. We decided as of two years ago that we're basically not going to purchase anything. We're going to stay with what we have and improve it, and just sit and wait.
Wait for what?
Red Hook is going through some changes, as it's always been. Three or four years ago, when I went to look at vacant land, I would find seven, eight, 10 pieces. Now, I'll probably find nothing, which means they are being absorbed for development. If you look along the Van Brunt Street corridor and maybe left and right for a block or so, you see all new residential development. Sometimes in real estate you want to be first, and sometimes you want to be last. I wanted to be first years ago. Now, with the way the economy is and the tax situation and basic government in the city, I'd rather wait and have other people develop around me. They will then establish the market, whether it be commercial, residential or industrial, and that will make it easier for me to decide what to do with our land and how to develop it.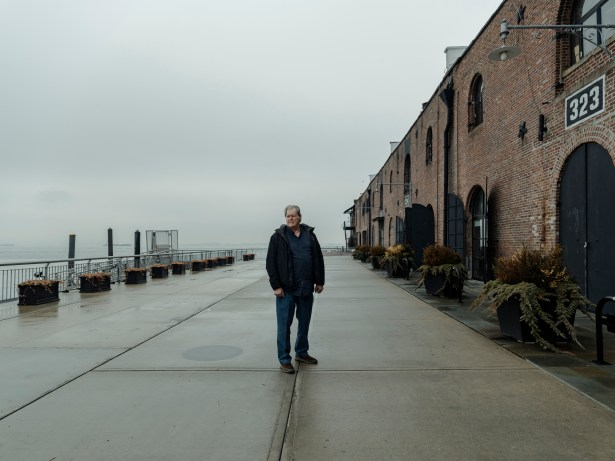 Is there anything specific you're hoping will happen?
There has been a 45 percent increase in the assessment of property, which dramatically increases the taxes. That could dramatically affect what happens in Red Hook. We support small businesses and want to keep the rent affordable, but the pressure is on. This could change things to where the only thing that could be developed would be luxury housing, and that is not what I'm looking to do. You can have some luxury, but you also need affordable housing. You need a balance.
What are your thoughts on the overall state of housing in Red Hook right now?
Any new construction that's going on in Red Hook is not affordable. The only affordable housing is the housing projects, and we read about what's going there. Something could be done there to make it more livable.
Like what?
I think first you take care of the existing conditions, which means take care of your housing projects and make them livable. There's never enough affordable housing anywhere, I don't care what city it is. That's always the challenge. What's enough?
What about retail in Red Hook?
When you look at the corridor on Van Brunt Street, the spaces for retail—the footprint is very small. You really have to have a niche type of business that will attract people. There are businesses like Brooklyn Crab or Ample Hills Creamery—the ice cream company—that just opened the first ice cream manufacturing in the City of New York. You have certain retailers that work, that bring in people, and I think that's where that small footprint retail business can survive. Then you have art shows take place here, or Red Hook Winery or Flickinger Glassworks, where people can visit and see production going on. So, it's become an interesting spot to come over with the water taxi from Manhattan. You can make it an interesting day in Red Hook.
What are your thoughts on the state of industrial development in the area right now?
If you look at what it costs to get started and you look at the tax structures, industrial development is very minimal. I think that industrial development for small businesses is going either to the Navy Yard or the Army Terminal. That's where you see new construction going on, or massive renovations. But all of them are subsidized by grants, whether it be from the city, state or federal government. It's not individuals for the most part that are getting involved with these.
Given the dire state of the Metropolitan Transportation Authority, what do you think can be done to fix or improve it for Red Hook?
Red Hook has always had that problem. Ever since the BQE cut off Carroll Gardens from Red Hook, it's always been a problem with mass transit because it's a two-zone system. Now, of course, they have a water taxi that's coming in. I'm not sure what the ridership is on it, but it definitely is a help. Some type of express bus from Red Hook to the city would probably be good. But you read about the MTA all the time. Look what's happening with Amazon now. They're leaving with 25,000 good jobs. The local elected officials, you hear them complain about the transportation, the school system, the infrastructure, and they're right. But you know what? That's been taking place for 15 years, and nothing has been done. They cry wolf. Here you have an opportunity for a major company to have an impact on high-wage earners that will be a catalyst for everything else. What I do on any project is go to the community and listen to what their needs are. Work it out with Amazon, with the local community, with the elected officials. Identify what the problems and challenges are and come up with a plan that works for everyone. That did not happen there, unfortunately.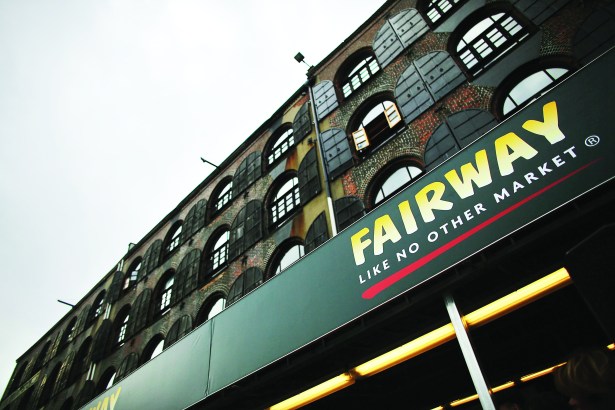 How many people work in the O'Connell Organization now?
Probably 25 to 30.
How deeply is your family involved?
My two sons—Gregory, 32, and Michael, 44—are involved, and my wife, Elizabeth, and myself.
What are your sons' roles in the company?
Michael is basically in charge of construction and maintenance, and Gregory is the inside person on negotiating leases and making sure the office runs well.
What is your wife's position?
She's an adviser.
What was Superstorm Sandy like for the O'Connell Organization?
It was devastating. Every building in Red Hook was affected. I was upstate. I came down the night it was about to hit because then-Mayor [Michael] Bloomberg asked everyone to move out except owners. I was concerned, because we have a co-generation system that supplies gas and electric and heat to Fairway, so I wanted to make sure it was safe. But I never want to go through that again. Especially at my age. It took so much energy from me, especially since these buildings were empty when I purchased them, so I know every building. Thank God the subcontractors I had been dealing with for years came and helped with plumbing and electrical, as well as volunteers from all over the country. As for the tenants, we said, "if you want to be here, we'll work something out." We waived rents for months and worked with them as best we could to get them back up and running. I think we only lost one or two [businesses] out of the whole group that didn't have the proper insurance.
How much damage was done to your properties, monetarily?
I don't know. Probably $10 million.
What steps did you take afterward to mitigate the damage should we ever get a storm like that again?
Any renovations we did as a result of that, anything electrical, we raised high enough so that if the water comes in, it won't hit them. Fairway had engineers design a system that would protect the openings of their first floor, but they're still not finished. As far as what these prevention measures cost, our rents are low. If you have a luxury residential development, you could probably do three times the amount per square foot we get for a small manufacturing type of business. So, it's a challenge. We were hoping that at one point the city might come up with some kind of tax credit or abatement [so that we can build residential]. They're not doing anything to help the situation.
Why aren't Fairway's improvements done yet?
The cost. When an engineer does a study, they give you a list of recommendations. You could do 50 percent of them, and that'll do so much. But there's another 50 percent—for instance, pumps on the inside, so if water does get in, they start pumping it out. It's a business decision that anyone has to make. Costs are prohibitive.
Did you enjoy being a police officer?
Oh yes. I worked all over the city, mainly in Manhattan, where I learned about everything from the Theater District to the Diamond District to the Fur District. I spent the last seven years on Wall Street working white-collar crime, and it was a great education. You really get to know the hum of the city—the good, the bad and the ugly—and you meet and communicate with different people. It was a great education.
What was your most rewarding moment on the force?
I don't know. That's a tough one. There was a difference between being a police officer in uniform and being a detective. A detective, you come on the scene of a homicide and everything is sort of settled down by the time you get there. You're investigating something that has been committed. But in uniform, you're right there. You're on the scene. And you're a target. Probably the most rewarding aspect is the communication; the little things—helping a homeless person, helping an old lady in the 1960s who lived in Harlem and couldn't move out of her house, had five locks to go through the front door. You meet her on the street and you talk to her and you go up and help her open her door, tell her you're there if she ever needs you. It's the little things that really give you the most reward. Policemen do these things as part of their job every day, day in, day out.
What was your scariest moment as a cop?
I don't think I really had a scary moment, because I always believed in prevention. I got into a state of mind where nothing would intimidate or scare me because I'd already reviewed [the situation] in my head. Most important is that I had to come home to my family safely. That was always on my mind. So I did a lot of preparing for that unusual time that might or might not happen.
What does your average day look like today?
Generally, on the job at 6:00 in the morning. I call my wife in the afternoon and ask the very important question: What's for dinner? Then I'm home by 6:00 p.m.
If you're not looking to purchase new properties in Red Hook, what keeps you busy there?
I'm interested in maintenance. One thing that's great about being in Red Hook is I can drive past all my properties within 15 or 20 minutes and know what's going on. This morning I checked on some masons working on a building and lined up different things. This is the way the day goes, one after the other. I've been doing this seven days a week for as long as I can remember. I try to make Saturday and Sunday my quiet days, where I can do some paperwork and plan and think. But I really like to be outside—see the tenants, say hello, talk to my men. Sometime in the early afternoon I'll have a bowl of soup in the office, and I'm home by 6:00.
You do this seven days a week? Do you ever take a day off?
No. This is my life. This is what I do, and I enjoy it. I enjoy people.  What I like to do is take historic buildings, bring them back to life, re-adapt them, open the waterfront for public use, and try to make the community better than it was before I got here.
You mentioned you spend time upstate. What do you do there?
I sort of retired about nine years ago to go upstate in Livingston County. I went to college in Geneseo, and I was always interested in agriculture. So going back 20, 25 years, I began to purchase agricultural land there. The Livingston County Economic Development Corporation asked me if I would help them, and I started with Mount Morris. We probably bought 20, 25 buildings. We took advantage of the main street grants that were available, we worked with the state senate on passing tax abatements for these areas, and it worked. Now we own maybe 50 properties upstate—that's in addition to the 150 in Brooklyn—all small Main Street properties with a store and maybe one or two apartments above. Now we're taking advantage of the Restore NY grants—the villages will get these grants and they'll ask me to get involved. I'm very concerned with historic preservation, so we do historic renovation of these buildings, then we re-adapt then, much like we did here in Red Hook on the waterfront. We re-adapt things for the uses of today.