Latest Sutton 58 Court Decision Could 'Upend' Construction Financing Deals
Ruling in Gamma Real Estate's Sutton 58 project OKs the circumvention of special-purpose entities and could make construction financing more expensive
---
---
The saga of Gamma Real Estate's Sutton 58 project at 3 Sutton Place continues, and the latest chapter in its storied timeline comes in the form of an appellate decision which could send major shockwaves through New York's real estate construction lending and development space. 
The ruling addresses a suit brought by Gamma against Philip Pilevsky, the CEO of Philips International, and his sons Seth and Michael in 2016. Gamma claimed that the Pilevskys interfered with its rights as a lender when they helped Joseph Beninati of The Bauhouse Group—its previous developer—file for bankruptcy after he defaulted on his construction debt and Gamma subsequently moved to foreclose on the Sutton Place project.
The appellate division of the Supreme Court of New York delivered a decision yesterday rejecting Gamma's complaint of "tortious interference with contract," potentially setting the table for a troubling precedent. Specifically, it appears, for now, to permit a change in the treatment of a bankruptcy-remote special-purpose entity [SPE] so that a borrower may file bankruptcy and hold up a lender's remedies in the case of a default.
"The decision is wrong, and it's unfortunate," said an attorney who spoke on the condition of anonymity. "The bigger implication is that people can interfere with special-purpose entities with impunity if that interference leads to a bankruptcy. That seems to be a big problem because that undermines the entire purpose of special-purpose vehicles, which are absolutely critical to real estate development financing in New York and elsewhere."
The decision—in Sutton 58 Associates LLC v. Philip Pilevsky, et al.—dismissed Gamma's complaint after it was previously held up in the court's commercial division in March 2018. The suit alleges that Beninati brought the Pilevskys into the mix when he was in default on his loan to help him stave off the foreclosure. Philip and Seth Pilevsky did not respond to a request for comment, nor did anyone at Philips International. Michael Pilevsky could not be reached.
Unsurprisingly, the Pilevskys' legal team is happy with the ruling.
"It was a unanimous decision, and it was right," said Robert Smith, a lawyer from Friedman, Kaplan, Seiler & Adelman, who was on the Pilevskys' four-person legal team. "We don't think [the notion it upends the construction financing market] is right, and we don't see any danger to any future lending decisions."
But, most of those with whom CO spoke in the construction lending space say otherwise.
Gamma's original complaint—in a bankruptcy court filing dated Sept. 16, 2016—alleges that the Pilevskys, as "strangers to the project," assisted Beninati in breaching contractual obligations following his maturity defaults and then helped him file for bankruptcy in 2016 "in a scheme to benefit themselves and obtain an ownership interest in [3 Sutton Place]."
Officials at Gamma and Gamma's legal counsel declined to comment.
Specifically, the suit claims that the Pilevskys altered the categorization of 3 Sutton Place, between East 57th and East 58th Streets, as a "single-asset real estate," or SPE, in the bankruptcy filing by transferring three small co-op apartments at 504 Merrick Avenue in Lynbrook, N.Y., over to Beninati. In return, the lawsuit alleges, the Pilevskys received an indirect equity interest in the project, plus $150,000 in cash.
"In real estate finance, every real estate project has to be completely separate, every entity has to be a separate entity," one attorney, who declined to be named, explained of the significance of this alteration. "And lenders require this so that they can very quickly exercise their remedies in the event of a default."
The Sutton 58 saga began in June 2015, when Gamma lent Bauhouse roughly $147 million for its planned 113-unit, 68-story condo tower at 3 Sutton Place.
Gamma's loan matured on Jan. 19, 2016 with Bauhouse having not repaid any amounts under the loan agreements, according to bankruptcy court filings. The next day, Beninati received notices of default on the $147 million loan and a notice that Gamma would conduct a foreclosure sale that February.
On Feb. 17, 2016, Beninati and Bauhouse resurfaced with new legal counsel and filed a suit seeking a preliminary injunction to stop the foreclosure sale. Six days later the motion was denied on the merits that the borrowers would not be irreparably harmed by the sale and allowed Gamma to enforce its contractual rights, as CO previously reported. Beninati then filed for Chapter 11 bankruptcy protection to essentially stave off a foreclosure.
Gamma later acquired the asset in a foreclosure auction for $86 million ($98 million including air rights) and filed plans for its own 844-foot, 67-story tower at 3 Sutton Place in December 2016, which sparked a community upheaval and a nearly two-year-long zoning and legal battle related to the size and scope of the firm's planned residential condominium, as CO previously reported.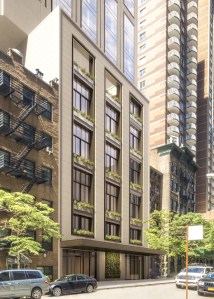 In a September 2017 interview with CO, Gamma President Jon Kalikow—who declined to comment for this story—described his team's surprise at the change, given that lenders' rights have been firmly protected in the past.
"They changed the bankruptcy law for real estate in 2005 to say that if you're a single real estate asset it's a faster track—so, you as the developer can't tactically declare bankruptcy and indefinitely hold up your lender. But [Beninati's counsel] filed a document that said [3 Sutton Place] is not a single-asset real estate. One of our lawyers called up his lawyer and said, 'Did you guys make an error?' They said, 'No. We didn't make an error.' "
The Pilevskys argued that Gamma's claims of tortious interference with contract were unfounded, being that bankruptcy remote and special-purpose entity provisions are preempted by the federal bankruptcy code.
One source close to the proceedings told CO that the inclusion of the three Nassau County apartments opened the door for borrower entities to be eligible for bankruptcy and created "a roadmap for any borrower who is in distress and wants leverage over their lender, and to inflict pain on their lender, for the purpose of extracting some settlement."
And if lenders can't rely on SPE provisions being worth anything, chances are that construction loans could become even more expensive and developments less likely.
"This could be very bad for the lending community," said a second attorney requiring anonymity. "And if it's bad for the lending community, it ultimately is really bad for the development community, too. It suggests that all of the provisions guaranteeing that these entities that are special purpose entities and bankruptcy remote are not worth the paper they're written on."
In March 2018, New York Supreme Court commercial division Judge Shirley Werner Kornreich seemed to side with Gamma and denied a motion from the Pilevskys for a summary judgement dismissing Gamma's complaint of tortious interference.
Kornreich expressed concern over the intentions of the defendants, saying: "It's a little early for a summary judgment. I think there is an interesting issue of piercing the corporate veil… By arguing what you're arguing, I think that… it would undermine the way business is dealt with in New York City when it comes to lenders and developers. It just upends all of these contracts and the way business has been done for years."
The short, one-page decision from the appellate yesterday "masks the importance" of the decision that has been made, a trial attorney said.
One active New York construction lender, who declined to be named, said the ruling could potentially create "massive problems for commercial real estate lending," and that the decision might've been kept brief and vague in order for it to be heard by the New York State Court of Appeals.
"I don't assume it's going to the Court of Appeals, but I'd assume we'd oppose it," Smith, the Pilevskys' counsel, added.
As for what's next for the Sutton 58 development, it's moving forward, but "there was a cost here to the Pilevskys messing around with this project," the lender said, "and that cost is borne by the developer—Gamma, who was the lender, which became the developer—and that's going to impact its bottom line. That's a problem for anybody, as you could imagine."
Beninati could not be reached for comment.