Here Are the Queens Investment Markets to Watch in 2019
---
---
With the announcement of a new Amazon headquarters in Long Island City, Queens, and the slow but growing winds of gentrification extending north and east across the five boroughs, Queens is preparing for a surge in investment activity.
Not surprisingly, the already-hot real estate markets in western Queens are expected to see an uptick in sales across all kinds of properties, including industrial, multifamily and residential. And brokers predict that a number of neighborhoods along the 7 train line could see more transaction volume, from Sunnyside all the way to Flushing. Sales of multifamily buildings may slow as the state legislature mulls reforming rent-stabilization laws, but industrial, office, retail and development sites are expected to do well across much of the borough in the coming year. Last year already struck an optimistic chord, with a 231 percent increase in the dollar volume of office property sales year-over-year in Queens, to $512.6 million from $154.9 million, according to data from Ariel Property Advisors.
So, without much further ado, here are six investment sales markets to watch in New York City's largest borough.
Long Island City
 This partially-industrial enclave along the East River waterfront has become increasingly residential and expensive over the last decade, thanks to its proximity to Manhattan and two major rezonings in 2001 and 2008 under the Bloomberg administration. And then Amazon unveiled plans last fall to build over 4 million square feet of office space for one of its HQ2 campuses on a 15-acre parcel along the Long Island City waterfront, igniting a real estate firestorm that caught many New Yorkers off-guard. Amazon will undoubtedly cause a run-up in property prices across the neighborhood, which of course makes it a tough time to buy and an excellent time to sell. The area stretching from the Queensboro Bridge to Hunters Point currently has 1.4 million square feet of office space under construction, including 3.8 million square feet of apartments across 40 projects and 83,075 square feet of hotels, according to data from Long Island City Partnership. Opportunity zones—which essentially allow buyers to duck capital gains taxes while developing properties—are also going to drive plenty of investment sales in the coming year, and much of Long Island City is mapped inside an opportunity zone.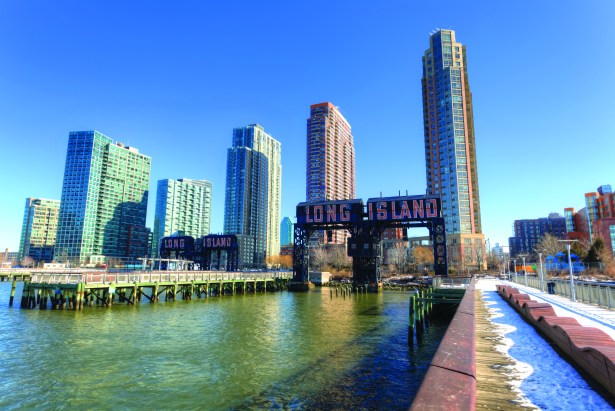 Astoria
A new city-subsidized ferry stop and a massive residential development planned by the Durst Organization have kicked the area around Halletts Point on the waterfront in Astoria into high gear.
Durst completed and will open the complex's first market-rate rental building, 10 Halletts Point, next month with 404 studios and one-, two- and three-bedroom units. New York City Housing Authority's Astoria Houses, which was long the only residential project on Halletts Point, is also supposed to get upgraded boilers as part of Durst's development, which is expected to encompass 2,000 apartments across seven buildings. But after the city cancelled $43.5 million in bond financing for Halletts Point a year ago, Durst delayed construction for the second phase of the 2.4-million-square-foot residential complex, along with the boiler work at Astoria Houses. A Durst spokesman said the company is still in conversation with the city over the financing.
On the other side of the public housing project, a group of artists also turned a cluster of industrial buildings and parking lots into a popular, multi-year public art program known as the Welling Court Mural Project, lending a certain trendiness to what has long been a sleepy, middle-class Latin American immigrant neighborhood. Local real state firm Aki Development even knocked down one of the mural-covered warehouses on Welling Court and constructed a 28-unit rental building with a street art theme, dubbed "Graffiti House."
"The Amazon announcement and the fact that there's a ferry stop has really changed the lifestyle and transportation options," said Shaun Riney, an investment sales broker at Marcus & Millichap. "There's a lot of land starting to sell over there and there's going to be a lot more tenant density in that enclave."
The areas around the Astoria Boulevard and 31st Avenue Q train stops have become "very in-demand" for new residential development, Riney said. Steinway Street continues to be one of the neighborhood's most valuable retail corridors, with the block between 30th and 31st Avenues attracting a number of new national tenants recently.
Ridgewood and Maspeth
These two neighborhoods together include much of the industrial building stock in Queens. While Sunnyside is home to a slew of warehouse-to-office and light-industrial conversions, Maspeth and Ridgewood are where institutional buyers look for larger warehouses that can function as last-mile distribution hubs for e-commerce operations like Amazon and shipping companies like FedEx.
"The Maspeth pocket is highly sought after on the industrial front for last-mile distribution," said Jacob Tzfanya, who leads an outer-borough investment sales team at CBRE. "Properties with large floor plates are trading at record-breaking levels. Some warehouses are going for $400 a square foot."
Prologis had reportedly planned to buy a newly constructed FedEx distribution center in Maspeth for $265 million last year. After the company backed out of the deal, American Realty Advisors entered contract to purchase the property for a "similar price," Crain's New York Business reported. At that $265 million price, the deal would mark one of the city's largest industrial purchases ever. However, the pricing gave another warehouse owner hope: a 150,000-square-foot warehouse at 58-30 Grand Avenue in Maspeth hit the market for $45 million last spring.
Woodside and Jackson Heights
As Woodside and Jackson Heights have become increasingly populated by Latinos, South and East Asian immigrants, their real estate has become more and more valuable. Both neighborhoods have a mix of mid-rise rental and co-op buildings and one- to three-family homes, rich ethnic retail corridors and solid subway access thanks to the 7, E, F, M and R trains.
"Anything off the 37th Avenue corridor [in Jackson Heights] is just gold," Riney noted. And of course, gentrification is playing a role in driving up the cost of both neighborhoods. "Queens is just being discovered more by a traditional tenant base that has never really gone out there before," he said.
Although a slowdown in multifamily residential property trades would be sure to affect renter-heavy neighborhoods like Jackson Heights, Woodside, Astoria and Corona, Riney seems to have developed a pitch for why investors should consider Queens over the more popular Brooklyn.
"The quality of life for a Queens owner is definitely different than a traditional Brooklyn owner," he argued. "Queens has a different tenant attitude about it. Brooklyn has all the tenant unions, and Queens doesn't have all of that. In Brooklyn, it's almost like, when you buy a building you're a target. The bumper sticker version is: 'Brooklyn tenants call 311, Queens tenants pay their rent.' "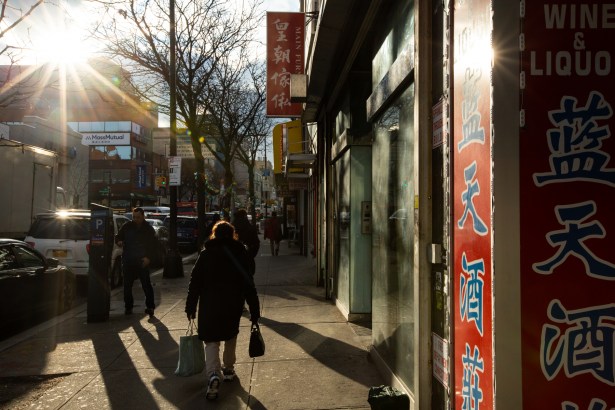 Flushing
The fast-growing Chinese and Korean populations in Flushing have fueled an impressive new construction boom, particularly for residential condominiums. F&T Group is building the 1.2-million-square-foot Tangram project, which will include 320 apartments, a hotel and 275,000 square feet of retail. Onex Real Estate Partners recently finished the massive six-tower, 448-unit Skyview Parc condo development. George Xu's Century Development is also constructing a 210-key hotel with 100 residential condos at 134-37 35th Avenue. And Kimco Realty Corporation plans to build The Kissena Center at 46-15 Kissena Boulevard, with 244 rentals and 58,000 square feet of retail.
"Flushing is going to rival Downtown Brooklyn price-wise in every asset class—luxury living, middle-market living and retail," predicted David Schechtman, a broker at Meridian Investment Sales. "It's in its third generation of immigrant families really achieving the ultimate American dream. They are moving to a neighborhood which was regarded as a fringe neighborhood, and now it's growing internally."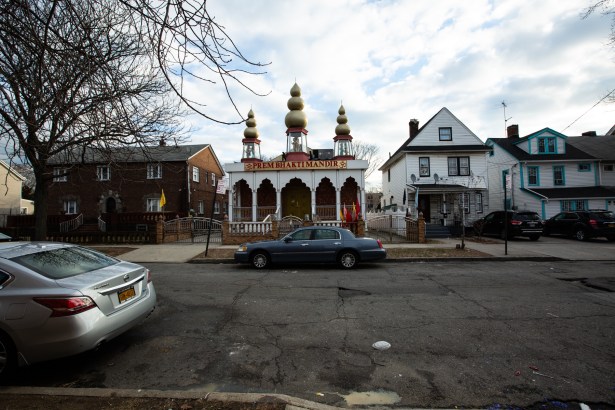 Jamaica
"Jamaica is a poorly-guarded secret," said Schechtman. "That's a neighborhood that's been upwardly mobile for years." The city dramatically upzoned downtown Jamaica in 2007 to encourage more residential and commercial development. Now several hotels and partially-affordable apartment buildings are under construction along Jamaica and Archer Avenues, which benefit from the Long Island Railroad stop at Jamaica station and nearby stops on the E, J, Z and F trains. Big projects underway there include the 23-story, 380-unit affordable Anchor Green Apartments, a 24-story, 522-unit apartment building from Phoenix Realty Group and Artimus Construction at 147-07 94th Avenue, the 669-unit Crossing at Jamaica Station across from the Jamaica LIRR station, an AirTrain stop and three subway lines.