Georgetown Scores $410M CMBS Financing for 787 11th Avenue
Ackman-Ziff arranged the SocGen debt on the newly redeveloped asset
---
---
The Georgetown Company has secured $410 million in financing for 787 11th Avenue, its newly transformed property on the Far West Side, Commercial Observer has learned.
Société Générale (SocGen) provided the 10-year commercial mortgage-backed securities loan. Wayne Potters and Tim Hallock, both managing directors at SocGen, represented the lender in the deal.
Ackman-Ziff Principal Russell Schildkraut negotiated the debt, which replaces a $350 million construction loan on the property from 2016, provided by Blackstone Group, Goldman Sachs and ICBC.
"This new financing is evidence of just how thrilled we are with this project and everything happening in the surrounding neighborhood," Adam Flatto, CEO of The Georgetown Company, said. "It was a pleasure to work with both SocGen and Ackman-Ziff on this deal. Their partnership was invaluable."  
The loan was hotly competed, Georgetown Managing Principal Jonathan Schmerin told CO.
"The fact that it's a large loan in New York against a very high quality asset with good sponsorship and great tenancy makes it something that folks are very excited about lending against," he said. "We had great reception. We were looking for a CMBS loan and a number—if not all—of the major Wall Street players shared their indication of interest with us. We ultimately went with SocGen, and had a fantastic outcome with Wayne Potters, Tim Hallock and their group."
A combination of deal metrics and Georgetown's long-term ambitions for the redeveloped asset made CMBS financing the most attractive, Schmerin said: "The leverage level, the rate, and the nature of 10-year fixed-rate financing with interest-only [payments] for all 10 years made CMBS the right fit."
A portion of the $410 million mortgage will soon be placed into a stand alone single-asset, single-seller CMBS deal with other components being placed into conduit deals. A junior piece will be held by a private buyer.
"Ackman-Ziff identified an opportunity to refinance this special property in advance of when traditional intermediaries and capital providers would normally be willing to provide a long-term capital markets solution," Schildkraut told CO. "This allowed our client to take capital market risk off the table and focus on ownership of the asset instead."
Georgetown and Bill Ackman purchased the then-vacant property—between West 54th and West 55th Streets—for $255.5 million in July 2015. The 500,000-square-foot historic building was originally designed by Albert Kahn in 1927 as the home of Packard Motor Company but has undergone a dramatic transformation over the past 3 years, with architect Rafael Viñoly leading its redesign and the conversion of its upper floors from auto repair shops to offices.
Its renovation includes the addition of a two-story penthouse, a new lobby, extended ceiling heights, floor to ceiling windows that allow for abundant natural light and a 12,000-square-foot rooftop deck featuring a private terrace and a tennis court. The 10-story property now comprises five floors of car showroom and service space and five floors of commercial office space.
Georgetown was an early investor in West Chelsea, having co-developed the IAC Building at 555 West 18th Street with IAC. The firm believes more firmly than ever that Manhattan will continue to expand west, Schmerin said, and the neighborhood is well-positioned—close to Midtown and the Plaza District—to be exceptionally desirable to a variety of tenants seeking dynamic, unique, cool space.
Indeed, the refinance comes hot on the heels of co-working company Spaces signing a lease for 99,000 square feet on the sixth and seventh floors, bringing the building's occupancy to 90 percent. Spaces joins existing office tenants Dwight Capital and Bill Ackman's Pershing Square Capital. Auto dealerships Jaguar Land Rover and Nissan/Infiniti occupy the lower floors.
"Our building offers a large floorplate environment in a boutique building, which is very hard to find in Manhattan," Schmerin said.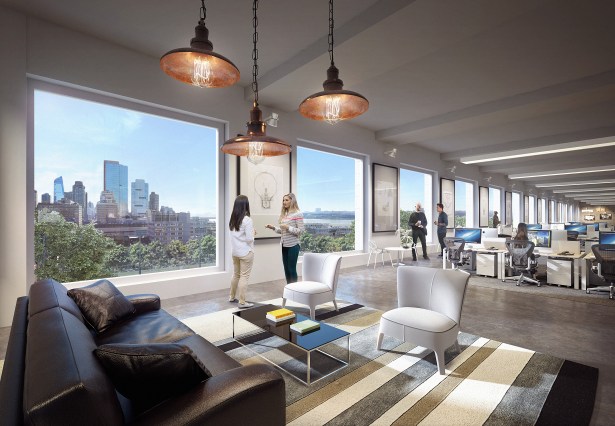 The property has also attracted several celebrity investors, including Arnold Schwarzenegger, LeBron James and Jimmy Iovine.
"On the equity side, our investors are thrilled to be in a growing, burgeoning neighborhood that has seen a ton of investment and is one of the handful of opportunity zones in Manhattan, which will create additional value for us going forward," Schmerin said.  "But the tenancy, together with the quality of the asset and its renovations really speaks for itself. That's why our investors are so excited about this project."
CBRE's Mary Ann Tighe, Evan Haskell, Arkady Smolyansky, Ben Joseph and Ross Zimbalist are leading the leasing effort for the property.
Officials at SocGen couldn't immediately be reached for comment.
787 11th Avenue
,
Adam Flatto
,
Bill Ackman
,
Jonathan Schmerin
,
Pershing Square Capital Management
,
Russell Schildkraut
,
Société Générale
,
Tim Hallock
,
Wayne Potters
,
Ackman-Ziff
,
The Georgetown Company