Presented By: Partner Insights
Blockchain Is Disrupting Real Estate Investing—Here's the No. 1 Thing You Need to Know
---
---
In order to reap the benefits of the real estate market, investors have historically had to accept the industry's large capital requirements, illiquid investments, fee-grabbing third-party intermediaries and slow transaction times. But thanks to blockchain technology, that could be disrupted very soon.
Blockchain is the decentralized ledger software that underpins cryptocurrencies like Bitcoin or Ethereum. It's a database that is distributed amongst multiple parties with each party storing a complete copy of all the data. As new records need to be added, they are stored in "blocks," and once cryptographically validated, linked to the prior block to create a "chain."
"Blockchain at its core is a next generation database technology," Joe Lubin, the founder of ConsenSys and a co-creator of Ethereum, explained during a recent webinar with Commercial Observer. "The core value proposition is that everybody using the system can be certain that they're all looking at the same data, that no minority set of actors were able to get into the system to improperly manipulate the data."
So what does that mean for real estate?
Using blockchain's trust infrastructure, companies can now offer "digital shares" of physical property through scarce, unique and tradable tokens, all verified by the distributed parties participating in the network.
"We can now create a digitally scarce token, a set of numbers that is effectively unique…that can represent real world assets like dollars in a bank account, or diamonds, or pieces of art, or fractionalized slices of real estate," Lubin continued. Imagine being able to own 1/1,000 of the Empire State Building in digital shares you could later trade without high capital requirements or expensive processing fees.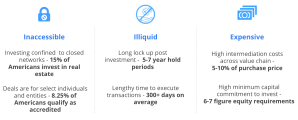 To understand blockchain's application in the real estate industry, you only need to understand one key value-add proposition, according to Mo Shaikh, the CEO and co-founder of Meridio, a ConsenSys project offering digital shares of real estate: liquidity.
Digital shares will unlock greater liquidity in the asset class and help facilitate a secondary market where investors can buy and sell small pieces of real estate, from skyscrapers to apartment units, Shaikh argued during the webinar. Unlike a traditional REIT, individuals trading digital shares will be able to structure their investments in any mix they wish.

"You can give investors the flexibility to build their own investment thesis or portfolio," Shaikh said. "You can unbundle and bundle investment strategies unlike ever before, in extremely cost efficient and effective manners."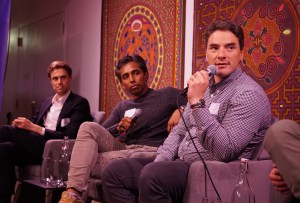 Jacob Sacks, the co-founder of Cayuga Capital Management, worked with Meridio last year to tokenize the ownership of a building in Brooklyn. The project allowed the building's owners to "be issued a set amount of tokens that equates to their percentage ownership," Sacks said. "But then, it's like a second market is created with those tokens and they can buy up or sell down their position.
"We think that's a good way to give them more utility for their investment."
Lubin echoed this sentiment, noting how this technology will benefit both smaller investors looking to fully exit their positions as well as larger investors looking to sell off smaller portions of their property to free up capital. He believes this will all lead to greater price transparency and improved pricing models for the asset class.
In addition to tokenizing assets, a property's entire lifecycle could theoretically be brought on-chain. For example, leasing on a blockchain would allow rents to be paid and tracked through digital dollars, which could then be automatically distributed to property investors. The appropriate accounting and tax procedures could be seamlessly filed along the way. Blockchain offers potential use cases across the industry, from land and title databases to automated lease agreements to real-time rent payment processing.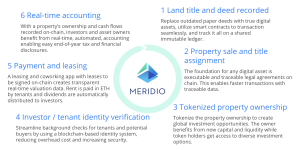 Blockchain can also improve accessibility to real estate markets for new demographics. "I think there's a whole pool of investors that have been untapped," said Shaikh, "because of geography, and because of access to these deals." This democratization of real estate could potentially allow people to invest in real estate as easily as they can buy stocks on public exchanges today.
The Commercial Observer Industry Insights Team, in association with Meridio, hosted the webinar on December 13, 2018. Moderated by Karen Bhatia, Vice President, New York City Economic Development Corporation (NYCEDC), the webinar featured insights from:
Joseph Lubin, Founder of ConsenSys and Co-Founder of Ethereum
Mo Shaikh, CEO/Co-Founder, Meridio
Jason Greenstone, Senior Director, Retail Services at Cushman & Wakefield
Jacob Sacks, Co-Founder, Cayuga Capital Management
The primary topic of discussion was the importance of blockchain in the real estate industry, and how the technology is helping to solve critical inefficiencies that exist today. To learn more, watch the full webinar with Commercial Observer here. To be notified of future Meridio webinars, sign up for Meridio's newsletter or follow them on Twitter.