Presented By: Partner Insights
The Doctor Is in: Healthcare Is the New Retail
---
---
There was a time not long ago when you could spend a leisurely afternoon at Park Avenue and 57th Street browsing for books at the local Borders Books outlet.
If you go to that location now, you're probably there for health-related reasons.
With the transition to e-commerce, it's little surprise that Borders, like many other bookstores and leisure-related outlets, is now gone. What's unexpected now is that all of that space, with the exception of a piece on the ground floor, is being replaced by a medical facility, making it part of a growing trend of seeing healthcare providers in retail environments.
Numerous factors led to this change. Paul Wexler, head of Wexler Healthcare Properties at The Corcoran Group, explained that the preference for easy access healthcare crosses demographic lines.
"Several factors are influencing this," Wexler said. "Millennials are pressed for time and are concerned about health and wellness while the Baby Boomer population is aging and requiring more healthcare. These generations make up the majority of the population and now seek to obtain their healthcare services the same way they experience retail. As a result, the patient experience has become a retail consumer-like experience. Instead of going to a primary care provider, people are more interested in being able to get in and out of a place quickly. Sitting in a waiting area has become obsolete."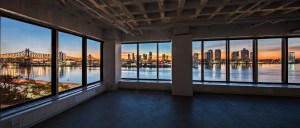 Wexler Healthcare Properties currently represents over 700,000-square-feet of space in 50 different healthcare properties throughout Manhattan, Queens, Brooklyn and the Bronx. Wexler has been representing healthcare space in New York for over 30 years, completing more than 1,700 healthcare-related transactions and representing several billion dollars in sales and aggregate leases.
The internet and other factors have combined to make recent years tough for retail properties. Medical, on the other hand, has seen no shortage of demand, making medical an excellent alternative for retail spaces that otherwise face challenges in attracting long-term, stable tenants.
There are many signs that healthcare and retail are quickly becoming blood brothers. After retail clinics began opening in 2000, they quickly gained in popularity with almost 1,200 open throughout the country by 2010, according to the Rand Corporation. But that was only the beginning, as the number of clinics more than doubled, according to an earlier report that anticipated over 2,800 clinics operational by 2017. Accenture noted in a report that healthcare clinics showed an astonishing 445 percent growth in the number of clinics nationwide from 2006 to 2014.
In a report from May of this year, consulting firm Bain & Company called retail healthcare companies "the new Starbucks," noting that "from 2012 to 2017, the number of deals involving retail health companies…has soared, increasing at a compound annual rate of 34 percent in the North American market."
On its website in an article titled "How Industry Convergence is Reshaping the Future of Healthcare and Retail," the Huron consulting group cites the 2017 purchase of Aetna by CVS Health as "a development that could push healthcare farther from the traditional physician's office or emergency room and into a retail environment."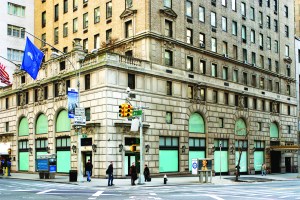 "Healthcare and retail leaders are at critical turning points, confronting a shared set of obstacles: to enhance their brands, grow revenue, deliver what consumers want (where they want) and embrace technology to operate more effectively," the article's authors, James Alt and Gregory Park, write. "Taking advantage of this common ground by pursuing transformation together could prepare both sides for the future."
All of this is already well known to Wexler, who is now marketing the former Borders space at the Ritz Tower. Located at 111 East 57th Street, the Ritz Tower, a luxury residential building, offers over 37,000 square-feet of space to medical comprising of a 13,727 square-foot concourse level, 2,940-square-foot ground floor, 10,065 square-foot 2nd floor, and 10,847 square-foot 3rd floor. The spaces are adaptable for any medical specialty.
Also represented by Wexler is Park Sixty, a 155,000-square-foot medical facility at 110 East 60th Street.
"We've begun marketing the second floor as medical space even though it was originally built and repurposed for retail," he said.
"We already have a wide variety of specialties moving into the building because we have a one-stop-shopping concept there. We've signed deals with facilities that do plastic surgery, dentistry, and primary care, and there are about a dozen other transactions pending on a wide variety of specialties."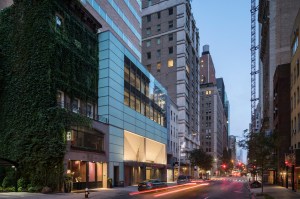 Wexler's approach to Park Sixty illustrates another reason medical facilities are looking to former retail outlets—the ease of having various specialties in one location.
"Think about the aging senior population," Wexler said. "They can go to one location and get an MRI downstairs, see the orthopedist upstairs and get physical therapy in the same building. Having many health services under one roof makes for good, efficient use of one's time. Park Sixty is on the cusp of a well-populated business and residential location with four or five subway lines within steps, so it works to everyone's benefit. It's a home run project!"
Given this ongoing change in the nature of healthcare, even those marketing more traditional spaces are doing so with the new trend in mind.
The Durst Organization is currently offering a full floor at 600 W 58th Street at The Frank for medical use. The building's fourth floor features 18,548 square-feet of available space and can accommodate one or several tenants.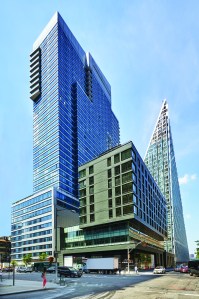 The company initially had the ground through 4th floors of the new building available to medical. Now, the 4th floor is all that remains available. The lower level through the third floors were leased to the Hospital for Special Surgery (HSS), creating a unique opportunity for anyone who takes the last remaining floor. Wexler represents The Durst Organization on this building.
As HSS created its own private entrance in the building, whichever company or companies take the fourth floor will have their own private entrance on the ground level, bringing that street-level immediacy and convenience to their patients. They also have use of a street-level through-block passageway where, Bow said, cars can cut through West 57th Street. Since HSS has a drop-off spot in that through-block, patients will have curbside access.
"The building is Article 28 compliant, built out specifically for medical use," said Thomas Bow, Executive VP and Head of Commercial Leasing at Durst, referencing the New York State Public Health Law that determines specifications for medical facilities.
"This means, among other things, that the building has the proper ventilation and egress for medical use. We've invested the money so a medical use can come in and use the space without having to improve our mechanical system."
The space has a 14-foot ceiling height and very few columns. Bathrooms weren't built out in advance, so they can be customized for tenant use.
"In a standard office building, you have a set of core bathrooms that might have no practical use to a medical tenant," Bow said. "Medical tenants don't have a big set of bathrooms. They want bathrooms throughout the space, so they can have space for waiting areas or doctor's offices. The building can be completely customized to accommodate all different types of medical facilities."
Bow sees the need for medical facilities that are easy to use and access as a primary driver for new healthcare locations. He notes that  600 W 58th Street at The Frank is just one block from Mount Sinai, close to many residential buildings and just off the West Side Highway, all of which make it a clear choice for many medical needs.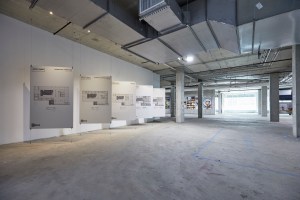 "If you look at HSS, they even committed down at Hudson Yards. They're trying to get closer to where people live or work, to make it convenient," said Bow. "It's all about concierge service—making it easier for people to utilize the service.
"What we're seeing, as commercial developers, is that hospitals are branching out, not just having a campus situation. New York Presbyterian/Columbia University Medical Center opened a facility at 1290 Avenue of the Americas where they have a whole group of doctors. You can see your general practitioner, then see any specialist you need to see after. It's a one-stop opportunity for medical providers. If you can make it easier for people to see a doctor and a specialist at the same time, then you're going to have better customer service and more visits."
Newmark (NMRK) Knight Frank sees a similar situation with a vacancy it's currently marketing for medical use at 866 United Nations Plaza.
The office condominiums at 866 United Nations Plaza occupy a full block from 48th to 49th Streets between First Avenue and the East River. Given its location, the building offers unparalleled, unobstructed 360-degree views, overlooking the U.N. campus, the Secretariat Building, the Chrysler Building, and across the river into Long Island City.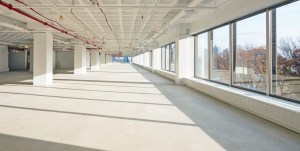 The company currently has over 200,000 square-feet of available space on the building's 2nd, 3rd and 6th floors, including the ability to designate a private ground floor entrance. Each floor features oversized windows on four sides, underground parking with easy access to the FDR Drive, state of the art security, and an interior courtyard beaming with light.
"We have entire floors offering 75,000 square-feet of space on the 2nd and 6th floors, and almost 60,000 square-feet on the 3rd floor," said Zachary Weil, Associate Director at Newmark Knight Frank.
The flexibility and expansive floor plates make the spaces uniquely suited for medical use.
"Whoever leases the space will have 75,000 square-feet on one floor virtually column-free," said Weil. "There can be so many different rooms there, and from First Avenue to the East River they'll have unobstructed views. These floors are very conducive for a medical space set-up."
Weil also notes that tenants can have a private driveway with a private entrance of 2,000 square-feet and the potential to expand on the ground floor and that the area is teeming with complementary medical establishments, lending an ease to coordinating various medical appointments.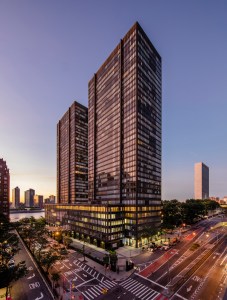 "NYU has a medical center on 42nd Street and Park Avenue, and Langone Health is at 34th Street between First and Second Avenues," said Weil. "New York Presbyterian, Weill Cornell, and Mount Sinai are all on the east side corridor from 30th Street to 70th Street along First Avenue. We're right in the middle of it. In a market where hospitals are growing and always looking for space, we feel this is a natural spot for them to grow and add onto their campuses."
The upshot of all this is that as medical facilities embrace a retail formula, patients will be the winners, as dealing with various doctors becomes an easier proposition.
Wexler mentions there is now medical space at 60 E 42nd Street, which offers 14,430 square-feet spread over two levels both with street level access, one level having street frontage on E 42nd Street and the second having frontage on E 41st Street. Formerly Bank of America (BAC) for over 60 years, the property recently became available.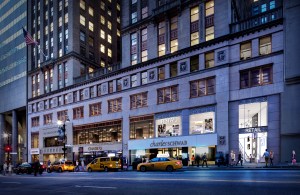 The owner, Empire State Realty Trust, received lukewarm interest when they marketed the space as conventional retail. With Wexler's help, the space is now being adapted for medical use. The interest has increased greatly, providing further evidence that medical use will play a significant role in the future of New York City retail.
"I made a presentation to ownership to market this as medical and we have been getting tremendous interest since," Wexler said.
"I think the space is going to ultimately lease as either one large medical center or be divided up into a mini-medical mall. Much like a Grand Central food court with a cheese shop, pasta shop, and an olive store all next door, we might end up with multiple medical specialties all in one setting and in a phenomenal location across from Grand Central."
110 East 60th Street
,
111 East 57th
,
60 East 42nd
,
600 West 58th
,
866 United Nations Plaza
,
Brain & Company
,
Brooklyn
,
Chrysler Building
,
Columbia University Medical Center
,
East River
,
Grand Central
,
Healthcare
,
Hospital for Special Surgery
,
Long Island City
,
Medical Office Space
,
Mount Sinai
,
New york city
,
New York State Public Health Law
,
New York-Presbyterian
,
NYU
,
Park Sixty
,
Paul Wexler
,
Queens
,
Rand Corporation
,
Retail
,
Ritz Tower
,
Secretariat Building
,
The Corcoran Group
,
Thomas Bow
,
Weill Cornell
,
Wexler Healthcare Properties
,
Zachary Weil
,
Bank of America
,
Durst Organization
,
Empire State Realty Trust
,
Newmark