Old School: Louis Jerome Talks History and Herald Towers Renovations
JEMB's Louis Jerome is building big new things as he restores great past ones
---
---
It doesn't take much to get Louis Jerome to talk about history.
Jerome, a history major in college before joining the family-owned JEMB Realty, rattles off facts about how his grandfather, Morris Bailey, bought JEMB's first property in the 1980s when looking for a location to open a Burger King, or how the family bought a vacant Midtown building and turned it into the first Courtyard Marriott Hotel in the city or what the neighborhood has become since then.
"You feel a transformation of the neighborhood," Jerome said. "There's a lot more people, there's a lot more diversity. When you see growth like that, we want to be a part of it."
The love of history and thinking years down the line is behind much of what Jerome does as a principal of JEMB Realty. And it really comes out in the 106-year-old hotel-turned-residential apartment building Herald Towers at 50 West 34th Street.
"It still has that aura from early New York," Jerome, 33, said. "You can conquer anything, that's the sort of aura I thought the building gives off. It's not glass and steel, it's old school."
Herald Towers began its life as Hotel McAlpin in 1912, once the biggest hotel in Manhattan, and attracted famous guests like Harry Truman and Jackie Robinson, who was in the hotel when he got the history-making phone call to break the color line and join the Brooklyn Dodgers.
It was converted into 700 rental units in the 1980s and JEMB bought it for $150 million in 1999. Last year, the company embarked on a multi-million-dollar project to modernize the building with updated apartments, a game room, a gym and relocating the lobby to increase retail space, but Jerome wants to make sure its history doesn't get lost in the shuffle.
"It's definitely guided our vision for the building," Jerome said. "We didn't want to be a glass and steel building that you can look at on any block of the city. We wanted to be unique and when we thought about what makes us unique, we thought about that [charming], New York feel."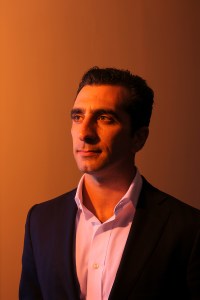 People who work with Jerome said that balance between old and new gets at the core of his personality. Jerome is quick to embrace fresh ideas and technology—getting on board with social media in a big way for Herald Towers—but he also has a reverence for the past.
"He is a little bit of an old soul," said JR Sena, a senior marketing director at Douglas Elliman who works with Jerome to market Herald Towers. "To make a nod to [the history] is very important. He really identifies with that aesthetic anyway so it's easy for him to try to do that."
One of the first things Jerome handed architects at Fogarty Finger, who were in charge of Herald Towers' interior overhaul, was a package of historic photos of the 26-story building and the original blueprints.
"More often than not, we're the ones bringing that to the table," said Chris Fogarty, a co-founder of Fogarty Finger. "That love of the building and that enthusiasm rubbed off on all of us."
While the redesigned lobby of the building will have modern touches—double-height ceilings and a larger mailroom with more space for residents' Amazon packages—Fogarty made sure to highlight some of the building's old plasterwork and restore the limestone facade.
"[Jerome] really understands the importance of making it feel modern without losing the character of the building," Fogarty said. "It's sort of a modern interpretation. It's got a more classic vocabulary to it."
The new lobby will move from West 34th Street to West 33rd Street so residents don't have to deal with the chaos of West 34th Street when leaving or coming home. The relocation also has the benefit of adding nearly 2,000 square feet of retail to the existing 110,000 square feet on the lower level and first, second and third floors of the building.
Gap and Forever 21 recently announced they won't renew their leases in the building, leaving about 95,000 square feet empty come 2020, but Jerome isn't sweating the vacancies too much. He called it a "blessing" because the space will come online around the same time as the renovations, freeing up a canopy that can be used for retail branding.
"This is a flagship opportunity of a lifetime for someone who wants to [be] in New York," he said.
Jerome might treat Herald Towers like it's the only property he owns—sometimes he even personally responds to Yelp reviews from tenants—but that's far from the case.
JEMB owns about 6 million square feet of mainly commercial space and is currently working on building the 500,000-square-foot One Willoughby Square in Downtown Brooklyn, set to be the borough's largest office tower when it opens in 2021.
The company was founded by Jerome's grandfather Morris Bailey almost by accident. In Jerome's retelling, Bailey used to own a string of Burger King chains on the East Coast and was looking for a new spot to open up a new one in Manhattan. But, franchise rules dictated it couldn't be too close to an existing Burger King.
Bailey went to tour 150 Broadway in 1986 for a potential lease but when he got out of the car to tour the building the first thing he saw was a Burger King across the street. However, he still met with the owner and ended up buying the building from him.
"He saw the value in New York real estate," Jerome said, adding he still sees that Burger King everyday when he goes to work. "He [thought] this was a good long-term asset for his two daughters."
Eventually, Bailey moved uptown in 1987 and started picking up more properties, including Herald Center, a commercial property across the street from Herald Towers. He decided to formalize the company in 1990 as JEMB Realty using the first letters of his children's names—Joseph, Ester and Mickey—along with his last name to come up with the name.
Three generations of the Jerome family still work at JEMB—Joseph Jerome and his grandsons Louis, Morris and Jacob along with Bailey—and all of them have a hand in the projects the company's involved with.
"Sometimes, my grandfather is more the aggressive one," Louis Jerome said. "You think it would be the younger guys, but sometimes we have to slow him down."
The family also doesn't get a break from each other when business hours are over. They all live within walking distance from each other in Flatbush, Brooklyn, where Louis Jerome grew up.
"We work very, very well together," he said. "We rely on each other and we're a good team."
That close-knit family feel carries over to the business side of the Jeromes' lives with a JEMB meeting sometimes feeling like a holiday dinner.
"It's like you've been invited into some great family event," said Dan Kaplan, a senior partner at architecture firm FXCollaborative who worked on One Willoughby Square. "It's sort of loud and boisterous and fun. It's a nice environment to work in."
The great experience working with JEMB and designing a building that will be the "next generation" of office buildings in Brooklyn led FXCollaborative to lease three floors of One Willoughby Square from JEMB to relocate its offices from Chelsea.
"I think understanding them from the inside out, and what really committed people they are, was critical to us signing," Kaplan said. "There was also the emotional aspect of being in a building we designed."
That commitment to properties is the driving ethos of how JEMB runs its portfolio. The company rarely sells off property—still owning 150 Broadway—and views every asset it picks up as something to be passed down.
"We really think not even in years or lifetimes, we think in generations," said Jerome, a father of two with a third on the way. "This is for my kids. We're not forced to sell anything; we're in it purely for the long term."
Despite being born into the real estate business, Jerome didn't always know he would follow in his father and grandfather's footsteps. He was unsure what he wanted to do with his life after he graduated from New York University with a bachelor's degree in history in 2008, so he took a job in "the trenches" on the leasing side of Herald Towers while sought to figure it out.
He kept at it for nearly four years and eventually started to sit in on meetings his father and grandfather had for other projects when he finally decided he wanted in on more than just leasing.
"They were involved in exciting stuff," he said. "The more I was able to see what they can do with these projects, the more excited I became to really get more involved."
What most excited Jerome from those meetings, and which drew him to take on a leadership role at JEMB, was the ability to work on projects that could change an entire neighborhood of New York City.
"New York is the greatest city in the world and what we do here will really have a major impact on the city," he said. "To have that opportunity is something people really would crave for."
But even as the company expanded to pick up casinos in Montreal and Atlantic City, N.J., a resort and spa in Pennsylvania and an office building in Phoenix, Herald Towers is still the property that has Jerome's heart. He views it as the "crown jewel" of JEMB's portfolio and he is the driving force behind the renovation project.
"There's so much potential in what it could be," he said. "When we're done with it it's going to be so much better than it already is now."
50 West 34th Street
,
Chris Fogarty
,
Dan Kaplan
,
Fogarty Finger
,
FXCollaborative
,
Herald Center
,
Herald Towers
,
Hotel McAlpin
,
JEMB Realty
,
JR Sena
,
Louis Jerome
,
Morris Bailey
,
One Willoughby Square