Living It Down: Residential Buildings Make a Big Play on Downtown CMBS
Hardly anyone lived south of City Hall before the 1990s, but in the decades since, the neighborhood's residential cohort has boomed
---
---
As recently as the mid-1990s, the future of Lower Manhattan as a thriving business district was deeply uncertain—and it would have taken a crystal ball to predict the area would take on a second role as a bustling residential neighborhood.
In the wake of the 1987 stock market crash and the savings and loan crisis of the late eighties and early nineties, a dark cloud hung over Wall Street—and many institutions were turning out their lights. In those years, Morgan Stanley, J.P. Morgan Chase and Bear Stearns all decamped from the Financial District, migrating north to Midtown, the better to serve a labor force increasingly commuting from upstate New York, Long Island and New Jersey.
In the early 1990s, when a 30 percent office vacancy rate in the area left 25 million square feet of office space unoccupied, Downtown skeptics had myriad gripes that should have banished any hope of attracting apartment dwellers, let alone office tenants. Hudson River Park, the lauded greenway that would eventually line the Hudson River from West 59th Street to the Battery, was still in the planning stages, and city government planning maps from the early 1990s show that pedestrians' riverfront access was limited to short stretches near the World Trade Center and the South Street Seaport.
Supermarkets and restaurants serving crowds other than business lunchers were scarce. And although an initial wave of pioneering residents was beginning to colonize new rentals and condominiums in Battery Park City, the central and eastern portions of the Financial District remained a residential Siberia. Population density in the neighborhoods along the East River south of the Brooklyn Bridge was under 25 people per acre at the time—a paucity unmatched in Manhattan except in Midtown's fully commercial Plaza District. Though 21st-century renovations would bring flourishing retail and restaurant activity to popular haunts like Stone Street, Brookfield Place and the Seaport District, outside of market hours, in the 1990s, the area emptied out after business hours.
But as ambitious plans to rebuild the World Trade Center after the Sept. 11th attacks began to bear out developers' intent to rejuvenate Manhattan's southern tip, a wave of residential investment kicked off to lend Lower Manhattan a homier mien. Fifteen years later, for instance, of the approximately $12 billion of commercial mortgage-backed securities debt outstanding below Manhattan's 14th Street, more than a third is backed by multifamily buildings, or by mixed-use properties with a significant residential component. What's more, apartment buildings represent two of the top five and four of the top 10 CMBS loans Downtown—a group that includes a handful of major rental buildings at the heart of single-asset, single-borrower financings. That's an execution type reserved for the best established and most solidly underwritten institutional properties, according to Fitch analyst Melissa Che, underscoring the firm foundations that Lower Manhattan's marquis residential properties have established in the 21st century.
A Downtown residential megalith like 8 Spruce Street, for example, "is really a trophy property in a prime Financial District location," Che said, noting that Fitch considers it an A-grade asset, the company's strongest rating. "That means it has all the attributes we'd be looking for."
That building, designed by Frank Gehry and featuring luxury apartments that rent for more than $7,000 per month, is one sign of the neighborhood's particular lean towards dressed-up living. Another is the recent openings of tony restaurants like Manhatta, a Danny Meyer dining room perched on the 60th story of 28 Liberty Street, and Keith McNally's Augustine, near City Hall Park (see page 16). But an area of the city that earned much of its early residential appeal among movers seeking deals on rent-controlled apartments in Tribeca or Battery Park City also still maintains pockets of affordability—in older buildings in Chinatown, for example, or at an address like the 1,300-unit Independence Plaza, where half of the apartments are governed by a variety of affordable-housing programs.
Especially for longtime Manhattanites who remember the isle from back when, any stroll up Hudson Street or down South End Avenue on the far side of the West Side Highway should be enough to persuade that Lower Manhattan has transformed beyond recognition. After all, you'd be bound to run into some of the 61,000 people who live on Manhattan's southernmost mile or so—more than twice as many as did in 2001, according to brokerage RKF. But peeping at financial reporting for CMBS deals—the most scrutinized and best documented kind of lending—does much to shore up the intuition. Below 14th Street, the four biggest residential CMBS loans range from a new-construction luxury skyscraper to a student dormitory built in the early 20th century, showing off the full breadth of the area's multifamily resurgence.
Independence Plaza
The building that has received the largest residential financing in Lower Manhattan, Independence Plaza at 330 Greenwich Street in Tribeca, could hardly present a better emblem of how the neighborhood has changed. Until 2003, the massive apartment complex—one of the first big residential projects below Houston Street, in a neighborhood that was then a forsaken warehouse district—was rent regulated by the Mitchell-Lama program, a state endeavor that gave tax abatements and investment guarantees to developers in exchange for developing low-income housing.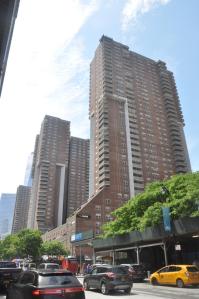 When the building began its phased exit of the program 15 years ago, however, and began to offer an increasing share of its units at the going rate, values launched into orbit, allowing the building's ownership to land a big cash rake from the CMBS markets.
The three-tower complex last refinanced in June with a $675 million loan from Goldman Sachs, securitized into a single-asset mortgage-backed securities deal called Independence Plaza Trust 2018-INDP. Strong occupancy at the Tribeca development meant that its owners, a partnership of Vornado Realty Trust and Stellar Management, could lock in, well, stellar underwriting for the deal, nabbing a seven-year loan at a loan-to-value ratio of 52.2 percent.
Revenues are dampened somewhat by the project's extensive vestigial affordable components. Although half of the building's 1,330 units rent at market rate, the remainder is divided among units for residents who receive federal Section 8 subsidies and others that benefit from landlord assistance plans negotiated under the Mitchell-Lama framework that are still in effect. The building's Mitchell-Lama apartments—23 percent of the total—rent at levels 71 percent below market rate, according to an analysis by Fitch Ratings.
Buoyant market-rate rents, however, have carried the day for the development, erasing any concerns about drags from the building's affordable programs. Studios have leased for more than $3,000 per month on average this year, according to Fitch, while three-bedroom apartments top out at near $7,000 a month. More revenue yet comes in from retail stores, commercial parking garages and a school that rent space on the building's lower floors, and also from cell-tower operators that pay to broadcast wireless signal from the premises.
8 Spruce Street
The second-biggest residential CMBS loan in Lower Manhattan finances a skyscraper that was, when it opened seven years ago, the tallest apartment building in America—although it's since been eclipsed twice. Though the tower's record-setting height has proved transient, the design cachet of Forest City's 8 Spruce Street has proven more permanent, with the owner and operator so eager to highlight architect Frank Gehry's role in designing the 76-story rippling steel tower that the firm now markets the building under the sobriquet New York by Gehry.
Rents in the 904-unit building have more than paid Forest City's bills. Last year, the Cleveland-based company took in $52.7 million at 8 Spruce Street, a figure that averages about $4,900 in monthly income from each apartment. That was sufficient for receipts to cover debt service on a net cash-flow basis by a ratio of 1.86 in 2017, putting Forest City on solid footing to service its $550 million CMBS loan on the property, securitized into 2014's single-asset NYHDC 2014-8SPR deal. The 10-year, interest-only loan charges the developer a fixed rate of 3.87 percent. (Bonds issued by the New York City Housing Development Corporation—partially tax exempt—helped jumpstart construction.)
Occupancy has ticked down a hair, finishing last year at 94 percent, a fall from 99 percent at securitzation. But Forest City remains buoyant about the rents it's seeking on the tower's handful of vacant apartments. One-bedroom apartments are on offer for up to $4,900 per month, according to StreetEasy, whereas a two-bedroom unit on the building's 69th floor is on the market for $7,800 per month.
The building's swooping facade remains in evidence indoors, sculpting apartments' windows into curves that New York Times architecture critic Nicolai Ouroussoff said lent their interiors an "unusually intimate" vibe. In common spaces, amenities include a 50-foot swimming pool, a gym and several lounges.
A spokesman for the landlord declined to comment on the building's finances.
20 Exchange Place
Exemplifying shifting property uses Downtown, 20 Exchange Place, a 57-story tower wedged into a trapezoidal block between William and Hanover Streets, was built in 1931 but converted in the last 10 years to a high-end apartment tower that now includes 767 units, according to data from Trepp. Most recently the owners of the building, a Belgian and Luxembourgian partnership called DTH Capital, pinned down a $268.7 million agency CMBS loan on the building last year, reflecting the latest investment in an attempt to mold the tower into a recognizable residential beacon in Lower Manhattan.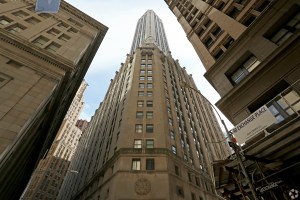 Daniel Haimovic, a spokesman for DTH, said that the company feels that the building's history as an edifice of finance—it was originally built as headquarters for the financial companies that eventually became Citigroup—underlies the building's appeal to residents.
"The desire of New Yorkers to live in grand older buildings with views of Lower Manhattan and the New York Harbor drove the shift of FiDi into a residential neighborhood," Haimovic said in an email. "The building combines tenant desires to live in a classic 1929 Art Deco office building with modern amenities."
Freddie Mac believed in the property enough to wrap it into a single-asset, single-borrower securitization, FREMF 2017-KL1E, a 10-year vehicle whose centerpiece loan pays just 4.01 percent interest and carries a loan-to-value ratio under 55 percent. A year into its seasoning, performance has borne out the proposition, with the building's 96 percent occupancy rate generating net cash flow of $16.4 million last year, good for a debt service coverage ratio of 1.5.
A studio on the building's 11th floor is available for $2,750, according to the building's website, while a three-room, one-bedroom unit with a study can be had for nearly $4,700.
And despite a slew of flashier, more up-to-the-minute rental residences coming online in recent years on surrounding blocks, DTH avers it has no concerns about softening rents.
"We've actually found rents to strengthen over the past several months," Haimovic said. "We think that this is due to the continuing evolution of FiDi as a thriving residential neighborhood, and the strong loyalty we find in the building from our tenants."
80 Lafayette Street
Though New Yorkers of a certain age might well remember a very different Lower Manhattan, none of them live at 80 Lafayette Street, a block-long Tribeca tower between Franklin and White Streets. That's because the building, which secures a $161.3 million securitized Freddie Mac mortgage wrapped into the FREMF 2015-K46 transaction, serves as student housing for New York University: a 262-unit dormitory that mostly hosts freshmen and sophomores, as well as some fraternities and sororities.
According to Brian Salyards of PGIM, the lender behind the debt, the early-20th-century building's conversion in 1999 to student housing gave the property a place on the vanguard of residential investment in Lower Manhattan in part because NYU was able to guarantee a strong revenue stream to the building's owner, Corigin Real Estate.
"The reason this was so attractive to Prudential is that at the time—and even today—NYU has got AA credit," Salyards said. "They gave a full guarantee of the net operating income for 10 years. And with NYU paying the vast majority of the real estate taxes and managing the building, this is really a rather simple building for this owner to hold long term."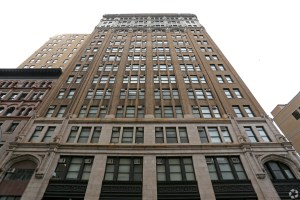 Last refinanced in 2015, Corigin pays 3.62 percent interest on its 10-year, interest-only financing, underwritten with a loan-to-value ratio of just 40.9 percent. Net operating income has declined about 10 percent since securitization to $10.4 million, but that's still good for a 1.76 debt service coverage ratio—and in any case, NYU's backstopping of the building's income serves to avert concerns of default. That said, there's no sign the university will have to dig into its coffers to remunerate Corigin anytime soon: student occupancy of the building hasn't dropped below 100 percent since the loan's securitization.
"Student housing is a very attractive investment for us as lenders," Salyards said. "But it is a trickier asset class. If you don't lease your building up in September—if you're stuck at 80 percent—you'll likely be at 80 percent until next year."
But at least for now—even with tuition, room and board running close to $70,000 for undergraduates—the allure of studying and living in Lower Manhattan appears to be enough to give lender PGIM's executives restful nights of sleep.