Henri Bendel, Including Fifth Avenue Flagship, Closing
The retailer will still be on the hook for at least $13M in rent at 712 Fifth Avenue
---
---
L Brands announced today that it plans to close all of its Henri Bendel department stores nationwide, including its 85,917-square-foot flagship on Fifth Avenue, after 123 years.
L Brands wants to focus on its "larger brands that have greater growth potential," CEO Leslie Wexner said in the announcement. "This decision is right for the future growth of our company, but not easy because of the impact to our L Brands family."
Amid sluggish sales, L Brands will shutter the 23 luxury women retailer's brick-and-mortar department stores in 12 states, along with its e-commerce website, following the holiday season in January 2019.
Most famously, Henri Bendel's four-floor store in Paramount Group's 52-story 712 Fifth Avenue between West 55th and West 56th Streets will shutter after more than three decades. Henri Bendel's lease doesn't end until Feb. 28, 2021, but it will be responsible for $6.5 million in annualized rent at the Midtown property, a source familiar with the terms of the deal said. A Paramount spokesman declined to comment.
Despite the loss of a long-term tenant, the freeing up of such a sizable block of space could be a boon to the landlord. A 2014 Paramount shareholders report found the company could rent the space for a much higher rent and estimated that a new tenant would generate $25.7 million of incremental revenue per year.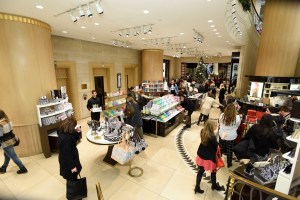 Henri Bendel was started by woman's hat maker Henri Bendel in 1895 when he moved to Greenwich Village from Louisiana and it grew into an iconic New York brand, according to the company website. It's credited with the discovery of famed pop-artist Andy Warhol who worked as an in-house illustrator for the brand in the 1960s.
L Brands, which also owns Victoria's Secret and Bath & Body Works, bought Henri Bendel in 1985. Despite its iconic reputation, Henri Bendel has struggled in recent years. While shares of L Brands stock shot up by nearly 5 percent to $28.72 following news of Henri Bendel's closure this afternoon, stock prices have been down more than 53 percent so far this year.
Henri Bendel's closing comes amid a wave of closures of department stores as more shoppers head online or into specialty retail stores for their merchandise.
"This is the state of retail, and also the state of retail investment, that they couldn't find someone willing to engage with it and grow it," retail consultant and Henri Bendel shopper Kate Newlin said. "You get it from a big-business world, but you mourn it from a shopper's world."
In June 2010, famed Japanese retailer Takashimaya shuttered its New York flagship department store at 693 Fifth Avenue between East 54th and East 55th Streets after more than 50 years and Lord & Taylor recently announced it would close its century-old flagship at 424 Fifth Avenue between West 38th and West 39th Streets next year. While Macy's Herald Square flagship is safe for now, the company announced it would shut down 11 stores nationwide this year.
"It is a hard business to monetize," luxury retail broker Soozan Baxter of Soozan Baxter Consulting said in an email. "Henri Bendel never resonated with its customers, as no one knew what that label really stood for beyond being an incredible destination to shop in Manhattan."
Stores on Fifth Avenue need to pivot to become destinations for international tourists to visit and shop in to survive—like Tiffany & Co. has done recently—but L Brands never did that for Henri Bendel, Newlin said.
"I don't think they invested in the cachet in the brand in a way that would've made it [a tourist spot]," she said. "The brand was starved for attention."
Additional reporting by Lauren Elkies Schram.
424 Fifth Avenue
,
693 Fifth Avenue
,
712 Fifth Avenue
,
Bath & Body Works
,
Henri Bendel
,
Kate Newlin
,
L Brands
,
Leslie Wexner
,
Lord & Taylor
,
Macy's
,
Soozan Baxter
,
Soozan Baxter Consulting
,
Takashimaya
,
Tiffany & Co.
,
Victoria's Secret
,
Paramount Group