The Hot New Eggs-hibit: Hunting for Pop-up Museum Space in New York City
Ice cream, pizza and humongous cartons of eggs?! New York's museums were never this much fun! The only problem is finding the right space.
---
---
First it was the Museum of Ice Cream, then the Museum of Feelings and soon the Museum of Pizza.
Interactive pop-up museums—far less educational than a traditional portrait gallery or historical institution—have increasingly been taking space around New York City in recent months, building egg-themed ball pits, sprinkles pools and a bath filled with roses to draw millennials inside for the perfect Instagram photos.
"It's a combination of art and commercial space," said BiuBiu Xiu, the 25-year-old founder of The Egg House, a pop-up that let visitors take photos inside a giant carton of eggs and finished its two-month run at 195 Chrystie Street in July. "It's an experiential space, but it's definitely not a museum because it's not educational."
Pop-up museum tickets can fetch between $18 and $45 and mean big business for some. The Museum of Ice Cream is considered the pioneer of these experiences when it launched in the Meatpacking District in 2016. Since then it expanded to Miami and San Francisco and for all three brought in at least $20 million, according to a MarketWatch estimate. (Only the San Francisco one is still open.)
The Museum of Ice Cream returned to New York City last month with The Pint Shop pop-up retail shop at 459 West 14th Street and partnered with Target to sell ice cream in stores nationwide. It inspired dozens of similar museums to open like Candytopia in Chelsea, Dream Machine in Williamsburg, Brooklyn, Rosè Mansion in Midtown East and Color Factory in Soho.
But while pop-up museums have no trouble acquiring press or attracting visitors, actually finding real estate to house them can be a different story.
"Some of these landlords—the minute they hear pop-up or experiential, it sort of raises red flags," said Andrew Mignott of startup-real estate brokerage LG Fairmont, who handled the deal for Rosè Mansion at 445 Fifth Avenue between East 39th and East 40th Streets. "In hindsight, some of the landlords are now kicking themselves."
The Rosè Mansion opened in July and will run until October in Harbor Group International's Midtown East space. It lets visitors wander through 14 rooms, spread over 12,500 square feet on two floors, learning about how the wine is made but—more importantly—taking photos in a bathtub full of roses or sitting on a low-hung chandelier, all while sipping rosè.
Mignott said he regularly negotiates pop-up deals for more traditional uses like retail stores and fashion shows, but the mansion was the hardest deal yet because it required finding a larger Manhattan space within a tight budget with a landlord that would permit alcohol sales.
"I think landlords have to get off their high horses and see the benefit," Mignott said. "Tickets are $45 a pop. They're not marketing towards riff-raff; it's a more high-end clientele."
While building owners had a sense of what to expect from pop-up retail shops, they scratched their heads when the pop-up museums came on the scene.
"Every time we would tell a landlord what it was they'd be like, 'Wait, what?' " said Paige Solomon, who founded the "social media playground" Dream Machine, which opened in Williamsburg, Brooklyn, in April. "They'd ask, 'Are you sure you're going to make money that way?' They did not understand the business model."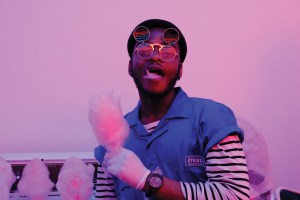 Solomon worked with agent Jennifer Keller of The Kagency to find space and finally landed on Thor Equities' 93 North 9th Street after three months. The biggest hurdle was finding a rent that didn't require too much of their roughly $1 million of funding.
Taking rents for these museums typically run between $75,000 to $150,000 a month for around 10,000 square feet in Manhattan, according to Arnaud Simeray, the vice president of strategic partnerships for pop-up retail marketplace Storefront, who worked on several of such deals.
"You go and you look at spaces and you quickly realize why so much retail in New York is empty—because people are asking crazy prices for small spaces," said Solomon, who used to run pop-up events for companies like Netflix and Sony. "We still had to pay a pretty penny for this space and we put a ton of work for this building just to get it halfway decent."
Xiu only toured two storefronts before finding a 3,500-square-foot space at 195 Chrystie Street for The Egg House. She secured the deal within a month, but it was not without assuaging landlords' fears about potentially overwhelming foot traffic.
"We know that it could have been very, very hard because it's a pop-up and it's not like a normal gallery," she said. "It requires heavy traffic. We were having some minor problems with finding a landlord who [would work] with us."
For Mignott, it took two months before signing the Rosè Mansion deal. But not after fighting with Harbor Group to bring the price far below the asking rent of $125,000 to $130,000 a month.
"It just took a lot longer than what it should have," he said. "I understand it's not a traditional deal for the landlord, but it took some convincing. I know [the landlord is] very happy now with the outcome and he's not complaining."
While a challenge now, it might have been nearly impossible for any of them to score space almost a decade ago. Brokers and landlords generally shied away from pop-up deals because they required a lot of work for little money, but as the vacancy rate in the Manhattan rose that changed.
"When you're getting no income, any income is better than zero," said James Famularo, the head of Meridian Capital Group's retail division who has brokered lots of pop-ups from coffee shops to furniture stores. "In 2007, when it was the opposite and you couldn't find a space when your life depended on it, you'd get a call for a pop-up and you hung up on it."
More landlords have started to seek out pop-ups by making improvements to the spaces' bathroom and air conditioners, dubbed "white-boxing," to attract them.
"We're just seeing a complete shift from a lot of landlords absolutely wanting museums," Simeray said. "The landlords understand the value of these pop-ups."
Solomon plans to take her Dream Machine on the road to Los Angeles by the end of next year and said she has enough momentum from the Brooklyn run to find better deals on space. She's even had some property owners reach out to her.
The amount of buzz and visitors that museums generate has started to excite landlords, hoping they will drum up interest in their vacant storefronts.
"We just thought that the Rosè Mansion would be great, mainly because of the fact that it's getting so much press," said Karen Bellantoni of RKF, who brokered the deal for Harbor Group. "I think it's great for landlords and it's a good way to showcase the space."
Still, landlords want to make sure nothing hinders attracting a long-term occupant.
Bellantoni said Harbor Group still needed to show the space to more permanent potential tenants during the Rosè Mansion's run and Solomon had to keep Thor's marketing sign up on the 93 North 9th Street property.
The number of pop-up museums heading to New York City doesn't seem to be slowing. Bellantoni said she's been fielding a lot of pop-up museum requests for various Manhattan spaces, recently inking a deal for one she wouldn't disclose, while Simeray has about five in the works, including the recently announced Color Factory, a pigment-themed exhibit at 251 Spring Street.
"We have so much demand," he said. "But we don't necessarily always have the right space."
Update: The story has been corrected to reflect that Harbor Group International owns 445 Fifth Avenue.
195 Chrystie Street
,
251 Spring Street
,
445 Fifth Avenue
,
451-459 West 14th Street
,
93 North 9th Street
,
Andrew Mignott
,
Arnaud Simeray
,
BiuBiu Xiu
,
Candytopia
,
Color Factory
,
Dream Machine
,
James Famularo
,
Jennifer Keller
,
Karen Bellantoni
,
LG Fairmont
,
Museum of Feelings
,
Museum of Ice Cream
,
Museum of Pizza
,
Paige Solomon
,
RKF
,
Rosè Mansion
,
Storefront
,
The Egg House
,
The Kagency
,
Harbor Group International
,
Meridian Capital Group
,
Thor Equities