Taco Bell Opening Two More Cantinas in Manhattan This Year
---
---
Less than a month after Commercial Observer reported that Taco Bell signed a lease for its first Taco Bell Cantina in Manhattan, the company has disclosed the locations of two more such stores in the borough.
Taco Bell Cantina—with its urban restaurant design, custom menu with shareable appetizers, alcoholic beverages and open kitchen—has signed leases at 840 Eighth Avenue between West 50th and West 51st Streets and 224 Seventh Avenue between West 23rd and West 24th Streets, the company announced. A spokeswoman declined to provide any of the real estate details.
As CO reported on July 20, Taco Bell Cantina signed its first Manhattan lease at the base of 500 Eighth Avenue between West 35th and West 36th Streets.
"We plan to open 1,000 new domestic restaurants by 2022—300 of which will be urban in-line [like the Cantinas, these are smaller locations that lack drive-thru windows, but they don't serve alcohol] or Cantina concepts, and 125 of which will be in New York City and the surrounding boroughs," the company said in a press release.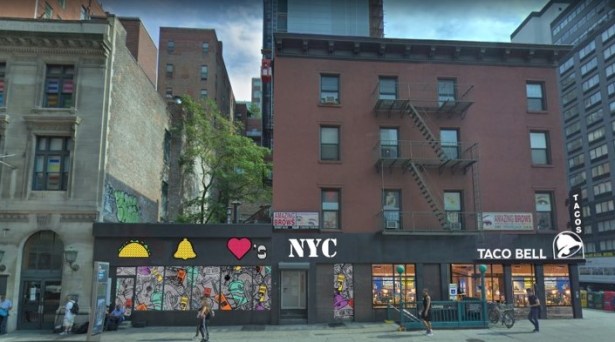 RKF's Ariel Schuster, Joshua Strauss and Michael Paster represented the landlord, 224 Seventh Avenue Realty LLC, in the deal.
"Taco Bell's newest concept will have a tremendous opportunity when it opens its doors at 224 Seventh Avenue in early 2019," Paster said in an emailed statement. "A highly visible corner location in this bustling market is an ideal next step as Taco Bell Cantina as it continues its Manhattan expansion."
The existing urban in-line and Cantina locations in New York City are at 1258 Lexington Avenue (urban in-line), 312 First Avenue (urban in-line), 1034 Flatbush Avenue in Flatbush, Brooklyn (Cantina), 1359 Broadway in Bushwick, Brooklyn (urban in-line), 491 Nostrand Avenue in Bedford Stuyvesant, Brooklyn (Cantina) and at Yankee Stadium in the Bronx (Cantina).
Update: The story has been edited to include the names of the brokers representing the landlord at 224 Seventh Avenue as well as a comment from one of them.
1034 Flatbush Avenue
,
1258 Lexington Avenue
,
1359 Broadway
,
224 Seventh Avenue
,
224 Seventh Avenue Realty LLC
,
312 First Avenue
,
491 Nostrand Avenue
,
500 Eighth Avenue
,
840 Eighth Avenue
,
Ariel Schuster
,
Food & Drink
,
Joshua Strauss
,
Michael Paster
,
RKF
,
Taco Bell
,
Yankee Stadium