Rethinking School Design in the Age of the Mass Shooter
---
---
Since more than 19 years ago when two teenagers named Eric Harris and Dylan Klebold massacred 12 of their fellow students and one teacher at Columbine High School, architects and designers have been forced to grapple with this country's new and violent reality in their approach to school planning.
The tragic instances that have followed—from the Sandy Hook Elementary School mass killings in 2012 to the recent shooting at Stoneman Douglas High School in Parkland, Fla.—have only added to the urgency to secure educational institutions against threats from both within and without that go beyond more conventional solutions like increased metal detectors, more armed personnel and automatic locks on doors.
For Michael Pinto, a principal at NAC Architecture in Los Angeles, the ongoing crisis has forced him to ask what role design can play in addressing the issue.
"Since Columbine, that's really when things came to the fore, that schools were not the idyllic sanctuaries that we all hoped they would be," Pinto told Commercial Observer. "From that point forward, other big news events [and] acts of violence against school campuses continue to make this issue a topic of conversation for our work."
Pinto, who serves on the Blue Ribbon Panel on School Safety, a committee assembled by Los Angeles City Attorney Mike Feuer in the wake of the Parkland shooting this February, said his interest is adding a "voice to this conversation that seeks to balance security needs" while not "compromising our interest in educating the next generation."
Pinto's practice is working with several school districts where they are reconfiguring entrances and considering windows in classrooms and how to support a lockdown.
"The thing that gets me concerned is that on the one hand as an architect, we're looking at every day how to improve architecture to support education. There are so many kinds of trends going on in education that we talk about—transparency, kids collaborating and schools being welcoming to the community and parents being involved—all these things that we know contribute to student success—and then something like this happens and the immediate response often is, 'Let's harden the schools, let's make them more fortress like, let's barricade students in their classrooms.' "
A natural reaction, perhaps, but one that is, Pinto said, essentially flawed. By basically turning schools into prisons, students are further isolated from one another, making it harder to identify and reach those at risk. CO spoke to Pinto and other experts working in K-12 school design as schools in parts of the U.S. were prepping to open next week.
"We need to build a positive culture in our schools," said Mariana Lavezzo, a K-12 educational designer at the DLR Group. "The school building sends a message to a community and students. If it looks like a prison, that is not a message that builds a positive culture."
Transparency—both literal and figurative—is part of the answer. So, instead of school-wide metal detectors and the like, her group advocates measures like floor-to-ceiling windows in the entryway to schools and in classrooms so that administrators and educators can be aware of what's happening both outside of and within a school campus. In the event of a violent incident, school personnel and students would be aware of the danger earlier, allowing them time to react. They can draw blinds to prevent a shooter from seeing into the classroom, and with more warning will have more time to move to safer, more secure locations.
"It's counterintuitive to think that transparency is safer than a lot of solid walls, but it is if there is a balance," Lavezzo said.
Lavezzo, who will be co-moderating a panel on designing safer schools in an era of gun violence with Pinto for AIA Los Angeles later this month, pointed to the need to have more collaborative "micro-environments" with classrooms outfitted with flexible furniture versus the old model of fixed desks all facing toward the teacher in front.
"As designers, we can help provide space that gets to the root of the violence we have experienced since Columbine. Planning principles such as small learning communities that break down large schools into groupings of 150 or less help students feel they are part of a group, not a number in an institution," she said.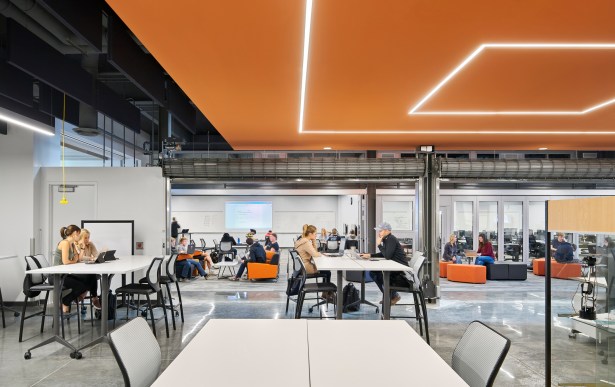 And those long locker-lined hallways of yore? Not only are they bad for bullying, but they also provide a clear unobstructed site line for an attacker trying to do the most harm possible. A better approach is to widen and even furnish them, creating central hubs where students can interact—and be seen, Lavezzo said.
Carey Upton, the chief operations officer for the Santa Monica-Malibu Unified School District, said there is a big difference in the threat source in mass shootings between elementary schools and middle and high schools, and therefore how each type of facility should be designed or rethought. Most shootings at elementary schools over the last 18 years have occurred from an outside person coming in, while those at the middle and high school levels have come at the hands of a known shooter from inside.
"You have to approach them very differently," he said. "At elementary schools you want to harden the outsides while keeping an open environment once you're inside. While in middle and high schools, as much as its about facilities, it's about providing the appropriate counseling and support to stop it before a gun ever shows up."
Under Upton's purview and approved in collaboration with NAC, some commonsense structural changes made to the John Adams Middle School in Santa Monica included moving the central administration office from its location "deep within the campus" out to the perimeter, creating a more secure border.
Absent major design upgrades, what can perennially cash-strapped school districts, like those in California, do to address the situation?
(According to EdWeek's 2017 Quality Counts tally, California ranked a dismal 46th out of the 50 states and Washington, D.C. in terms of its overall expenditures per pupil, spending $8,694 per student—$3,462 less than the national average of $12,156 per student.)
Lavezzo said everything from having a welcoming entry as part of the administrative initial checkpoint with "soft seating, a little coffee bar and display of student works" are easy fixes to encourage parent interaction and involvement that can make a difference in terms of making sure students don't fall through the cracks and turn to violence.
Bill Edwards, a vice president of security services at Thornton Tomasetti where he heads the firm's operational and technical security services team, said expanding the perimeter between a school's entrance and publicly accessible spaces like parking lots and installing ground-level lighting are also easy, security-inspired design fixes.
The decorated former U.S. Army colonel said design elements like outdoor furniture, landscaping and planters could serve dual purposes of creating an inviting environment for studying and interacting while also, in the case of an emergency, become a place to hide.
"The number one thing across all markets is how do you secure a school while maintaining it as a learning environment," Edwards said.
Upton faces that challenge in his work every day.
"If somebody is of the worst mindset to get onto the school campus and hurt someone, it's very hard for us to deter them without creating small prisons," he said. "But what we do want to do is we want to make it harder for those individuals and other individuals of ill will to get onto campus and make things happen. It's about fences and gates. It is about locks that keep people from going directly into the school. It's about maintaining a really good solid perimeter, and then it's about framing and figuring out how to train all of our levels of students to lock down, rapidly relocate and fight if they have to, which is really hard when you are talking about a group of first graders."
Bill Edwards
,
Carey Upton
,
Columbine High School
,
DLR Group
,
John Adams Middle School
,
Mariana Lavezzo
,
Michael Pinto
,
Mike Feuer
,
NAC Architecture
,
Sandy Hook Elementary School
,
Santa Monica-Malibu Unified School District
,
Stoneman Douglas High School
,
Thornton Tomasetti