Mayor Unveils Locations and Designs for Borough-Based Jails to Replace Rikers
---
---
Officials from Mayor Bill de Blasio's administration and the city's Department of Corrections today revealed the sites and tentative designs for smaller, borough-based jails that will replace the troubled detention facility on Rikers Island.
Three years after the city first began considering whether it should shutter the sprawling jail complex off the coast of the Bronx, it has revealed how and where it will build new jails for inmates who are either awaiting their turn before a judge or unable to pay bail. As part of its 10-year plan to shutter Rikers, the city also aims to reduce its jail population from a current 8,200 people to 5,000 people through various legislative initiatives and sentencing reforms. Each borough except Staten Island will get a new jail. 
In a presentation to reporters at City Hall, staff from the Mayor's Office of Criminal Justice said they planned to demolish and rebuild the existing jails at 275 Atlantic Avenue (the Brooklyn Detention Complex in Boerum Hill) and 126-02 82nd Avenue (the Queens Detention Complex in Kew Gardens). The city also plans to significantly alter and redevelop 80 Centre Street (a Manhattan municipal office building that's home to the marriage bureau and the Manhattan District Attorney's offices) and build a new jail on the site of a New York Police Department tow pound at 320 Concord Avenue in the South Bronx.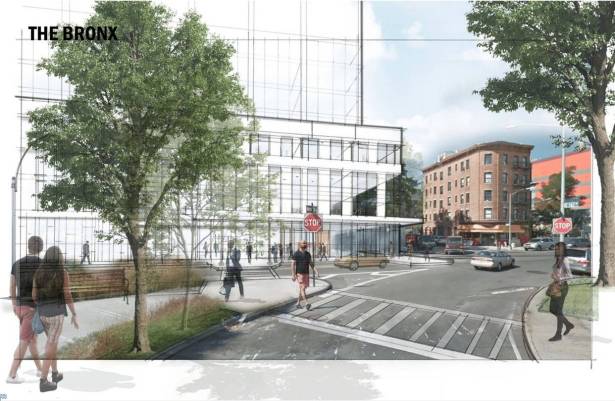 Plans to develop the nine-story Louis J. Lefkowitz building at 80 Centre Street broke earlier this month and caused quite a controversy, as New Yorkers learned the squat Neo-Classical office building would be turned into a 40-story jail. City planning documents released today confirmed that the new structure would be 430 feet tall and hold 965,000 square feet of inmate housing, 415,000 square feet of support and building function space, 160,000 square feet of "possible court-related facilities" and 125 parking spots. Plans for the outer-borough sites were similar. The Queens jail would give way to the largest new detention center, a 1.9-million-square-foot complex with 1.1 million square feet of inmate housing, 460,000 square feet of support space, 125,000 square feet of medical facilities (infirmary and maternity units) and 1,115 parking spaces.
Each new facility would hold 1,510 beds, and the whole jail system would house up to 6,000 inmates total. Currently, the existing borough-based jails house 2,400 inmates. While the new jails are under construction, inmates will be sent to temporary "swing space" on Rikers, DOC Chief of Staff Jeff Thamkittikasem told reporters today.
The new buildings will host parking garages and community facility space, along with recreation space, medical facilities, therapeutic units with behavioral health services, and in some cases, street-level retail. The new jails will also have larger cells than those in existing detention centers in Brooklyn and Manhattan, officials said.
The idea is to create humane designs that both create clear lines of sight for corrections officers and better quality of life for inmates, by adding more open space in "housing units" (aka cell blocks), allowing more daylight into cells and building out more support spaces for inmate programs.
The facilities will "permit us to have the kind of space for programming inside jails that modern principles will show us are productive," said Liz Glazer, the director of the Mayor's Office of Criminal Justice, in a presentation to journalists.
"We're looking to move into a new era of criminal justice," said Marco Carrión, the mayor's commissioner of community affairs. "And these physical facilities represent that shift."
And one of the jail sites will also get housing: the western portion of the tow pound on Concord Avenue in the Bronx will be rezoned for a 234-unit residential project with affordable housing and 31,000 square feet of retail.
The administration's plan to slash the number of city inmates includes a citywide supervised release program that allows people to remain in their communities while awaiting trial and a program that replaces jail sentences of less than 30 days with "services aimed at preventing reoffending," according to a press release from the mayor's office. (When the mayor took office, city jails held just over 11,000 inmates, and the past four years of policies have helped shrink the number of detainees by nearly 3,000, according to the city's 'Roadmap to Closing Rikers' website.) City Hall hopes to finish constructing the new jail buildings by 2027.
Today the city also released a draft scope of work that will kick off the public review process for the construction of the new jails. There will be public scoping meetings in Brooklyn, Queens and Manhattan next month and in the Bronx in October. Officials hope that the jail projects will enter the Uniform Land Use Review Process with certification by the City Planning Commission by the end of the year.  
126-02 82nd Avenue
,
275 Atlantic Avenue
,
80 Centre Street
,
Bill de Blasio
,
Brooklyn Detention Complex
,
City Hall
,
Department of Corrections
,
Mayor's Office of Criminal Justice
,
New York Police Department
,
Queens Detention Complex
,
Rikers Island