Architects Hickok and Cole on NPR HQ, International Spy Museum and Their Partnership
---
---
Michael Hickok came to Washington, D.C. in 1981 to lead an outpost of Boston-based architecture firm ADD. In three decades on the D.C. scene, including establishing his own company Hickok Warner Architects in 1988, Hickok said he's witnessed the city's commercial real estate dealings shift from "almost a good ol' boys network" to international firms competing for developments in the capital city.
"That makes it interesting for us because we're one of the largest and one of the best, I'll say, local firms," Hickok, a senior principal at the architecture firm Hickok Cole, told Commercial Observer. "We don't have offices all over the country and we're not traded on the stock exchange, but at 100 people, there's no project that's beyond our capabilities. We like nipping at the heels of those big national firms."
The "we" that Hickok speaks of includes his partner, architect Yolanda Cole. They were introduced by Ray Ritchey, a senior executive vice president at Boston Properties, when Hickok's firm was hired as the interior designer and the firm Cole worked for was hired as the architect in 1996 the first office building at Reston Town Center in Fairfax County, Va. "I ended up talking to Mike [Hickok]—he offered me a job at one point in that period of time but I turned him down and ended up buying into another small firm instead—but I always liked him and we kept in touch," Cole recalled.
In 2003, they merged their design firms, Hickok's Hickok Warner Fox and Cole's Lyrix Design to create Hickok Cole Architects, headquartered in Georgetown at 1023 31st Street NW. Hickok, who is married and has a 23-year-old son, is a senior principal. Cole, who has a domestic partner and a 27-year-old daughter, is also a senior principal. They reside in D.C., Chevy Chase and Logan Circle, respectively.
The company is currently using its research expertise to propel itself into new endeavors like renovating the American Geophysical Union's 62,000-square-foot headquarters at 2000 Florida Avenue NW in Dupont Circle. The $41.7 million D.C. project is slated to be the city's first renovation of an existing commercial building to net-zero standards. It will be completed in December 2018.
In a recent telephone interview with CO, Hickok and Cole spoke about partnering with London-based Rogers Stirk Harbour + Partners on the new 120,000-square-foot International Spy Museum near L'Enfant Plaza in the Southwest quadrant of D.C., which will be double the size of the existing Downtown museum to 140,000 square feet, and they reminisced on one of their most recognizable projects to date—the 330,000-square-foot build-to-suit National Public Radio headquarters in D.C. that gleams off North Capitol Street NE in NoMa.
Commercial Observer: Mike, how did you come to opening your own architecture firm?
Michael Hickok: I joined ADD Inc. right out of graduate school at Harvard [University]. At the time I joined, it was a four-man firm. Ten years later, it was a 100-man firm—so I was sort of in the right place at the right time. And in 1981, I was 31 years old and I came to D.C. to open up their branch office. And probably around  '87, by that time I was a partner; I sold my stock back and wound up opening my own.
How did your firm evolve from commercial real estate to lifestyle, creative and research?
Hickok: That's a very long answer.
When Yolanda and I merged, she had her own design firm and we merged the two firms to create Hickok Cole. When we were putting that together, we made the conscious decision that we wanted this firm to be more design-centric than either of our previous firms.
We were always doing buildings and interiors and design work but we were looking for opportunities to do better, higher-quality design. Every architect wants to design—and I can tell you this, nobody goes into architecture because they want to make money. So the rewards have to come sometimes in other ways. So our reward and the satisfaction we get is designing really good buildings.
So we went about building a firm that would be focused on design without giving up all the important things we had learned about project management in our previous lives.
Yolanda Cole: I think we have another leap to get to the research portion. We've gotten into a new era, which is related to the marketplace but it's also related to our own thinking about the marketplace. We started a program five or six years ago called iLab and it's a micro-grant program for our staff who can apply to study something that they're passionate about in design. And it has to have potential to impact the work of the firm.
We did it because a lot of the projects that we have go on for three or four years at a time and we wanted to give the staff other fun things to do while they're working on these larger projects. So what happened was pretty phenomenal—the things they came up with exceeded any expectations that we had. We could see that these studies add value to the firm and we've been marketing them to our clients.
And added to that, we hired a researcher who aggregates research from around the country and we add our own ideas and thoughts to what might be designed next. The one we're looking at now is urban senior housing and creating a new model for urban seniors—all of the baby boomers who moved into the city who aren't likely to take up in one of the more familiar suburban models.
So it's an evolution but we're rebranding our firm right now to really focus on that aspect of what we're doing. We're changing.
As partners, what would you say are your individual strengths?
Hickok: There's a standard structure called a three-legged stool, which is frequently a marketing component, a design component and a technical component. And in a lot of firms those are represented by three different partners. In our firm, Yolanda and I kind of do all three together and we never really divied up the management or the work of the office in that way.
So it's a little unusual that our skills largely overlap and that has proved to be a strength because we are always sort of on the same page. I can't tell you how many times one of us has gone into a design review of a project with a team member and the other one is not there, then the next week the other one goes in to review the same project and we say exactly the same thing. They keep accusing us of colluding, but there is no collusion. And we're at a point now where we almost—not quite—finish each other's sentences.
From reading your website, it seems that part of your design philosophy is not putting limits on what or who inspires you. Is that accurate?
Hickok: Yeah, the office has lots of sayings. One of the sayings is, "good ideas can come from anywhere," and when we say that we mean that a good idea can come from me or from Yolanda, but it can also come from the youngest person in the firm who just got out of school.
We engage our clients in much the same way. Of course every client thinks they're an architect really, but we listen to them as well. We're very open-minded and very broad about where ideas and inspiration can come from.
And, in fact, that's one of the things that leads us back to the question of research. Part of the research that we do is looking outside of the firm, outside of the region, even outside of the country for good ideas. We're not looking for something that we can copy. We're looking for ideas that are more intellectually based rather than visually based. We're a big vacuum cleaner and we suck in lots of input from lots of places.
Can you give me an example of one of the most random or surprising things that inspired one of your designs?
Hickok: The very first iLab that we did. A young woman [on the staff] named Mercedes [Afshar] had an idea that she had worked on in graduate school of doing a prefabricated modular hydroponic green wall. So she spent her allotted iLab hours perfecting this. We put it on our website and pushed it out through social media and not too much later, we got a call from a metal fabricator who said they want to turn it into a product for sale.
So she's been working with them now for the last couple of years, transforming her design from something that was imagined in fiberglass and resin into something that could be built of metal because that's what these guys do. That product is called HydroSkin—we've got a prototype coming to our office in the next few weeks from metal fabricator Metalwërks and it's going to be on the market in the next year or so. So very, very unexpected but a direct outcome from this iLab research program.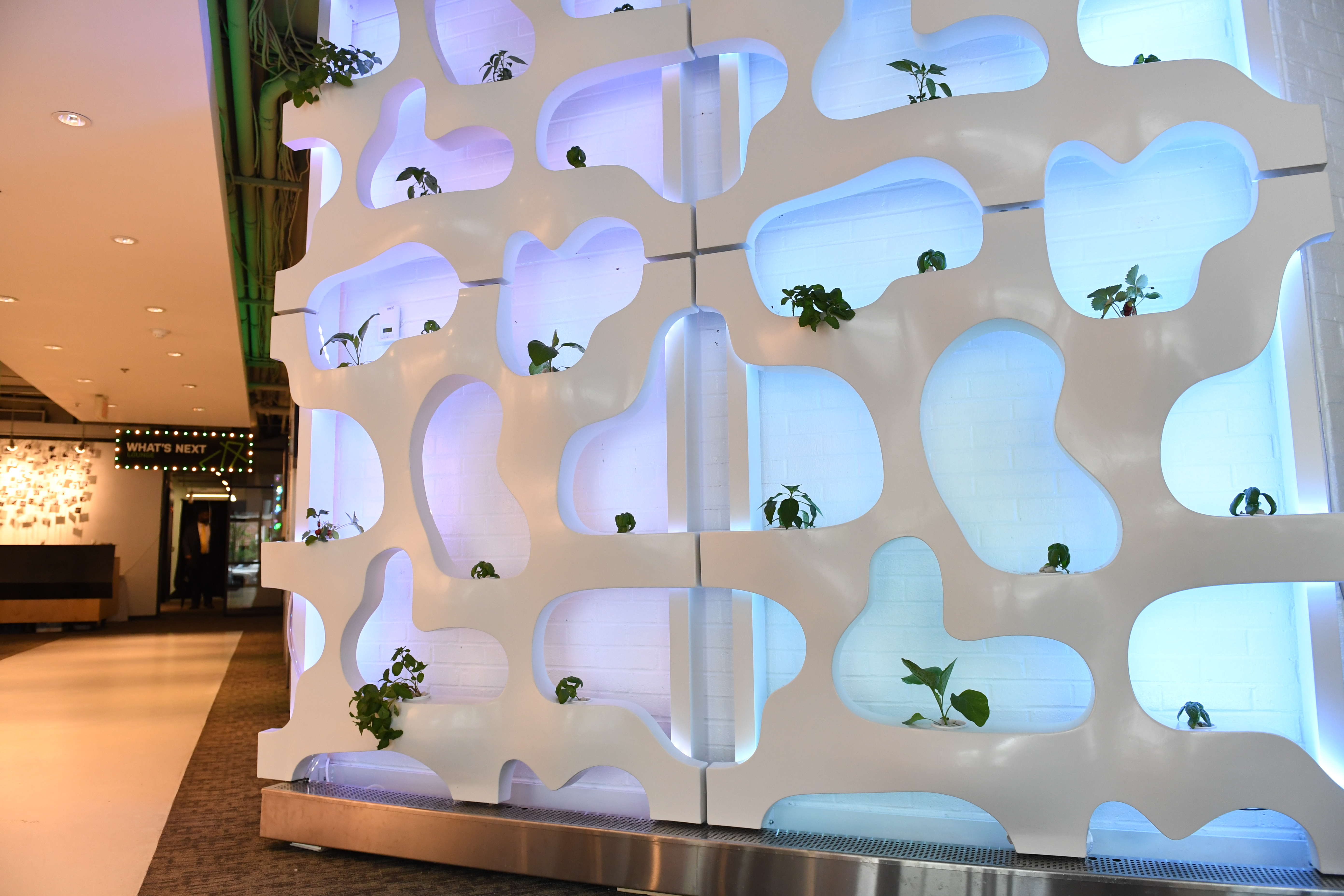 What's your company's signature feature?
Hickok: We are not what one would call, "a signature design firm." In other words, you won't necessarily see the same architectural style or the same look in every single one of our buildings. We believe very strongly that every building is unique depending upon the site, where it's built, the geography it's built into, and the needs of the client. So we're not looking to establish a look and feel for our projects; we're looking for every one of them to feel right in its setting.
What was it like working on the NPR building?
Cole: For us, it was really one of those lifetime projects because most of our work is commercial, meaning we're designing office buildings, multifamily housing and mixed-used projects that are not necessarily known by others out there. But NPR is obviously an organization that everyone knows. We won that project actually over many larger nationwide firms so we put a lot into it to go after it.
The project itself has really been a great experience encompassing so many different things with the existing historic building, the whole new program and the broadcasting component of it which is unique. It definitely was a marquee project for us.
What has the renovation been like for the American Geophysical Union?  
Cole: It's different. Designing a net-zero project really requires the team to work together in ways that we don't normally work—we had ourselves, the engineering firm, the project management firm for the owner, the client and the general contractor all working together at the same time from the very beginning rather than it being more of a, let's say, linear and overlapping process that typically happens.
And also because we are doing this for a scientific organization, you can imagine how all these scientists and their board are looking at this. So we were under a lot of scrutiny in that way and we had to get past their questioning to convince them that we were going to get there. Now we're in the process of construction.
One of your most notable commercial projects right now is the new International Spy Museum. Tell us about that project.
Hickok: We're doing that in a joint venture with a very well-known international firm out of London called Rogers Stirk Harbour + Partners. Richard Rogers is the design architect and we're the executive architect. While they lead the design effort, we've been involved with them from the very beginning. And we take it over at a certain point to do all of the hundreds of pages of construction documents that are required to get it built. Now we've been working with the general contractor in the field to see that it's built properly.
Are there any other upcoming commercial projects that you are excited about?
Hickok: There's a three-square block project west of Nationals Park that's going to be a fascinating project that we hope we'll be selected for. There's another very large project called Reunion Square, which includes an office building, hotel and an apartment building that includes affordable housing. When completed, it will be bring new vitality, jobs and housing to downtown Anacostia.
Last August, the U.S. Green Building Council named D.C. the first LEED (or Leadership in Energy and Environmental Design) "platinum city" in the world. Do you have thoughts on how the district is setting the bar for smart cities and the evolution of sustainable real estate development?
Cole: Initially, D.C. was ahead of the game because the government pushed the LEED standard for buildings through their own government buildings. So the federal government had taken a lead on LEED, if you will, to push sustainability forward. That means that the whole marketplace in D.C. had to set themselves up for that if you did any government work. But it also permeated the commercial market because although we didn't do work directly for the government, we do work for developers who then put government tenants in their buildings.
Hickok: And then any project that the district did on their own or on a site or a building which they owned, they applied the same LEED standards. So I think it's a good example where government, both local and federal, led the private sector towards those goals.