Hunt Mortgage Group Provides $65M in Freddie Mac Debt on Two N.C. Properties
---
---
Hunt Mortgage Group provided two Freddie Mac loans, totaling $65 million, to a joint venture that includes Joe Lubeck's American Landmark Apartments to acquire and renovate two North Carolina multifamily complexes, Hunt Mortgage announced Friday.
The first of two acquisition loans was a seven-year, $30 million loan for the acquisition of Edinborough Commons (now called The Mark), a 312-unit apartment complex located in Raleigh, N.C. The second batch of debt was a seven-year, $35 million loan to acquire Edinborough at the Park—now called 200 East—located at 200 Edinborough Drive in Durham, N.C.
Both properties were previously listed as owned and managed by Greystar, within its Avana apartments portfolio, according to information on ApartmentRatings.com and from Greystar's website. A representative of Hunt Mortgage Group wouldn't identify the seller, but said the selling entities were two LLCs named GS Edinborough Park LLC and GS Edinborough Commons LLC.
The Mark is located at 6421 Campus Drive in Raleigh. The property was constructed in 1997, according to information from Hunt Mortgage, and it comprises 16, three-story garden-style apartment buildings.
"We were thrilled that we were able to close these two deals in only 27 days," John Beam, a managing director at Hunt Mortgage, said in a prepared statement. "Not only did we provide an early treasury rate lock but also increased the loan proceeds during underwriting."
The Mark (Edinborough Commons) includes a pool and spa deck area, gas grill stations, a fitness center, a dog park, a sand volleyball court, a car wash station, clothes care center and two tennis courts.
American Landmark plans to deploy roughly $2.2 million over the next two to three years for renovations. It will also upgrade 90 units at The Mark to "premium" level, which includes granite countertops and new stainless-steel appliances, shaker-style cabinets, brushed nickel hardware, a washer and dryer and new lighting fixtures, according to a representative of Hunt Mortgage.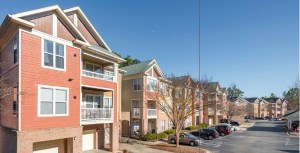 The complex at 200 East (Edinborough at the Park) comprises five, three-story buildings and 330 units. The property features a concierge, a reception area for grocery, package and dry cleaning delivery, two pools and a spa deck area, a heated indoor lap pool, gas grill stations, a fitness center, a dog park and a residence lounge and business center, a car wash station and a tennis court. Roughly $2.3 million in capital upgrades are planned for the property, including upgrading the apartment units and the complex's common area amenities.
"The properties are located in strong job-growth markets that consistently support demand for multifamily housing with competitive amenity packages," Deborah Proctor, a vice president at Hunt Mortgage, said in prepared remarks. "We were pleased to quickly close on these deals for a repeat Hunt Mortgage Group client."
Monthly rents at The Mark run from $895 for one-bedroom apartments to $1,600 for a three-bedroom apartment, while rates at 200 East range from $895 for a one-bedroom to roughly $1,660 for three-bedroom units, according to Apartments.com.
A representative for American Landmark was not immediately available for comment on the transaction.
200 East
,
200 Edinborough Drive
,
6421 Campus Drive
,
American Landmark Apartments
,
Deborah Proctor
,
Edinborough at the Park
,
Edinborough Commons
,
Hunt Mortgage Group
,
John Beam
,
The Mark
,
Freddie Mac
,
Greystar