Startup That Aims to Change Security Deposits Launches With $3M in Seed Funding
---
---
Obligo, a startup that is trying to do away with residential renters' traditional upfront payment of security deposits, officially launched today, Commercial Observer has learned.
Venture capital company 83 North led a seed funding round of $3 million to grow the company and advance its technology, Obligo representatives told CO. Entrée Capital and HFZ Capital also participated in the funding round.
"Many around the world have recognized the need for a new model to replace the traditional security deposit," David Buttress, a partner at 83 North, said in a prepared statement. "We reviewed quite a few solutions and Obligo stood out as a clear front-runner with outstanding technology and an efficient credit-based capital structure that enables the company to offer a remarkably low price point."
Obligo has already forged partnerships with Olshan Properties and Adam America, which collectively own more than 15,000 rental units in Gotham. Obligo's platform will roll out across all of Oshlan Properties and Adam America's units over the next couple of months.
Traditionally, a tenant pays a deposit upfront when signing a lease to be used if she damages an apartment. Tenants who don't want to lay out the deposit will be able to instead become an Obligo member starting at $9.90 a month until they move out of the apartment.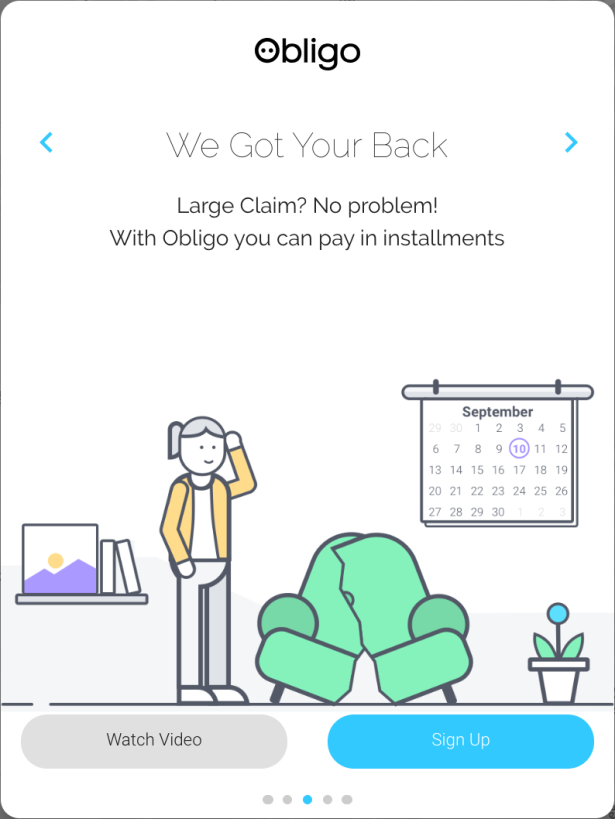 And if there is some damage to an apartment, Obligo will pay the landlord and then bill the tenant, who will have the option of paying for the damage in monthly installments. Obligo uses technology to determine the creditworthiness of tenants and assess risk.
"A major portion of a family's savings is being locked up and it cannot be used to invest," Obligo CEO and co-Founder Omri Dor told CO. "When you have a situation where people have student debt and credit card debt, at the same time they have all of this money locked up, it benefits no one."
Dor said that the Obligo system works for the landlords, too because it ensures that they are reimbursed for damages quickly and makes their buildings more attractive to prospective renters.
In order to make the damage payments to the landlords, Obligo has secured a $2 million loan from Viola Credit. (Obligo declined to disclose the terms of the debt.)
Dor, 31, and his brother Roey, 39, the president of Obligo, started working on the idea for the company about two years ago in their native Israel. Dor said that Obligo comes from the word obligation.
He is a former developer for Facebook in London and Google (GOOGL) in New York and California. Roey has worked in hospitality and real estate in Israel, and was a fighter pilot in the Israeli Air Force.
They realized the platform would be better suited for New York City as it is a bigger market and there are more large-scale developers and landlords. (Today Dor lives in Nolita and his brother lives in Tenafly, N.J.) The company has seven employees and works from a WeWork (WE) location at 175 Varick Street between Charlton and King Streets in Soho.
Obligo is negotiating partnerships with other landlords in the city, and the company hopes to move into other markets across the country.
A representative for Oshlan Properties and Adam America did not immediately return CO's requests for comment.
175 Varick Street
,
83 North
,
Adam America
,
David Buttress
,
Obligo
,
Olshan Properties
,
Omri Dor
,
Viola Credit
,
Facebook
,
Google
,
WeWork