NYC Better Brace Itself for Wave of Life Science Companies
---
---
The life science industry is growing rapidly around the country and New York City is poised for an explosion of new companies—but there isn't enough real estate to accommodate them in Gotham, according to industry experts at the first-ever Life Sciences 2018 Real Estate Development Symposium on June 12.
There is currently 1.7 million square feet of commercial space dedicated to life science companies and labs in the Big Apple—all of which is fully occupied—out of  the city's more than 472 million square feet of office space, according to Mitchel Simpler, a managing partner at engineering firm Jaros Baum & Bolles, in his opening remarks at the event.
"The lack of suitable lab space for companies to grow and develop is an especially acute problem," Simpler said to the room of 250 scientists, and real estate and biotech professionals at The New York Academy of Sciences at 250 Greenwich Street.
By comparison, in Boston—a city with a major presence of life sciences companies—the industry occupies 17.8 million square feet in an office market of 106.7 million square feet, according to CBRE's Steve Purpura, the managing director of the brokerage's life science consulting group.  
Purpura said New York City could stand to add 500,000 square feet of space each year for life sciences. Why? There are 4.8 persons with a life science degree in the city for every available job at the moment, Purpura told the crowd.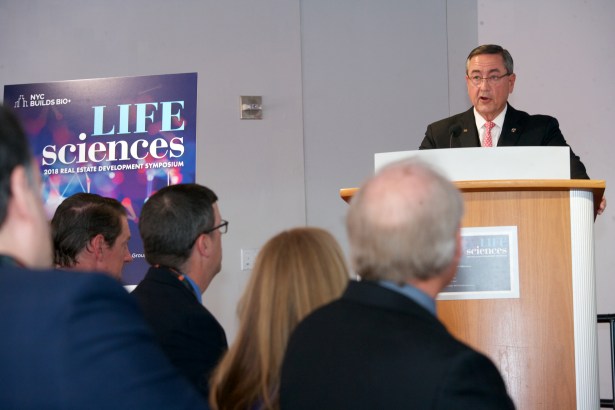 And there are a number of large institutions such as Columbia University, Weill Cornell Medical College, New York University, Albert Einstein College of Medicine and The Rockefeller University graduating more students with life sciences degrees.
Purpura said: "The labor is here [in New York City], the science is here, obviously the money is here, the institutions are here and you've got the most creative real estate development community in the world."
The city is already committed to helping ameliorate the space dearth issue. Mayor Bill de Blasio announced LifeSci NYC—a $500 million, 10-year strategic plan to develop the industry in the city—in December 2016.
About $100 million of that funding will be devoted to creating a life science innovation hub, and $300 million will be used to give developers tax abatements in exchange for building life science spaces. The remaining $100 will be split between creating internships and training programs, and supporting life science startup companies.
"We would like this to be a city known for life sciences so New Yorkers have the ability to have jobs not only in our great academic institutions, and the basic biomedical research labs, but also around commercial research and development and pharmaceutical and biotechnology industry," said Doug Thiede, the senior vice president of health care and life science at New York City Economic Development Corporation.
There are already a number of life science centers and incubators popping up around the city. The Alexandria Center for Life Science, a 728,000-square-foot, two-building campus developed by Alexandria Real Estate Equities (ARE) at 430 and 450 East 29th Street between First Avenue and the FDR Drive, houses the 15,000-square-foot Alexandria Launchlabs—an incubator for life science startups. The buildings are also occupied by pharmaceutical companies, such as Eli Lilly and Company, Pfizer and Roche. Alexandria Real Estate Equities is in talks to develop a third building on city-owned land to expand the campus to more than 1 million square feet.
And in Hudson Square, Johnson & Johnson is opening JLabs, a 30,000-square-foot facility for life science startups at 101 Avenue of the Americas on June 21. And last year, a coworking space provider for life science startups, BioLabs, opened a 50,000-square-foot location at 180 Varick Street.
250 Greenwich Street
,
Albert Einstein College of Medicine
,
Bill de Blasio
,
Columbia University
,
Doug Thiede
,
Jaros Baum & Bolles
,
Mitchel Simpler
,
New York University
,
Steve Purpura
,
The New York Academy of Sciences
,
The Rockefeller University
,
Weill Cornell Medical College
,
Alexandria Real Estate Equities
,
CBRE