J.P. Morgan, Brookfield Provide $678M Financing Package for Chicago's Aon Center
---
---
The 601W Companies has just received a $677.5 million refinance for the Aon Center in Chicago, sources familiar with the transaction told Commercial Observer.
J.P. Morgan provided the senior portion of the financing and Brookfield Asset Management provided the mezz piece in a deal brokered by Meridian Capital Group. The breakdown couldn't immediately be confirmed.
New York City-based 601W, led by Mark Karasick and Victor Gerstein, bought the 1,135-foot building in 2015 from Piedmont Office Realty Trust for $713 million. The owner's website states it owes $630 million in debt on the property, a tally that presumably precedes this refinancing.
The massive, 3.6 million-square-foot skyscraper, at 200 East Randolph Street, opened in 1973 as the headquarters of the Standard Oil Company of Indiana, now known as Amoco. Today, the building's name reflects one of its largest tenants, Aon, a global insurance and consulting firm whose U.S. operations are based in the tower.
At 83 stories, Aon Center is Chicago's third-tallest building, after the Willis Tower and the Trump International Hotel and Tower. 601W revealed plans last month to add an observation deck and a thrill ride: a glass-bottomed cab on the building's roof known as Sky Summit that would lift 22 visitors at a time up and over the roof's ledge, 1,136 feet above the city's Millennium Park. Tourists would ascend to the rooftop in a new exterior elevator with windows, which would be the world's tallest such lift.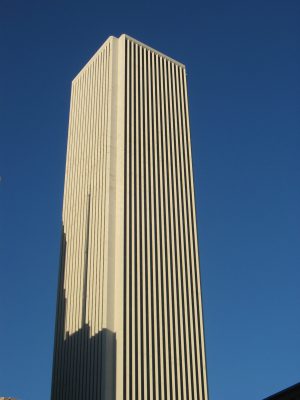 The observation deck project, estimated to cost $185 million, would face stiff competition from similar tourist attractions at the Willis Tower and 875 North Michigan Avenue, formerly known as the John Hancock Center, according to the Chicago Tribune.
Other tenants include JLL, which hosts its headquarters for North and South America in the building, and Edelman, a communications firm. A basement garage has space for over 800 cars.
Representatives for Brookfield, 601W and Meridian did not immediately respond to inquiries. Officials at J.P. Morgan declined to comment.
200 East Randolph Street
,
875 North Michigan Avenue
,
Amoco
,
AON
,
Aon Center
,
Brookfield Asset Management
,
Edelman
,
J.P. Morgan
,
JLL
,
John Hancock Center
,
Mark Karasick
,
Meridian Capital Group
,
Millennium Park
,
Piedmont Office Realty Trust
,
Sky Summit
,
Standard Oil Company of Indiana
,
The 601W Companies
,
Trump International Hotel and Tower
,
Victor Gerstein
,
Willis Tower