Under Construction: Water's Edge at Playa Vista
---
---
Construction has begun on the final office building at Water's Edge, a 6.5-acre creative complex in Playa Vista aimed at attracting high-profile tenants, according to an official release from developer Rockwood Capital, which bought the asset for $190 million from Maguire Investments and San Francisco-based DivcoWest in February, according to CoStar Group. The Los Angeles Times first reported the story last week. 
The creation of a state-of-the-art six-story 190,000-square-foot office building on the campus at 5510-5570 Lincoln Boulevard will join two four-story buildings of 58,000 and 185,000 square feet built by developer Robert Maguire. in 2002.  (Existing tenants include the video game development giant Electronic Arts, the Doner ad agency and Pop Media Group.)
Dubbed WE3, which stands for Water's Edge 3, the final office building is being designed by SPF:architects, with McCarthy Building Companies acting as general contractor.
The most distinctive feature of the building, seen in renderings released by SPF, is an exterior skin of custom-made corrugated aluminum, which reduces glare while not totally obstructing views or natural light from the floor-to-ceiling windows. The building features floor plates of up to 40,000 square feet, 15-inch ceiling heights as well as extensive private balconies and outdoor meeting spaces, including a sky garden at the top level.  
The building will feature the latest variable refrigerant flow technology for heating and cooling. New subterranean, grade and above-grade parking will provide 661 parking spots.
"Really, it's a project where they spared no expense to make it. It's the last parcel, the last ground-up development in Playa Vista under the existing entitlements of that Playa Vista phase 1," Brian Knocenhour, the director of construction for McCarthy and project director on WE3, told Commercial Observer. He said the construction bill is around $80 million, excluding land and soft costs.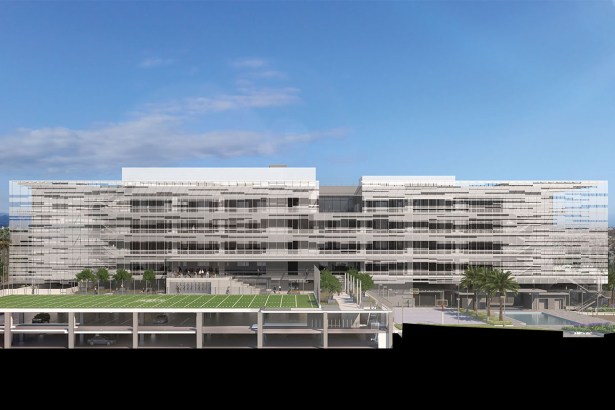 Playa Capital Company owns and operates the residential community of Playa Vista. As of 2012, Playa Capital operates as a subsidiary of Brookfield Residential Properties. Phase II of the project is nearly complete. It includes most of the new homes, a new retail center, plus approximately 3 million square feet of creative office, including the headquarters for Yahoo, Imax and YouTube.
Water's Edge's proximity to the 350-acre Ballona Wetlands Preserve, which offers enviable direct access to the Pacific through hiking and biking trails, presented a unique construction challenge.
"This part of Playa Vista isn't the most ideal situation to build in," he said. "We're building this, the lower parking lot down into the water table and with that, because of the soil type, it's a challenging foundation system we're required to use. We're going to be building an auger cast pile system, 1,100 on the project, to support the entire structure."
Beyond the WE3 building, the existing soccer field onsite will be relocated and replaced with a new artificial turf athletic field that will be built on top of the new parking structure.  This new field will anchor the recreational plaza and complement the existing common-area amenities. These include Olympic-sized swimming pool, sand volleyball court and sports court, and 31,000-square-foot fitness center operated by LA Fitness.   
Construction on the final building is expected to be completed in the second quarter of 2020 and will offer approximately 450,000 square feet of Class A office space in a highly sought-after and supply-constrained market where tech and entertainment biggies like Google, Yahoo!, and Facebook have already set up shop in Playa Vista.
The venture is being led by NR IV, an affiliate of Rockwood Capital. Other partners in the venture include GIC, Singapore's sovereign wealth fund, and Newport Beach, CA-based Marshall Property & Development.
With Water's Edge, the venture now owns approximately 700,000 square feet of existing and planned development in Playa Vista.  The ownership group also recently completed the construction of a 55,000-square foot building at nearby Playa Jefferson as the final piece of a 250,000-square foot creative office campus, which is home to Facebook.  The Rockwood affiliate acquired Playa Jefferson in 2016 and brought in GIC as a strategic partner when Water's Edge was acquired in early 2018.
Subscribe to CO's Los Angeles Weekly Newsletter for more stories like this at commercialobserver.com/subscribe
Ballona Wetlands Preserve
,
Brian Knocenhour
,
Brookfield Residential Properties
,
DivcoWest
,
Doner
,
Electronic Arts
,
Facebook
,
Google
,
Hughes Aircraft
,
LA Fitness
,
Maguire Investments
,
McCarthy Building Companies
,
Playa Capital Company
,
Playa Jefferson
,
Playa Vista
,
Pop Media Group
,
Robert Maguire
,
Rockwood Capital
,
SPF:architects
,
Water's Edge
,
Yahoo!