SCG Retail's Jacqueline Klinger Has the Connections to Give a Big Brand a Home
---
---
Jacqueline Klinger is working connections that date back to her freshman year at Trinity School on the Upper West Side.
It was that year that she met a smart guy who wore a blue Polo button-down shirt and khakis every day. That guy was Jed Walentas, today a principal of Two Trees Management Company.
They stayed in touch off and on over the years and even tried to do some deals, but "nothing ever came of anything," Klinger, 43, said.
But now, 30 years later, Klinger, a principal of SCG Retail, has sealed two deals with Walentas: first a Sweetgreen at Two Trees' 50 Washington Street in Dumbo, Brooklyn, which opened last summer, and then a Whole Foods 365 at 300 Ashland Place in Fort Greene, Brooklyn, open as of January.
"What is better than working with someone you have known since you were a child?" the tenant rep said. "He owns great properties and I have great tenants."
This friendship proved critical in the Whole Foods 365 deal, which Walentas said went on "for years and years and years."
"I don't think it would have happened if it wasn't for my relationship with Jackie," Walentas said. "I think I would have given up if she wasn't straight with me about their process and how they do things. And I felt like she was my advocate."
And Whole Foods executives seem to share a similar perspective.
Norah Smith, the vice president of real estate for the supermarket chain in the East Coast, said that Klinger "has a very clear understanding of what Whole Foods' needs are and does a good job at vetting the opportunities that will or will not make sense to us."
Klinger's tenants, from Sweetgreen to Whole Foods to Papyrus to Sugarfish to Flour Shop, fall into the lifestyle category, whether they are in the food (generally) or apparel business. And many of her clients values are aligned with her own.
"Whether they are food tenants or apparel companies, they are all innovators, trend setters and truly best-in-class retailers," Klinger said. "I seek them out as a consumer—not simply as their broker.  I shop at Whole Foods, I eat at Sugarfish and Sweetgreen, I go out of my way to buy birthday cards at Papyrus because they are the best and I just had a Flour Shop cake at our daughter's 4th birthday party."
But not all deals come by way of a New York City connection.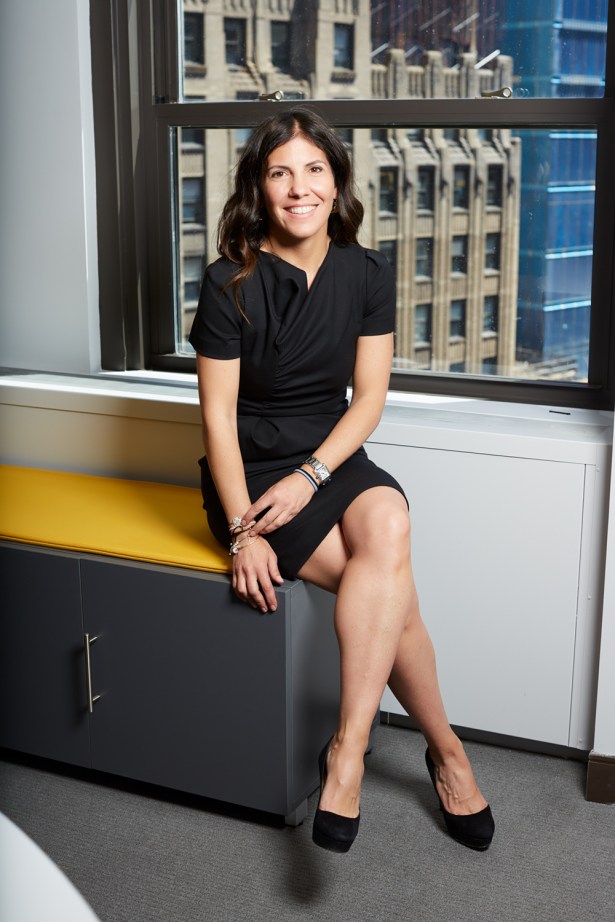 Klinger started working with Sweetgreen after the salad chain reached out the SCG Retail Managing Partner David Firestein (they wanted to meet Starbucks' New York broker). Since, Klinger has represented Sweetgreen in around 20 New York City leases, including the one at 50 Washington Street.
She landed Papyrus via a Washington Mutual contact (she and Firestein had handled the bank's rollout in New York City) who was a board member at the card company.
As for Whole Foods, after her success with Washington Mutual in New Jersey, the market giant asked Klinger to represent it in the Garden State. Since SCG Retail Partner Chase Welles already had New York City, the pair decided to work the account together.
With different dispositions, Klinger and Welles make a good team.
"Chase is very direct, very aggressive," Smith said. "Not to say Jacqueline is not, but she's a little gentler."
Klinger said that she can be aggressive when needed, but she is "not immediately aggressive." (And because she's quiet, Klinger has been treated like "she's the assistant," in some meetings, although that happens less so today, to which Klinger somewhat cheekily said: "That just means now that I'm old.")
Klinger knows her clients.
She "understands the complexities of a grocery deal in the city, particularly backfilling second-generation space not designed for grocery, loading, ventilation, etc.," Smith said.
Nicolas Jammet, a co-founder of Sweetgreen, also said that Klinger knows the market, knows her clients and knows their needs.
"She understands the way the market trades and sites work," he said. "She'll very quickly let me know when a site is not optimal for us. She wants her clients to be successful once they're open, so it's not just the number of deals signed. She's not a deal pusher."
While Klinger's a tenant rep she recently represented landlord United American Land in a deal with Allbirds for 2,500 square feet at 73 Spring Street. Allbirds replaced a Papyrus at the location. It was an assignment she landed because she knows Albert Laboz, a principal at United American Land, from when Papyrus leased the space.
Klinger worked hard to keep Papyrus at 73 Spring Street, but when she saw that she "couldn't get Albert to budge, and we wouldn't budge, she knew when she had to move on," said Ken Rendina, the COO of Papyrus, the national stationery and greeting card company.
Operating out of 2,500 square feet and doing $1.5 million in business annually, Papyrus couldn't make a profit, Rendina said. Now that Klinger found a replacement space of 1,000 square feet a couple of blocks away, Rendina feels Papyrus will thrive.
Klinger has done around 20 deals for Papyrus in Manhattan, Rendina said.
Papyrus handles most of its real estate—predominantly found in malls—in-house, so Klinger is "only one of the few brokers we have an exclusive relationship with," the COO said. "We use Jacqueline because she knows us so well. I don't have to re-educate her every time. It saves us time and energy."
While there have been some apparel deals here and there—in the past she's done work for J. Crew and she and Firestein did the first Lululemon deal at 1928 Broadway near Lincoln Center—about 90 percent of Klinger's deals are food-related and that leaves her somewhat wistful.
"It's like Daniel Craig being famous for being James Bond," Klinger said. "Like he wanted to be a theater actor, I think. And I ended up leasing food when I was 21 or 22 years old and those are the relationships I have and that's the space that I've been in for years and years. And I love it. I do love restaurants. And I go to restaurants all the time and I love current trends and all of that, so I enjoy it very much but of course there's a part of me that also loves fashion and apparel retail—and I do some of that."
Klinger, an Upper East Side resident, has been married for eight years to NBC weatherman and jokester Dave Price. The couple has two children, Eli, 5 and Caroline, 4, and two rescue dogs, Wally, a golden retriever, and Peppa (Peppa is a black and white Australian shepherd mix, so think Salt-N-Pepa and then Peppa Pig, the British animated series, Klinger noted).
Price isn't the only funny one in the family so it can get pretty competitive.
"The kids think he's really funny and they think that I'm not funny—and I'm really funny," Klinger said. "My friends think I'm funnier than he is, but it's a different kind of funny. He's more like 'comedian' funny."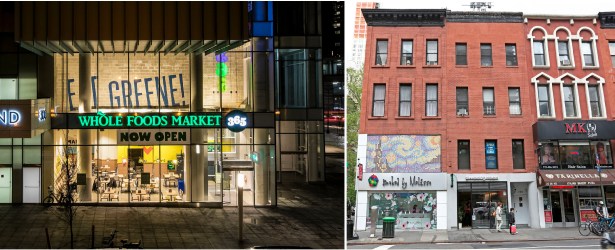 When not running around with her kids, Klinger runs. A lot. Five or six days a week in Central Park (unless the weather is really bad). Since she started a few years ago, she's always training for some kind of race.
"I did the New York City Half Marathon, the Shape Women's Half Marathon," she said. "I'm running the [TCS] New York City Marathon this year. I ran it last year. So it's like training."
Klinger didn't aspire to a career in real estate.
Fresh out of Vassar College with a bachelor's degree in psychology and history Klinger landed a job at Grand Central Terminal Venture, a joint venture between developer LaSalle Partners and retail specialist Williams Jackson Ewing, working on and out of Grand Central Terminal. The joint venture—which worked on the redevelopment of Union Station in Washington, D.C.—was tapped in 1994 to redevelop 170,000 square feet of retail space at GCT.
"It was sort of random," Klinger said. "I was just trying to figure out what I wanted to do. I thought I wanted to pursue psychology, but wanted to take some time. I was sort of burned out from school and a friend of mine knew someone who needed an assistant at Grand Central. And so I, as a courtesy, went to meet the woman because I wasn't really interested."
When her future boss pulled out leasing plans, and said they were talking to then-cool Republic noodle shop about opening at GCT, Klinger's interest was piqued. Realizing that the team wanted "the best of New York" operators, Klinger thought the job could be fun for a year or so.
Since her boss was in charge of food leasing at GCT, that became Klinger's niche.
It was a time when the options in GCT were Zaro's, Zaro's and Zaro's, and "Central Market, maybe," she said. Plus, "there were a few local guys that were in there that had connections with people at the [Metropolitan Transportation Authority, which holds a long-term lease on the property]."
The project wrapped up in 1999 and Klinger went to work in business development for Think American, an under-development e-commerce site for the Japanese market selling American brands at American prices—founded by one of the Williams Jackson Ewing partners. She knew she liked retail and this seemed like a good way to parlay her experience into that world.
"So I thought, 'if I go and work for this e-commerce site, then maybe more doors will open in terms of retail,' " Klinger said. "My job essentially was to talk to brands and try to get them to sign up. It was like leasing a shopping center, like a cyber shopping center. That's how I saw it."
A year in, the e-commerce site failed to launch and she connected with Firestein, whom she had met while working at GCT when he brought Starbucks through.
Firestein worked at White Plains, N.Y.-based Northwest Atlantic Real Estate Services. It was 2001, and Klinger took a job with him, reverse commuting from Manhattan to White Plains. (The company opened a New York City office following the merger between Northwest Atlantic and Atlanta-based Shopping Center Group in January 2012.)
"[Firestein] gave me an office," Klinger said. "He had the Washington Mutual account and he said, 'you help run the account.' So I had administrative tasks so he could pay me until I could start getting my brokerage stuff going and so I managed the account for the rollout for Washington Mutual. We did like over 300 deals; like everyone had a territory and everyone was doing deals. And then he gave me New Jersey. So I grew up in New York City, could barely drive—I had my license, but seriously I had a Hagstrom map and was like driving around New Jersey for Washington Mutual. That was the beginning of my brokerage career."
She would talk to Firestein, the managing partner of the New York City and White Plains offices, daily in the morning before arriving in the offices. He was, and remains, Klinger's mentor.
"It's like one of those things, the basketball players wear those bracelets, WWJD—'what would Jesus do?' We make a joke, like WWDD—'what would David do?' He has really good instincts and a really good sense of how to handle most situations so I still bounce things off of him if I'm working on deals or I have any issues."
Eventually the student became the teacher, and Firestein turns to Klinger and Steven Gillman, another SCG Retail partner, for their assessment. "They're my two go-tos when I want an outside opinion," he noted.
He added: "It was one way and it clearly flipped at some point to become much more of a two-way street. I check in with her and she's a good filter. She's just able to cut through the nonsense and get a good read when I'm not sure."
1928 Broadway
,
300 Ashland Place
,
50 Washington Street
,
73 Spring Street
,
Albert Laboz
,
Allbirds
,
Central Market
,
Chase Welles
,
Dave Price
,
David Firestein
,
Flour Shop
,
Grand Central Terminal
,
Grand Central Terminal Venture
,
J.Crew
,
Jacqueline Klinger
,
Jed Walentas
,
Ken Rendina
,
LaSalle Partners
,
lululemon
,
Metropolitan Transportation Authority
,
Norah Smith
,
Northwest Atlantic Real Estate Services
,
Papyrus
,
Republic
,
SCG Retail
,
Starbucks
,
Steven Gillman
,
Sugarfish
,
Trinity School
,
Two Trees Management Company
,
United American Land
,
Washington Mutual
,
Whole Foods
,
Whole Foods 365
,
Williams Jackson Ewing
,
Zaro's