How the Meatpacking District Went From Seedy Side of Town to High-End Retail Haven
---
---
Given Google (GOOGL)'s recent record-breaking acquisition of Chelsea Market for $2.4 billion, it can be hard to believe that Irwin Cohen, the market's original developer, spent just $8.25 million to purchase the former Nabisco Factory—the building where the Oreo cookie was invented—in 1993, an amount that worked out to around $15 per square foot.
That's also 290 times less than what Google bought it for.
Then again, looking at the pristine, luxury-centered neighborhood now, it's easy to forget that the Meatpacking District of the early 1990s and before was a cesspool of crime and misery.
"When I took over the building, the first thing I did was buy a big steam machine to clean up the condoms and drug paraphernalia on the streets," Cohen said at a recent panel about the area hosted by Aurora Capital Associates and moderated by Commercial Observer's Lauren Elkies Schram. "Prostitutes controlled my property. They told me the elevator operators would open the doors so they could change their clothes."
Cohen—and his fellow panelists—provided a vivid picture of just how remarkably the Meatpacking District has evolved from a gritty scene of survival to one of the world's most prosperous and attractive neighborhoods.
"For us to get to a restaurant on the corner of 14th Street and Ninth Avenue," Cohen said of the bad old days, "we had to go out the front door of the building and watch for the traffic light to turn green for the traffic moving south along Ninth Avenue. When the light turned green, we'd run into the middle of Ninth and move with the traffic until we got to 14th Street. Then we'd peel off and go to the restaurant. That was the neighborhood."
Prostitutes had the run of the place. Many of them would stop at Dizzy Izzy's New York Bagels, a now-defunct bagel bakery at 408 West 14th Street as the night wound down.
Cohen used this to his advantage. 
"All the prostitutes that worked around my building stopped to get bagels, because they sold off the stale bagels for a penny or 2 cents apiece," he said. "Above Dizzy Izzy was their night operation. They were controlled by a man who gave them crack. When a streetwalker died, one phone call and there was another to replace them. I found out that the streetwalkers were going to Dizzy Izzy's at 2 a.m., at the end of their shift, and I had some off-duty law enforcement people working for me. I put one or two men at Dizzy Izzy's every night. They stayed there until about 6. They spoke to the men and women who were working my block, and they said, 'We know you by name. We process your work when you get arrested. If you don't leave, you're gonna get stuck on the bus between Rikers and the Tombs, because your documents will be lost.' So we moved all the people down south of 14th Street. I was given an award from the 10th Precinct, and the commandant said to me, 'Irwin, stay out of the Sixth Precinct, because they're gunning for you.' That was the neighborhood then."
Cohen wasn't the only one with stories.
"It was very, very rough. There were two worlds going on there," said Mazdack Rassi, the co-founder and creative director of photography studio Milk Studios and CEO and co-founder of Milk Makeup, another panelist who spoke separately to CO.
"The night scene was all the old meatpackers. The meats would hang outside. That was most of 14th Street and down Washington, the little streets. Then there was all the nightlife, really underground clubs and bars. During the day, it was pretty much a dead zone. There weren't a lot of businesses open, and if there were, they'd be behind gates, or a door with a buzzer. There were no creative companies there at the time, just lots of empty, dilapidated buildings."
When Rassi's partners, Moishe Mana and Erez Shternlicht, bought their building at 450 West 15th Street for $6 million in 1996, it had been empty for four years. Previously the home of mainframe computers and a credit union for Saks, a former employee of the company had been squatting in the building's fourth floor with his wife and daughter.
"We felt bad for them. We kept moving them around the building," Rassi said. "We hired him for little things here and there, and one of my partners helped him get on his feet."
But despite the dilapidation, Rassi had a soft spot for the area.
"The whole neighborhood felt like it was ours," he said at the panel. "Chelsea Market felt like it was ours, the streets felt like they were ours. So we used to pour out into the street. We used to shoot, we used to make things. I hope we never lose that because today, there are so many big companies here and so much money. It was an entrepreneurship mentality. It wasn't planned. We all helped each other. Milk became a creative center because we had no rules, no boundaries."
Despite his embrace of the area, Rassi was still shocked by the depth of the vision others had for the Meatpacking District as a place for high-end retail. On the panel, he told of his surprise when Jeffrey Kalinsky, the founder of the Jeffrey boutique chain, leased 12,000 square feet from him for his high-end fashion outlet in January 1998.
"There was no retail or fashion in the neighborhood," he recalled. "I opened the loading dock because he had a bunch of SUVs. He came with his whole real estate team."
Rassi looked at him like he had lost his mind, but Kalinsky calmly looked around.
"How big is the space?" Kalinsky asked.
Twelve-thousand square-feet, Rassi answered.
Kalinsky turned around, looked at his team and said, "Cancel my appointments. This is it. We're making this deal."
"I remember looking at him going, 'You wanna build 12,000 square feet of high-end fashion retail?' " Rassi recalled. "He said, 'Not only do we want to build it, but we will open on Aug. 2, my birthday.'
"We spent 48 hours going through the contract and signed them for a 20-year lease for $25 a square foot, which was unheard of in Meatpacking. He opened on Aug. 2."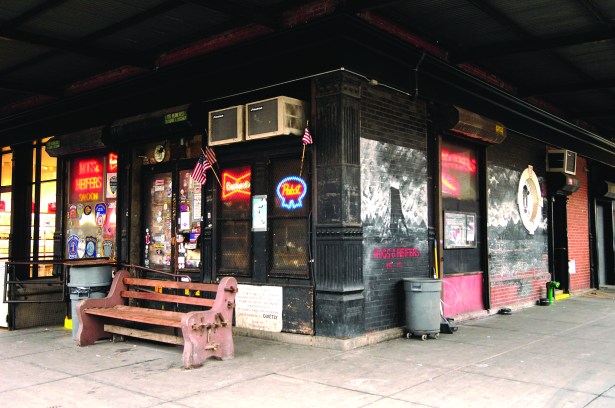 This time period marked an inflection point in the Meatpacking District's evolution. Will Silverman, a managing director and group head of investment sales at Hodges Ward Elliott, breaks the neighborhood's transformation into four stages.
"The initial run in the 1990s and early aughts was led by restaurants and bars," he said. As earlier established spots like Florent (1985-2008) and Hogs & Heifers (1992-2015) began to draw bigger crowds, popular high-end destinations like Pastis (1999-2014) cemented the area's changing reputation.
Silverman's phase two found the area going for high-end retail, such as Jeffrey, which opened in 1999, and Alexander McQueen, Stella McCartney, and Scoop NYC, which all opened in 2002. He categorizes phase three by the introduction of mass affluent outlets to the area with the opening of stores like Levi's (opened 2010) and Patagonia (opened 2013).
Now, Silverman said, we're seeing the beginning of Meatpacking District phase four, the phase he believes will best define the neighborhood in the long run.
"This phase is about brand statement retail," he said. "The advent of additional destinations there, like the High Line and the Whitney, has made it a place where your high-end, thoughtful tourist or city resident is likely to visit or hang out, and brands that want to appeal to that demographic have started to make it the place where they do their brand statement. When the Apple Store moved in [in 2007], I knew everything was going to change."
Much of the retail has also made an effort to stand out from the standard fare.
"On the retail side, Sephora was one of the first retailers with the foresight to open a unique, experiential shop in the Meatpacking District," Aurora's Jared Epstein told CO in an email referring to Sephora's 2011 opening.
"It's only a 4,000-square-foot store in Aurora's development at 25 Ninth Avenue, below Catch, but the fun and excitement created within this store started the trend for doing something unique in this most special neighborhood."
Silverman and Epstein both point to Samsung, whose 55,000-square-foot Samsung 837 outlet at 837 Washington Street off West 13th Street, opened in 2016, according to the company, as a "first-of-its-kind cultural destination, digital playground and marketing center of excellence."
Put another way, it's one of the coolest stores you'll ever see where you can't actually buy anything.
"That store is there to reinforce the brand because they think it's the place where a person likely to buy Samsung products is hanging out," Silverman said.
Other companies with similar experiential stores or outlets planned include Lexus, whose 15,000-square-foot Intersect by Lexus showroom at 412 West 14th Street. Ninth and 10th Avenues will include an event space and a restaurant by Danny Meyer and is expected to open this summer. Also opening this year is a Starbucks Roastery at 61 Ninth Avenue, a concept the company has called "coffee as theater," allowing customers in-depth insight into the brewing process along with a tasting room and a restaurant.
Restoration Hardware, meanwhile, is planning its largest gallery to date in 70,000 square feet at 9 Ninth Avenue, which will include a rooftop restaurant with roof decks, and it is building a 14-room hotel at 55 Gansevoort.
"Meatpacking is where consumer products companies want to wrap themselves in the blanket of being a cool culture and thought leader," Silverman said. "That's reinforced by the big forces in the Meatpacking District, which are the High Line, the most interesting park project in New York of the last century; the Whitney, which is one of the sexiest and coolest museum projects in the city; and Google. Companies are going there and saying, 'We want to wrap ourselves in the blanket of the coolness of that area and use it as the place we'll do our brand statement experience.' "
But while Meatpacking undergoes a continuous evolution, some are loathe to let go of the spots that made the area special.
While Pastis founder Keith McNally suffered a stroke in 2017, scuttling a revival he had planned, the famed Meatpacking District icon is now set to re-open in summer 2019 at 52 Gansevoort Street with Stephen Starr leading the effort.
Still, however hot Pastis can become again, the Meatpacking District is moving forward, not backward. At this point, squatters and street prostitutes are as much a part of the area's past as—well, meat.
"There's noting left. It's all been beautified," Rassi said. "When we can do a panel about the history of the Meatpacking District, and no one brings up the meatpackers, that's when you know it's over."
408 West 14th Street
,
412 West 14th Street
,
450 West 15th Street
,
52 Gansevoort Street
,
55 Gansevoort Street
,
61 Ninth Avenue
,
75 Ninth Avenue
,
837 Washington Street
,
9-19 Ninth Avenue
,
Alexander McQueen
,
Aurora Capital Associates
,
Chelsea Market
,
Danny Meyer
,
Florent
,
High Line
,
Hodges Ward Elliott
,
Irwin Cohen
,
jared epstein
,
Jeffrey
,
Jeffrey Kalinsky
,
Keith McNally
,
levi's
,
Lexus
,
Mazdack Rassi
,
Milk Studios
,
Pastis
,
Patagonia
,
Restoration Hardware
,
Samsung
,
Scoop NYC
,
Sephora
,
Starbucks
,
Stella McCartney
,
Stephen Starr
,
Whitney Museum of American Art
,
will silverman
,
Google