The DC Five: Trump Admin Big Shots Most Likely to Shape Financial Markets
---
---
Just as 2017's hyper-zealous financing market had many of Commercial Observer's Power 50 honorees keeping one eye fixed on the competition, record-setting levels of executive branch turnover during the first full year of the Trump administration—and the media's insatiable appetite for palace intrigue—made it difficult for executive branch bigwigs to carve out a comfortable niche.
That's one reason that Treasury Secretary Steven Mnuchin—last year's honoree in the No. 5 spot—missed out on a place in this year's power list. A constant stream of controversy on Pennsylvania Avenue—from President Donald Trump's dithering after a rally tinged with white supremacism in Charlottesville, Va., to the expansive investigation into connections between the Trump campaign and the Russian government—had the White House playing defense for much of the year. When it came to the biggest piece of landmark legislation, for example, the president's men largely took a back seat to Congress in crafting December's tax overhaul.
And although Mnuchin has been bumped from the rarified company of CO's list, at least he survived a year and a quarter on the job. That's more than you can say for Gary Cohn, the former Goldman Sachs executive who resigned last month as director of the National Economic Council, and Tom Price, who stepped back from overseeing a gigantic share of America's budget when he resigned from his job as secretary of Health and Human Services in September, embroiled in a brouhaha over his use of private jets.
Still, as the Trump White House embarks on a second year that will include congressional elections, new attention fixed on international tariffs, an economy absorbing a series of interest-rate hikes and even a planned summit with North Korea's Kim Jong-un, unpredictability remains the only sure bet. As the dust settles, these five government power players—in no particular order, mind you—could have the biggest impact on financial markets nationwide this year.
Larry Kudlow
Director, National Economic Council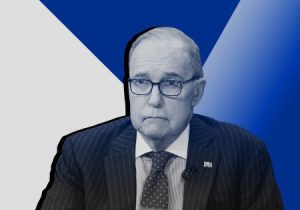 With Gary Cohn out of the picture, Trump has asked longtime CNBC host Larry Kudlow to the dance as his new director of the National Economic Council. The role won't be Kudlow's first foray into conservative politics—the 70-year-old New Jersey native served in the Office of Management and Budget in the Reagan administration—but his early 2015 endorsement of long-shot candidate Trump's tax plan couldn't have hurt his chances to join the administration.
As an economic prognosticator, Kudlow's prophecies have not always been the most prescient: take the embarrassing matter of his mid-2000s enthusiasm for Florida's housing market, or his bullish statements about the prospects of a recession as late as December 2007. But critics lamenting Cohn's loss as a force for stability in Trumpland can at least be grateful that Kudlow has asked the former director's staff to stay on for his tenure. A reliable free-trader, Kudlow has already criticized Trump's readiness to enact tariffs on aluminum and steel produced abroad—and given the sharp equity-market declines since those policies were announced, investors will be keen to track whether Kudlow can talk Trump down from the edge of a trade war.
Steven Mnuchin
Secretary of the Treasury
The biggest economic policy news to hit the wires in 2018 hardly sprouted out of traditional executive branch policy-making. The White House mostly kept to the sidelines as Congressional committees hashed out last year's tax reform, and by all accounts, Trump's announcement of harsh new tariffs last month blindsided even his closest advisers. But through it all, Treasury Secretary Steven Mnuchin has been a dependable cheerleader for the president's blend of protectionism and free-marketeering, lending him impressive staying power in an administration marked by whiplash turnover. Within the capital, the Treasury Department's stone's throw proximity to the White House means that Mnuchin is "always on the scene," Politico has reported, attending meetings that are only tangentially related to Treasury business. As a result, he's weighed in on everything from denuclearization in Iran and North Korea to the administration's policy on affordable housing finance. Moreover, Mnuchin's ability to weather a controversy over his use of government airplanes—the exact scenario that brought down Health and Human Services Secretary Tom Price—could be a sign of his relative strength in the administration. One of several Trumpland alumni of Goldman Sachs, the 55-year-old Yale University graduate brings deep Wall Street ties to Washington that continue to make him an important link between the White House and the financial industry.
Mick Mulvaney
Director of the Office of Management and Budget; Acting Director of the Consumer Financial Protection Bureau
Mick Mulvaney, a former Republican congressman who represented South Carolina's fifth congressional district in the House of Representatives for six years, placed himself at the center of a bizarre Washington spectacle last November when Richard Cordray, the Obama appointee who served as the first director of the newfangled Consumer Financial Protection Bureau (CFPB), stepped aside. Trump appointed Mulvaney—who was already serving as the chief of the Office of Management and Budget—to take Cordray's place, while Cordray's deputy, Democrat Leandra English, argued that the job was rightfully hers. For a few confusing days, both showed up to work, with each attempting to control the agency from competing offices, until a federal judge ruled that Mulvaney was the proper heir.
In the months since, Mulvaney has crusaded from within against what he sees as the CFPB's overbroad mandate, declining to submit a request for any congressional funding whatsoever for the agency. But don't mistake Mulvaney for a dogmatic spendthrift. In his budget office role, Mulvaney presided this February over a federal budget process that plans for a trillion-dollar deficit in 2019, with overall levels of U.S. debt planned to rise by $7.1 trillion over the next 10 years. And all that deficit spending is already having an effect on financial markets. In just one week in February, the government issued more than a quarter of a trillion dollars in new obligations, sending two-year yields tumbling as investors demanded compensation for absorbing a rapid ramp-up in supply.
Given Mulvaney's dual executive-branch roles at two separate control panels, few individuals have more concentrated leverage over U.S. financial markets.
Wilbur Ross
Secretary of Commerce
As commerce secretary, Wilbur Ross has forged a less dynamic portfolio than some of his counterparts in Donald Trump's cabinet, but Ross' power to shape economic policy—especially in the area of international trade—should not be underestimated. Granted, the 80-year-old New Jersey native—once thought to be a billionaire but revealed in financial disclosures last year to land somewhat shy of that mark—generated embarrassing headlines this January, when Axios reported that Ross has a penchant for snoozing during high-level meetings.
But the Yale University and Harvard Business School graduate stands to play a crucial role overseeing tariffs on steel and aluminum that Trump announced in March, vested as he is with the power to adjudicate exclusions and exceptions to fees on foreign imports. Given that equity markets retreated sharply as fears of a trade war mounted in the weeks since, investors economy wide will stay keenly attuned to the details of how any new tariffs will be rolled out.
But Ross' most far-reaching influence may well come in the form of his responsibility for the U.S. Census Bureau, set to next conduct its all-important decennial survey in 2020. That project's results will have long-term implications for the shape of congressional districts and the disbursement of federal funds until at least 2030. It's a role that puts the Department of Commerce, and by extension Ross, at the center of key questions of how Americans are represented in Washington and how the U.S. government allocates its resources.
Ben Carson
Secretary of Housing and Urban Development
As documented in their tributes on our Power 50 list, the two big government-sponsored entities in the multifamily market, Fannie Mae and Freddie Mac, turned in record-breaking volumes in the housing sector in 2017. That's evidence that despite nostalgia for the American dream of home ownership, shared housing has an increasingly important place in the American landscape—and a sign that federal policy plays a crucial role in shaping where working Americans call home.
Ben Carson, the accomplished neurosurgeon at the center of that effort in the Trump era, was always going to be an unlikely candidate for the post, having previously worked neither in government nor in any capacity connected to real estate. In his first year and change on the job, his efforts to house needy Americans have proceeded with ambivalence, pairing a new $2 billion grant to fund nationwide homelessness programs with exhortations that public housing not provide too many perks, lest those who benefit grow too comfortable there. But with broad control over crucial housing initiatives like the Section 8 program for federal rent assistance and the low-income housing tax credit, Carson—if he is destined to remain in the job despite complaints of his mishandling of an office interior-design budget—stands to exert considerable power over the status of America's federally assisted multifamily stock.