Margaritaville Holdings Strives for 'No Worries' Vibe at Times Square Hotel
---
---
Margaritaville Holdings is hoping to "bring an authentic 'no worries' vibe to the city that never sleeps," at its Times Square Margaritaville Resort Times Square, the company announced today.
When it opens in late 2020, New York's first Margaritaville hotel will rise 29 stories at 560 Seventh Avenue between West 40th and West 41st Streets. The project with feature 234 guest rooms, a rooftop LandShark Bar & Grill and outdoor swimming pool that is 9 feet by 50 feet on the fourth floor. The food and beverage venues in the hotel, spanning 13,000 square feet, will include 5 o'Clock Somewhere Bar, Floridays Airstream Café, and an all-new concept, Chill Bar. Open to the public will be a 16,500-square-foot Margaritaville Restaurant spread over the first three stories. The total cost of the build: $300 million.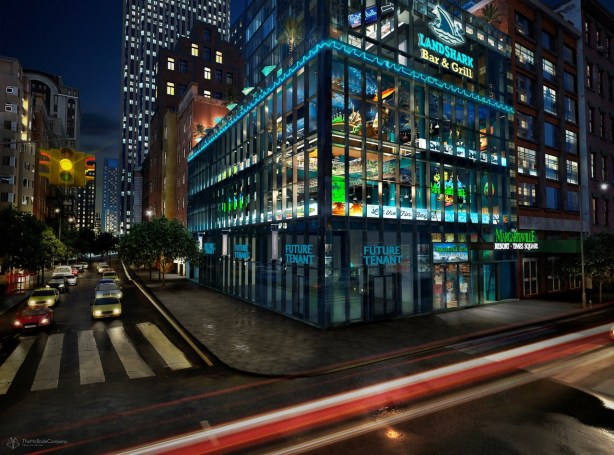 "Margaritaville brings fun, relaxation and a much-needed escape from the every day to any set of coordinates," John Cohlan, the CEO of Margaritaville, said in prepared remarks, "The Margaritaville Resort Hotel and the lifestyle experience it offers will be the perfect complement to the exciting, fast-paced energy of Times Square and we can't wait to bring this destination to the travelers and residents of New York City."
Margaritaville is leasing the property from Soho Properties, which is developing the site in partnership with Chip and Andrew Weiss and MHP Real Estate Services. For the ground-floor restaurant and retail space, Margaritaville paid $1,000 per square foot, a Soho Properties spokeswoman told Commercial Observer. James Tamborlane and Matthew DeRose of MHP and Joseph Ferrara of Brunello Hospitality represented the developers in the lease transaction, which closed last month, and Cohlan represented Margaritaville.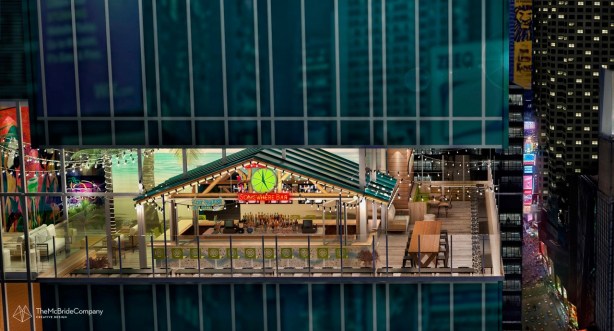 "Margaritaville at 560 Seventh Avenue is a perfect addition to the pulsing energy of the Times Square submarket, which continues to thrive as one of the city's most visited neighborhoods," said Sharif El-Gamal, the chairman and CEO of Soho Properties. "We are thrilled to collaborate with one of the world's most beloved brands and bring New York's first Margaritaville to Times Square, where it will undoubtedly be a top destination for visitors and New York City residents alike."
A portion of the ground floor will be designated for the synagogue, with the majority of its space being below grade, the Soho Properties spokeswoman said. As CO previously reported, Garment Center Congregation moved out of the site where the hotel is being built to temporary digs at 1384 Broadway between West 37th and West 38th Streets. After the Margaritaville project iscomplete, the developers will move the synagogue back into a new facility onsite.
Other Margaritaville lease details weren't immediately clear.
The Times Square hotel will be the first Margaritaville in the northeast. The company's hospitality portfolio includes 12 lodging locations throughout the U.S. and the Caribbean with 20 more in the pipeline.
1384 Broadway
,
5 o'Clock Somewhere Bar
,
560 Seventh Avenue
,
Andrew Weiss
,
Brunello Hospitality
,
Chill Bar
,
Chip Weiss
,
Floridays Airstream Café
,
James Tamborlane
,
John Cohlan
,
Joseph Ferrara
,
Landshark Bar & Grill
,
Margaritaville Holdings
,
Margaritaville Resort Times Square
,
Margaritaville Restaurant
,
Matthew DeRose
,
MHP Real Estate Services
,
Sharif El-Gamal
,
SoHo Properties