Garment Center Synagogue Moving to Chetrit Building
---
---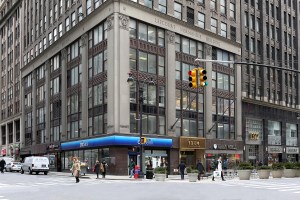 Garment Center Congregation will temporarily move to the second floor of the Chetrit Group's 1384 Broadway between West 37th and West 38th Streets, Commercial Observer has learned.
In a deal signed tonight, the Orthodox synagogue will operate out of the entire 7,131-square-foot space through a short-term (three or five years depending on the construction schedule of the new space) lease, according to developer Sharif El-Gamal, the chairman and CEO of Soho Properties.

"We selected this space because of its close proximity to the congregation's current location," Mr. El-Gamal said through a spokesman. "The interim space is perfect to meet the needs of the congregation and insure that current services and programs can continue without interruption."
Garment Center Congregation will have a synagogue, social hall and offices in the temporary quarters, said Rabbi Norman Listokin of the Garment Center Congregation. As part of the deal, Garment Center Congregation will hold High Holiday services at Gotham Hall at 1356 Broadway between West 36th and West 37th Streets.
In March, Soho Properties, MHP Real Estate Services and hotelier Hampshire Hotels Management are moving the synagogue from its current 11,000-square-foot home at 205 West 40th Street between Seventh and Eighth Avenues to the interim space so they can replace the West 40th Street building with a $300 million-plus, 120,000-square-foot retail center and Dream Hotel, as CO previously reported. After the hotel and retail condominium are complete, the developers will move the synagogue back into a new facility onsite.
At 205 West 40th Street, the developers will create a new synagogue that "will be in keeping with the size of their current space and will insure that the congregation will be able to preserve their legacy and service to the community for many years to come," Mr. El-Gamal said. The existing building is expected to be torn down in 2015.
MHP's president and chief executive officer, Norman Sturner, didn't respond to a request for comment.
James Tamborlane of MHP represented the developers in the deal and Lee Block of Winick Realty Group represented Chetrit. No one from Chetrit responded to a request for comment and nor did Mr. Block through a spokeswoman.