REBNY to Extend Reach With Global PropTech Contest
---
---
The Real Estate Board of New York is planning a property technology contest open to global innovators, marking the first worldwide initiative by the 122-year-old organization, Commercial Observer has learned.
It will be the organization's second real estate technology contest, following its "hackathon" event last year (which ended with the winners competing in a "gauntlet challenge" last month).
REBNY's PropTech Challenge will offer a payout of $200,000 (from REBNY members and sponsors), split between 24 contestants who rank in the top three within eight categories.
"We are going to really break down geographical boundaries and hopefully get some good solutions to problems in real estate," Sandy Jacolow, the chief information officer of Silverstein Properties and a member of REBNY's tech committee, told CO during the Marché International des Professionnels d'Immobilier (MIPIM) conference in Cannes, France last week. "I think what we are all realizing right now is there are so many challenges and problems that we have that technology can solve, and focusing on these hackathons and these proptech challenges seem to be a way to develop some really creative solutions."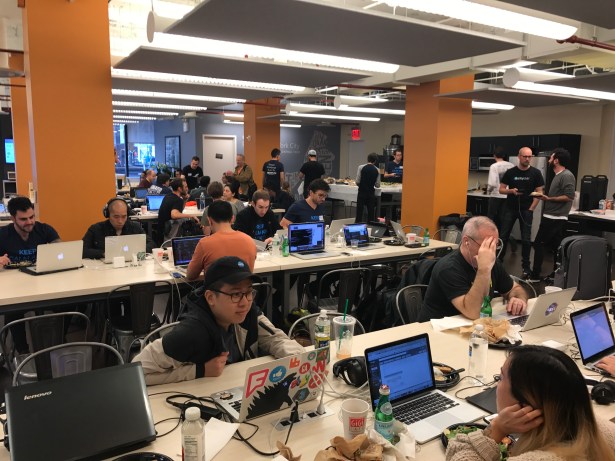 The PropTech Challenge came out of the growth of the property technology sector, evidenced by REBNY's tech committee membership. Upon launching in March 2017, the REBNY tech committee had 14 people from 12 companies and one meeting each quarter. Today, there are 102 people from 47 companies and there are nine subcommittees, which meet several times a month collectively.
"We've locked down New York City real estate for over a century, now reflecting our members' interest in real estate [technology] around the world, we too are expanding," said Ryan Baxter, a vice president at REBNY.
The upcoming contest follows REBNY's previous New York City-focused proptech competition. The Oct. 13-15, 2017 hackathon saw 150 participants compete in six categories. The winners from the hackathon competed in the gauntlet challenge.
In the PropTech Challenge, there will be two separate series of four categories. The first will encompass the themes of blockchain, operations and maintenance, brokerage and AEC (architect, engineering and construction) and development. And the second will be comprised of the internet of things (IoT), machine learning technology (artificial intelligence), social media, and geospatial and location technology.
Starting April 1, individuals or companies can enter the contest with a PowerPoint presentation and a video showing their technology. Three finalists will be selected from each of the four categories from the first series for a "demo day" live presentation of their technologies, which will be held in June. And then three finalists from each of the four groups in the second series will be selected for the second demo day in October.
Judges at the demo days will select the first, second and third of each of the four categories with the first-place contestants taking home $15,000, and second and third places will receive $7,500 and $2,500, respectively.
REBNY plans to fly participants to New York City for the presentations if they aren't based locally. The exact location is yet to be determined.