New Rockefeller CEO Dan Moore on the Next Generation of the Company
---
---
Daniel Moore, an executive vice president and the head of urban development at Rockefeller Group, is set to succeed the company's co-CEOs and presidents, Daniel Rashin and Tetsuya Masuda, this Sunday as Rashin retires and Masuda returns to parent company Mitsubishi Estate in Japan to be the general manager of the international business planning department.
This has been a long journey for the 45-year-old Moore, who will be the CEO and president of the New York City-based development company.
After graudating the University of Notre Dame in 1994, the Colorado-native was served as a captain in the U.S. Air Force and performed civil engineering duties. He didn't fly planes—instead, he helped construct hangers and airfields for military operations in the United States and in the Middle East.
Following his military stint, which lasted from 1994 to 1998, he earned an MBA at the Wharton School at the University of Pennsylvania and then went to work for development company Hines for 16 years. He moved over to Rockefeller Group two years ago.
The married father of three boys (ages 15, 12 and 7) will helm the Rockefeller Group's 6-million-square-foot New York City office portfolio and its 8.5 million square feet of office, residential and industrial buildings elsewhere around the country. And that's in addition to the 17 million square feet of property the company has planned or under construction.
A top priority though is finding big tenants to fill 1.4 million square feet of vacant space at Rockefeller Group's 2.1-million-square-foot 1271 Avenue of the Americas. The company spent $600 million to completely renovate the classic tower and leased roughly 700,000 square feet to Major League Baseball and Mizuho Bank last year. Another pressing job is overseeing Rockefeller Group's new 46-story condominium development in NoMad.
Moore spoke to Commercial Observer last week on a marketing floor at 1271 Avenue of the Americas about the next generation of Rockefeller Group and how his military experience has helped his career.
Commercial Observer: Where is your hometown?
Daniel Moore: I grew up in a military family. My dad was a career Air Force officer so we moved around a lot as I was growing up, but I consider Colorado home. I was born out there, went to elementary school out there and finished up high school out there, and my parents still live there.
What were your interests growing up?
I was always interested in buildings. I was one of the kids that loved Lego.
Yeah, but kids don't say, "I want to grow up to be a developer," right?
It's funny because a developer is not a thing that you know exists when you are a kid. It's one of those jobs that nobody tells you about because it's not super accessible. It's not like a doctor or even an architect. I didn't even really quite understand what development was until I got into graduate school.
Did you go into the Air Force after college because of your dad?
It was definitely [a decision] informed by the family experience growing up in an Air Force family. But my dad was really great about it. He said, "Don't ever let the choices I made influence the choices that you make. You've got to decide what is best for you, and I will support you in whatever that is."
Part of [my decision to go to the Air Force] was because I had grown up with it and part of it was a desire to serve my country.
How has it helped you in becoming a businessman?
When you come out from a college program and you are a junior officer second lieutenant and you are 22 years old, the amount of responsibility you get for budgets and for people is much, much greater than I think most non-military [22-year-olds] would have. It also gives you priorities as well.
What do you mean by "priorities"?
When I was a young officer I was fortunate enough to work with someone who had been an Army officer during Vietnam and he said, "Dan, whenever you get stressed out or worried about things—whenever you feel overwhelmed—you need to ask yourself three questions: Do I know where my next meal is coming from? Do I know where I am going to sleep tonight? And is anybody actively trying to kill me right now?"
If you can answer those questions in the way you are supposed to, it might help bring a little perspective. There are problems and then there are problems. I fortunately was never overtly in any of those situations.
What did you do in the Air Force?
I served on active duty for four years. I left the Air Force in 1998 as a captain and my job description was civil engineering officer. We would work on the big capital projects as well as the operation and maintenance of the airfields and the hangers as well as the associated buildings, and larger construction projects that may be either in planning or execution.
After the Air Force, why did you go to business school?
So to your point about nobody grows up wanting to be a real estate developer: I thought because I loved buildings and I loved construction, I really thought about leaving the Air Force and getting a construction management degree.
But on the advice of a friend's father, who I'm forever indebted to, he said, "Why don't you maybe think about an MBA, because you could go get an MBA and if you want to be a construction management professional you could go do that but it might give you a chance to broaden the scope of the possibilities for you after school."
What did you do in your 16 years at Hines?
At Hines I was fortunate to work in a number of different roles. I did development here in New York and worked on leasing and asset management of some of the suburban assets that the firm owned in partnership with CalPERS. I got to work on the fund management side for about five years, doing acquisitions and dispositions and asset management, and spent about four years on the capital rising side and then in 2012, left New York to go to D.C. to get back into frontline development.
How did you get a job at Rockefeller Group?
I've known Dan Rashin for about 15 years. He and I worked together at Hines. When I was on the fund management side—we didn't work together, he wasn't my boss—but we worked in the same relatively small office. So we got to know each other through that and I maintained contact with him.
And Dan called me and he said, "Let me tell you what [Rockefeller Group is] up to." That was 2015—the first calls and the discussions. I was happy where I was. Hines is a wonderful organization. If it had been anybody other than Dan Rashin, I don't know that I would have taken the call in all honesty.
Although he is retiring, will you stay in touch with him for advice?
I will miss Dan tremendously. I told him that I'm threatening to install a bat phone at his house so as issues come up and I need to grab him, I'll have ready access. But, of course, he said he's always happy to talk.
With more tenants looking for flexible spaces and more efficient spaces, is your leasing team seeing success with marketing the roughly 1.4 million square feet of available space at 1271 Avenue of the Americas?
There are still folks that need [large spaces.] It's not all or nothing. The industry tends to highlight certain trends at periods of time and you can get caught into thinking that everybody is doing that everywhere. And while, yes, a lot of people [are looking for more efficient spaces], there is a whole spectrum of how people are using space. And there are certain trends of densification, but we are even starting to see some push back on that. We are starting to see some firms that really densified are now finding that they need more space than they thought.
How about leasing to WeWork or another coworking provider there?
Coworking is certainly something that we would look at, but we are really focused on larger tenants, longer lease terms [and] being able to deliver to a tenant that needs multiple floors.
What amenities make this building stand out for those larger tenants you are chasing?
With the amenity base when you walk out of the door you are smack in the middle of the heart of the city. But also 1271 [Avenue of the Americas] in particular, because of its historical architecture, it has an identity that you won't ever confuse with another building. You will remember that you were here.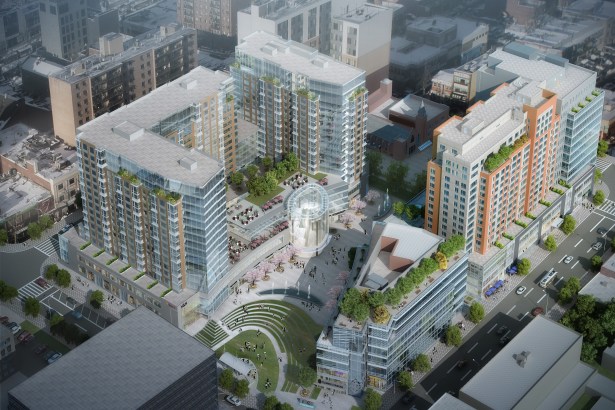 Why is Rockefeller now focusing on residential condos like at 30 West 29th Street and Flushing Commons (a mixed-use project with 600 residential condos in Queens)?
One of the things that I work on with our city heads—our senior vice presidents [and] our regional development officers—is to go and find the deals that make the most sense in your market, and if that is building industrial in Inland Empire [Calif.] or if that is doing for-rent housing somewhere in the urban area of Washington, D.C., we are going to pursue that. If there is a thesis related to a condo development here in New York, we will pursue that. So it's more go find the right idea.
So does this mean Rockefeller is expanding its bread and butter to residential?
The NoMad site [at 30 West 29th Street] is going to be one of the first things that we do under this heading of writing a new chapter, if you will.
Why would you do luxury residential condos in NoMad when the condo market is saturated right now?
It's not that top-end multiple thousands of dollars per square foot—like $5,000-plus a foot. It's a thesis where we think we can deliver condominium product in a neighborhood that has got some really interesting things going on. It's a place where people want to be. It's got a great overall vibe to it. But also we are targeting what we would call the fat part of the market. It's not ultra-, ultra-luxury, it's what we like to call "smart luxury"—intelligently designed, smartly designed, great materials, great architecture, but also recognizing that there is a price point that is accessible to folks that live and work in Manhattan. Generally, we are talking about $3 million and below because that is where we feel there is a depth of demand.
But those aren't affordable prices for everyday people.
Affordable in New York is a very funny term, right? So our intent with this project—and, I think, philosophically what we always want to do—is deliver the best value at a certain price point, so then when someone goes and plugs into [a listings website] a million dollars and they look at all of the options and they see our project in NoMad, they'll see between the location, the quality of the architecture, the amenities and the layout, that it is going to be the best value for them.
Will Rockefeller Group build any new office product in New York City in the short term?
So people ask the office question fairly frequently, and whenever they've asked, "Are you interested in doing another building?" my response is that we've got 2 million square feet to lease [at 1271 Avenue of the Americas]. I think we are okay on office right now.
Is Rockefeller Group working on anything beyond residential and office?
Currently, we've got 12 million square feet of industrial under different stages of development. We've got a large, multiple-building—well over 2 million square feet—project going on in Northern New Jersey. And we have a similar project—about 1.5 million square feet—project in the Inland Empire [in Southern California] that's called the Optimus Logistics Center. So we are continuing to pursue large-scale industrial development in those large port-oriented markets and feel that continues to play to our strengths and we are going to continue to look for opportunities in that space.
How are e-commerce companies affecting the way you think about your industrial properties?
They are clearly the big consumers of the big, big box, like the million-square-foot or the half-a-million-square-foot buildings, but we also continue to see interest in efficient modern warehouses from less-sexy users. It could be a use sr that is doing mechanical supplies or companies that are in much more consumer-oriented businesses, but need that modern efficient warehouse space—just need smaller pieces of it. We see demand on both sides. It also creates a nice diversity of tenancy for us.
1271 Avenue of the Americas
,
Daniel Moore
,
Daniel Rashin
,
Flushing Commons
,
Major League Baseball
,
Mitsubishi Estate
,
Mizuho Bank
,
Rockefeller Group
,
Tetsuya Masuda
,
University of Notre Dame
,
Wharton School of the University of Pennsylvania
,
Hines