EDC Chief James Patchett on His Ohio Roots, Goldman Sachs and Affordable Housing
---
---
When James Patchett, the president and CEO of the New York City Economic Development Corporation, was a kid, he would drive through the city with his family. What he saw left a vivid impression.
"This was in the 'bad old days,' in the early 1980s," said Patchett, 38, who lived in Bridgewater, N.J. at the time. "My dad and I would go to Mets games and drive along the Grand Central Parkway, and it was just littered with burned-out cars. I've been fascinated with the urban ecosystem of New York from a very early age and with the decay."
A childhood move to Dayton, Ohio, a town that went through its own economic decline in the 1980s and 1990s, when he was 11 cemented this impression. These first-hand glimpses into crumbling cities planted a seed in Patchett's head to want to help bring them back to life. 
Patchett—who lives in Crown Heights, Brooklyn, with his wife of five years, Wall Street Journal real estate reporter Candace Taylor, and their two kids, Jamie, 3, and Caroline, 6 months—went to Amherst College, graduating in 2002 with a bachelor's degree in economics. After, he worked in Boston for three years for the national economic development consulting firm Nera Economic Consultants, which helped cities like Buffalo attract more business.
"We would do data analysis of demographics and the directions that cities were going in to try and inform their policy decisions, and we also did a lot of work around major infrastructure projects like airports and casinos and convention centers, major economic development issues that cities were thinking about," he said.
He decided to return to school, obtaining his MBA from Stanford University in 2007. He then joined Goldman Sachs' Urban Investment Group, which focused on "double-bottom-line investing" in urban areas as an associate, eventually rising to vice president.
"It was focused on socially minded investing in projects that might not otherwise be able to receive private capital, that try to make a difference in the way that urban ecosystems develop," he said. "They've done a ton of work in New York but also all around the country, like with projects in New Orleans post-Katrina."
Patchett spent seven years at Goldman, investing in enterprises such as charter schools, affordable housing and commercial investment in underserved areas, eventually rising to vice president. (According to an NYCEDC publicist, Goldman Sachs has committed over $5 billion to underserved American communities since 2001.)
"We were usually looking for projects that the public sector thought were important," said Patchett, who arranged for a $3.5 million loan and a $21 million tax credit allocation to build the Hyde Leadership Charter School in the South Bronx, which opened its new building in 2011.
"So if it was in New York City, we were looking for EDC or another government agency to say, 'This is a priority product for us, but we can't figure out how to get it done.' It wasn't the highest profit center for Goldman Sachs, but we saw financial returns commensurate with the risk. For affordable housing, it's a relatively low return on investment, but there's a huge demand. So it was a lot less risky than investment in market-rate housing."
"James is as good as it gets," said Margaret Anadu, a managing director at Goldman who worked with Patchett in the firm's Urban Investment Group and now heads it. "In the economic development space, he is this unique combination of incredibly passionate about making a difference for communities, people and neighborhoods and also incredibly dedicated to doing the work it takes to do that. He's not the kind of person who runs around talking about how to save the world. He rolls up his sleeves and figures out how you actually put the pieces together."
Patchett left Goldman in February 2014 to become the chief of staff to Alicia Glen, New York City's deputy mayor for housing and economic development who had previously been Patchett's boss as head of the Urban Investment Group. Despite a significant salary drop (he wouldn't reveal how much), he saw another chance to do good.
Perhaps his biggest impact in this role was negotiating with Blackstone (BX) for its $5.45 billion joint purchase with Ivanhoé Cambridge of Stuyvesant Town and Peter Cooper Village in 2015. When the development's most recent owner, Tishman Speyer, put out feelers for a buyer, Patchett had a role in vetting the buyers, then he negotiated the deal with Blackstone directly to purchase the property, helping ensure that over 5,000 apartments would remain affordable for 20 years and protecting the community's open spaces.
Patchett explained that while the city had no legal right to an interest in the deal, the size and widespread implications for so many city residents made it a priority.
"It's the largest apartment complex in the country," Patchett said. "The notion that it would be just another deal, given how vociferous and litigious the tenants are and the fact that it could easily get held up in court for a long time…I think any buyer wanting to make that scale of investment, it's just a risk mitigation for them to have the public sector on board. We ended up negotiating a deal where they would agree to significant preservation [of reasonable rents] for the tenants. It was a really great outcome, I think."
"The tenants had, for years, been pushing for a thoughtful resolution to [the previous] real estate debacle when James and the new administration came in," said former City Councilman, and lifelong Stuy-Town resident, Dan Garodnick. "James got it. He understood where we were coming from, and we felt like we had an ally to work with who supported our goals. James has a unique combination of toughness and humility. He had the chops to get us over the goal line. He was highly engaged and accessible, and he was very helpful in effectuating our goals."
A related deal Patchett is proud of was for the preservation of the affordability for tenants of Riverton Houses in Harlem when the complex was sold to A&E Real Estate Holdings in 2015 for $201 million. Riverton was built by MetLife in the 1940s, around the same time the company built Stuy-Town and Peter Cooper Village. At the time, as Patchett related to Commercial Observer, black people were barred from living in Stuy-Town and Peter Cooper Village, so Riverton was built for black residents.
Patchett worked with the tenants to satisfy myriad concerns, from rent prices to the use of open land on the property to ensuring that tenants continued to have a voice in the community.
"I take that one very personally," he said. "I spent a huge amount of time with the tenants themselves. They ultimately [came to believe] that the city was looking out for their interests, which they did not believe at the beginning of the process. There was a lot of mistrust at the beginning, after years and years of feeling like they were getting the short end of the stick."
Mayor Bill de Blasio approached Patchett about the presidency of the EDC toward the end of 2016, and Patchett said that accepting it was a "no-brainer," as it was in many ways his dream job. He started his new position in February 2017.
"It is the foremost economic development agency in the country, arguably the world," he said. "We do the most interesting projects in the city…When I think about this job, it's almost like I weirdly intended to have it the whole time."
As the president of the EDC, Patchett leads an organization of around 500 people.
"I view my role as making the city fairer today and stronger tomorrow," he said. "The mayor has been very focused on saying his mission is to make the city fairer today. We're in this incredible time of economic growth, and EDC is the organization responsible for thinking about the economy. In spite of unprecedented job growth, there have been a lot of lower-paying jobs created in this current economic cycle. So one of the things we're focused on is creating more jobs that are middle income, or pathways to them. I don't want New York to go back to the 1980s."
Patchett said he believes that widespread prosperity comes from developing as many growing industries as possible. By way of example, he recently returned from Israel, where he promoted New York as the future home of cybersecurity jobs.
"The theory is, we're the historic home of finance," he said. "Cybersecurity jobs have grown up in Washington, D.C., to support the public sector there, like national defense. The next wave of the jobs is going to be to support finance. So New York City should be the next center of cybersecurity jobs. So we're investing $30 million from EDC in a [proposed] new cybersecurity hub to bring more training and cybersecurity skills to people who live in New York. We're going to create an accelerator so that small startup companies can have access to the large buyers of cybersecurity services in the finance sector, bringing them together with the latest technologies being developed in our universities and venture capitalists who want to fund them."
Another step toward creating jobs is a life sciences initiative intended to add close to 20,000 jobs in biotech. To that end, Patchett has identified real estate parcels in three New York City locations—East Harlem, Kips Bay, and one in Long Island City, Queens—and has $100 million plus tax benefits to put toward the development of greater biotech facilities.
"We have these amazing universities and hospital systems like Mount Sinai, Memorial Sloan Kettering [Cancer Center], Columbia [University]. Incredible health systems. But we're behind where we should be. The amazing technologies coming out of those institutions are not being commercialized and resulting in as many new drugs developed or leading to great jobs in New York City. Our goal is to be on par with what's happening in Cambridge, which is this amazing ecosystem driven by [the Massachusetts Institute of Technology]. So we're putting $100 million on the table plus city property to develop a new hub for life sciences."
Patchett is also heading up the effort to try to make New York the host city for Amazon (AMZN)'s second headquarters, which will occupy around 8 million square feet. The fierce competition among American cities—there were over 200 submitted proposals—finds New York on the short list, as the company has narrowed its selection down to 20 applicants. At stake: 50,000 jobs, many of which pay $100,000 or more, according to NBC. (Patchett said the company's final decision is expected sometime this year.)
Working with real estate developers, EDC identified four neighborhoods with potential to host the company. The EDC submitted four separate area-specific proposals to Amazon, one each for Downtown Brooklyn, Lower Manhattan, Midtown West and Long Island City.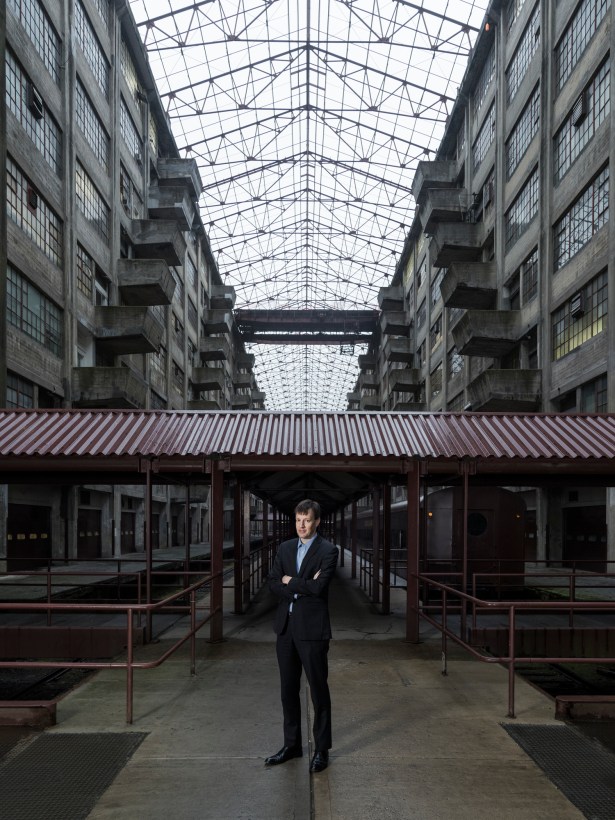 Patchett said Amazon is not being offered any special tax incentives and said he believes the city's competitive advantage comes from its deep well of talent.
"We have the best talent in the country," he said. "We have more people with bachelor's degrees than Boston, Philadelphia, D.C., San Francisco and Los Angeles combined; 2.3 million people. If you're looking for 50,000 people, you need a deep talent base, and that's what we have."
His proudest triumph in his current position, and one of the projects that's kept him the busiest, has been the expansion of the NYC Ferry, which has been embraced by New Yorkers at a rate far beyond what was expected. The single-line ferry, then traveling along the East River, expanded to four lines last year, with two more to be added this summer. Overall, the service beat ridership projections by 34 percent with around 2.9 million rides provided in 2017. Due to this success, additional potential routes are now being studied.
From building the landings for the new ferries to ensuring that New Yorkers knew about the new mode of transportation, Patchett worked like mad from the time he began at EDC through last May, when the ferry launched with significantly higher than expected ridership, requiring him to scramble to add ferries to the routes.
Patchett considers the ferry essential to making more parts of New York accessible to more people. As an example, he cites the new ferry landing in Astoria, Queens.
"It's right at the foot of Astoria Houses, which is a public housing development," he said. "There's basically a 20-minute walk to a bus, [then a bus] to a train to get to Manhattan, even though it's just 2,000 feet across the East River. But now, you just get on a boat, and 20 minutes later you're in Manhattan. So the ferry is making it possible for new areas of the city to be available for economic development."
From that standpoint, Patchett believes that investing in transportation is one of the smartest things a municipality can do.
"Time is money," he said. "A minute less time you spend commuting is a minute more time you have to either be productively adding to the economy or at home with your family, caring for your children, making dinner, whatever you want to do. I really believe that meaningfully reducing people's commutes is a massive infusion of value to the economy."
As the projects discussed are ongoing, Patchett said 2018 will be a year of substantial economic growth for New York, building jobs and planting the seeds for further economic growth to come.
"The way we [grow the economy] is by constantly innovating and diversifying our economy," he said. "[This means] not being dependent on just real estate and Wall Street [but] having a strong tech sector, building our media and advertising industry, continuing to grow our strong industrial sector and always investing in the industry of tomorrow. So that's what I'm focused on."
Alicia Glen
,
Bill de Blasio
,
Dan Garodnick
,
Daniel Garodnick
,
James Patchett
,
Mayor Bill de Blasio
,
New York City Economic Development Corporation
,
Stanford University
,
Stuyvesant Town-Peter Cooper Village
,
Amazon
,
Blackstone
,
Goldman Sachs