Drawn Together: The Dynamic Duo Behind Lubrano Ciavarra Architects
When they're not finishing each other's sentences, Anne Marie Lubrano and Lea Ciavarra are taking on projects like the TWA Hotel at JFK International Airport
---
---
When asked whether they hit it off right away when they first met, Anne Marie Lubrano and Lea Ciavarra, the co-founding partners of the eight-person, Dumbo-based firm Lubrano Ciavarra Architects, give a collective shrug.
But watching them interact as they interrupt each other and finish each other sentences, falling into laughter at the slightest provocation, it's clear that as they approach 20 years of working together, they are thick as thieves.
Since their humble beginnings sharing a desk at a coworking space almost 20 years ago, Lubrano and Ciavarra now tackle some of the most challenging projects in New York, including the design of the TWA Hotel at John F. Kennedy International Airport's Terminal 5, a massive re-do of the classic space-age terminal designed by Eero Saarinen in 1962.
The terminal itself will become a 200,000-square-foot shopping area with retail and restaurants. Two setback hotel buildings featuring 505 rooms are being built behind it, and a 50,000-square-foot conference center will sit below grade, also toward the back.
Working on the hotel, which is slated to open in early 2019, has been an invigorating, and at times nerve-wracking, challenge.
"I mean, it's the sexiest building on the planet. It's like adding to the Guggenheim. It's a dream to be able to work on this," Lubrano said. "We spent a ton of time looking at old photographs and drawings and really thinking about what the building looks like, and how it was conceived when it was first designed. We kept going back to this idea that it's a figure in a field. There's an endless tarmac and the open sky plane and this gorgeous object. So we decided to create a building that cancels all that out and becomes a current representation of the sky plane."
The pair is in discussions with other hotel developers as a result of their TWA work, but given their predilection for a wide range of project types, their focus won't be narrowing anytime soon.
The enormity of their achievement is even more impressive given the almost happenstance nature of their professional union. The pair, who met at the Syracuse University School of Architecture, had been friends for several years, often running together along the West Side Highway, when the father of a friend of Lubrano's approached her about renovating a shoe store he owned, Little Eric Shoes, then on Third Avenue and East 73rd Street.
At the time—Ciavarra places this around 1997 or 1998—the two were working at separate architectural firms: Ciavarra at Richard Gluckman Architects and Lubrano at Kliment Halsband Architects. They decided to tackle the project together on the side, and worked nights and weekends for three months planning the renovation, which the client wanted built out in one week.
"That meant we had to be on site every day," Lubrano said. "I was like, I'm going to get fired."
After that project, Ciavarra's father referred them to a friend who had purchased four apartments on the Upper West Side, and sought renovations. The two chose to work together again, also on the side from their full-time jobs. While Lubrano did not get fired, the assignment left both of them on the verge of exhaustion, and led to the official founding of their firm. 
With both feeling worn out, Ciavarra made Lubrano promise not to take any new assignments without consulting her first. The very next day, Lubrano was connected with someone who had purchased a property in the Bahamas and told her, "I'm going to write you a check. Quit your job." (Lubrano declined to name the client.)
Lubrano accepted the assignment on the spot. She told Ciavarra later.
Lubrano quit her job and rented a desk at a coworking space in Soho. Ciavarra joined her full-time around five months later, and the firm officially opened on April Fools' Day, 1999 as Lubrano Ciavarra Design. Once they were both licensed, they changed "Design" to "Architects."
One of the reasons they work well together is their similar upbringing. Both 48, they were raised in Italian families—Ciavarra in Wyckoff, N.J., Lubrano in the Brooklyn Heights—and both showed artistic inclinations as teens.
"I took a lot of art classes [through the years]," Ciavarra said. "We were in a growing suburban community that had a lot of houses under construction, and I can remember climbing around wood frame structures when the [workers] left the job site. That spiked something in me [as a teenager]."
Ciavarra, who now lives in Brooklyn Heights with her four-year-old daughter, Alexa, received a bachelor's degree in mathematics from Colgate University, and her love of architecture was cemented by a junior year abroad in Venice, Italy.
"The programming was architecture, arts and archaeology, kind of a classic program," she said. "I was living in Venice, which is a city about texture, materials and light. It's a pedestrian city with a really urban fabric. That's when I decided I was going to be an architect."
Lubrano, who also lives in Brooklyn Heights with her daughters Kiera, 11, and Ella, 12, has been working in architecture since she was 15. Her mother, Virginia Guiler Lubrano, had her own interiors firm, Guiler Associates, and Lubrano spent summers working for one of her mother's clients.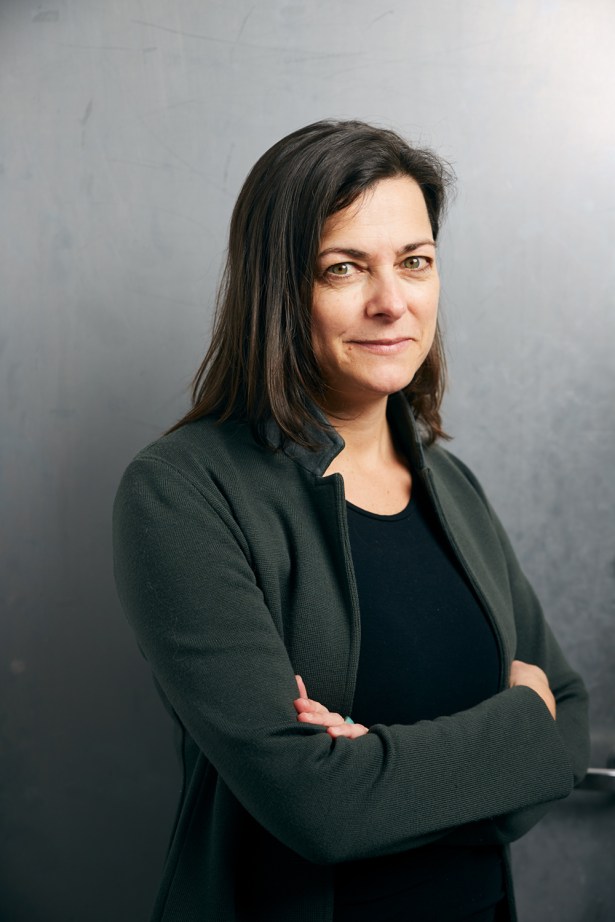 "[Architecture is] such a sexy career," said Lubrano, of the attraction she felt to the field as a teen.
"It was just interesting, compelling and active," she said. "It was engaging, there were other people involved, and New York City in the 80s was booming. It was a great time to be exposed to that."
Lubrano earned a bachelor's in history from Smith College, and eventually got her master's in architecture from Harvard University. In between, though, she attended Syracuse for a year, where she met Ciavarra, who was pursuing her own master's in architecture.
In addition to becoming personally close, their common backgrounds and attitudes made them a solid professional match.
"There are people you can work with and people you hang out with, and they're not necessarily the same," Lubrano said. "But perhaps [this works] because of our backgrounds with Italian-Catholic overbearing parents, [and our both being] family-oriented. We also make decisions the same way about money and what our priorities are. For us, the priority is our relationships with our clients, 100 percent."
Lubrano Ciavarra received an early boost in 2001 when the firm won Phase One of the International Chicago Public Schools Design Competition, which sought designs for an ADA-compliant, 100,000-square-foot elementary school with a maximum budget of $100 per square foot.
The pair designed the project as four small school buildings with shared open space, and hallways that felt less claustrophobic than the ones they walked through in their school days.
"[The competition] was part invited—they had four well-known firms—and part open. We won Phase One as one of the open sites," Ciavarra said. "We had been in business two years. From very early on, we knew we wanted to do [civic-minded] projects like that. Winning that competition opened the door."
One key aspect of their firm is that the pair operates without a central architectural philosophy or design aesthetic.
"We do not have one. Very definitively," Lubrano said. "We really pride ourselves on taking a deep dive into whatever the ethos of the client is."
By way of example, they cite their being hired to design a 26,000-square-foot retrospective exhibit for acclaimed photographer Richard Avedon at the Metropolitan Museum of Art in 2002. The project required them to develop a deep understanding of Avedon's work.
"Materially and color-palette-wise, it reflects Avedon's vibe," Ciavarra said of the black, white and gray exhibit. "But also structurally, the way he choreographs movement, the way there's an object or a subject sitting in a field. We used a lot of that as we drew the plan and picked the materials."
Being so versatile and refusing to be pigeonholed has led them to a slew of interesting and varied projects. One of their most exciting ongoing endeavors concerned the design of the Bahamas home for the anonymous client, who really became more of a patron.
Lubrano and Ciavarra were hired to design the 10,000-square-foot Harbor Island home in 1999, and completed the project in 2002. Along the way, they developed an unusual rapport with the client, leading to an unconventional process. Seeking creative inspiration, the architects and their client visited other homes and produced their own creative endeavors in a quest for epiphanies. 
"This guy is like our Medici," Lubrano said. "For almost nine months, we wrote poetry, painted pictures, built multiple models of different schemes. We put a whole book together of imagery, sketches, photographs of the island, things we were inspired by. And he would do drawings, because he fancies himself an architect as well. We spent time on the island with him and he pointed things out and took us to houses that he loved. It was a very atypical and amazing project. We were so lucky."
The pair still works on projects with this client today. 
Coming so early in their career, the project was a valuable learning experience.
"For me, the most critical [lesson from that] was to trust your drawing ability," Lubrano said. "The things I wasn't totally happy with came out exactly that way, and the spaces I thought were going to be gorgeous and sing, did. Suddenly you're like, oh, it really is a one-to-one, because when you're in school, you don't really—"
"Believe that, necessarily," Ciavarra said, completing the thought.
These early experiences gave Lubrano and Ciavarra the confidence and experience they needed to tackle larger projects, and since then, their project list is as impressive in its diversity as it is in its quality.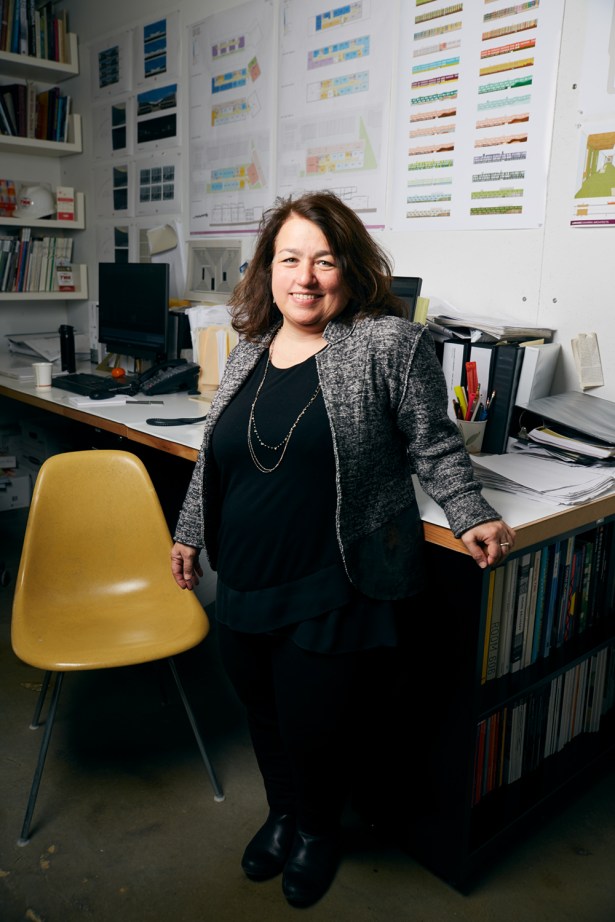 Their work on Taino Towers in the Bronx is, Lubrano said, a big part of their story.
The Section 8 housing project in East Harlem, bordered by Second and Third Avenues and East 122nd and East 123rd Streets, consists of four 35-story residential towers, and was built in 1979 with funding from the U.S. Department of Housing and Urban Development.
Lubrano and Ciavarra first interacted with the management of Taino Towers in 2000, when they worked on an expansion of the Harlem Day Charter School, which is a tenant of the property. 
When tower management refinanced their mortgage in 2010, they had, according to Ciavarra, $60 million to $100 million to reinvest. Lubrano Ciavarra was hired as the design architect for the complex, and has worked on a series of renovations since, including a complete redesign of the complex's living quarters.
"We inventoried and prepared drawings of all 656 apartments, including redesigns of the kitchens and bathrooms," Ciavarra said. "We redesigned windows for two of the towers, and spearheaded major structural repair work to the facades. We also did predesign for a new building addition on Second Avenue that will become an entry for a theater space."
Given government involvement, the project has proceeded at a slow pace, and Ciavarra believes more funding will be coming through this year, leading to heavier involvement on their part throughout 2018.
Other current projects include the Grand Concourse Academy in the Bronx neighborhood of Clason Point, a 50,000-square-foot, $30.7 million charter school partially funded by the Turner-Agassi Charter School Facilities Fund, an organization spearheaded by tennis great Andre Agassi. The project just broke ground, and is expected to open next year.
While they love the civic-mindedness of designing a school, projects like these come with unique budgetary challenges.
"The primary challenge is how to get design in for a good price," Ciavarra said.
"In this school, we've really tried to use real materials," Lubrano added, "meaning the windows are triple-glazed wood and the doors are all wood, and the floor is—"
"Rubber instead of vinyl," Ciavarra chimed in.
Along with their civic and larger project work, the two also do private home renovations. When married couple Ellen Marks and Stephen Raphael, also partners in the real estate law firm Raphael & Marks, moved from a 1,600- to a 2,600-square-foot apartment at their 870 UN Plaza home in 2016, they hired Lubrano Ciavarra to bring the apartment into the modern era.
"When it was built in the early 60s, the inside of this building looked like it had been put together by a 1940s decorator," Raphael said. "You had this large, magnificent space with great views and lots of light, but everything was cut up into little-bitty smaller rooms. So when we saw the [new] apartment, we said that this was an opportunity to capitalize on the light, the views and the spaciousness of the apartment, and create large spaces."
The project was completed in August 2016, and Raphael was thrilled with the end result.
"If I ever have to recommend an architect, Lea would be number one on my list," he said, citing Ciavarra, the point person on his project.
Raphael added, "She listened to what we wanted to do, not with one idea but with half a dozen, with different ways to approach the space. Then, she understood dealing with a co-op or condo—having to get things approved, and understanding that buildings have requirements. [For example,] this building doesn't allow you to put electric ranges in the kitchen. Everything has to be a gas range. That's fine for a conventional stove but not for a convection oven. But Lea found all sorts of ways to get that to work."
Last year, Lubrano and Ciavarra completed a residential project at 45 India Street in Greenpoint, Brooklyn. The pair began designing the 10,000-square-foot, six-unit condo in 2004, and due to zoning changes and other factors it became a classic stop-and-start project, wrapping up just last year.
"Originally, we built it to sell as condos," said Jimmy Tuohy, the building's co-owner, and co-owner of the construction company Eurostruct.
"But with taxes and everything else, I was worried I wouldn't be able to sell condos for what we wanted, so my partner and I decided we'd turn it into rental apartments instead."
Construction eventually commenced in 2014, and was completed in 2016. Between the perseverance and the quality of the end result, Tuohy couldn't have been happier.
"I've done quite a few projects with Anne Marie and Lea, and I've always trusted them," he said. "I like their sensibility. They design with good purpose. We were very happy with how the whole project turned out. We get a lot of compliments from the outside about how nicely the building blends with the original buildings in the neighborhood."
With lots of projects in the pipeline and the company's 20th anniversary on the horizon, Lubrano and Ciavarra are excited about the success that their diversity of style and personal touch has brought them, and have every reason to anticipate more of the same moving forward.
"If you look at our client list, there are probably five to 10 clients we've done multiple projects for who have then recommended us," Ciavarra said. "The tree is very small. The process is important too—not just the end product."
Anne Marie Lubrano
,
Eero Saarinen
,
Harvard University
,
John F. Kennedy International Airport
,
Kliment Halsband Architects
,
Lea Ciavarra
,
Lubrano Ciavarra Architects
,
Metropolitan Museum of Art
,
Syracuse University
,
TWA Flight Center
,
TWA Hotel