Arch Companies Nabs $45M for Development of Soho Rental Building
---
---
Still fresh off a New Year's launch, Arch Companies has secured a $45 million loan from Maxim Capital Group for the development of its first New York asset—a planned six-story, mixed-use residential building at 11 Greene Street in Soho—the borrower announced Wednesday.
Arch has joined a consortium of investors on the project, taking over from Thor Equities, which previously spearheaded the project's development, Jeff Simpson, a co-founder of Arch and the former CEO of Greystone Development, told Commercial Observer. Simpson declined to identify the project's investors or provide specific loan details.
The deal closed last week, and construction is slated to wrap sometime next year.
"I think generally, a rental in Soho is very unique," Simpson—who left Greystone to start Arch in December 2017 with colleague Jared Chassen, who was Greystone Development's director of acquisitions—told CO. "There really aren't any high-end rental and luxury products in the area, but there are condominiums. We're—generally, at this point in the cycle—very selective in the market and we're a little more reserved on condominiums."
Thor was bought out of its partnership in the deal and Arch Companies was brought in to manage the development, eventually obtaining a construction lender to capitalize the project, according to a spokesperson for Arch.
A spokesman for Thor declined to comment on the company's past involvement in the project or when exactly it exited the partnership.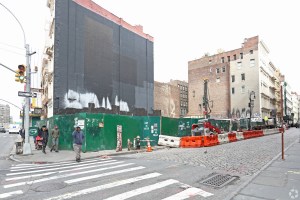 The project—designed by Gene Kaufman and already underway—will feature 31 luxury rental apartments across roughly 54,648 square feet as well as 11,650 square feet of ground-floor retail space along 240 feet of frontage on Greene and Canal Streets.
"We are currently going vertical and the steel's being erected," Simpson said. He said that the retail portion of the project is already garnering attention from several possible suitors but declined to provide specifics.
In May 2014, Jason Pruger, an executive managing director at Newmark Knight Frank, told The Real Deal that landlords and developers are banking on the transformation of Canal Street into a draw for high-fashion-brand tenants, saying,"it will take a pioneer to make that happen."
"Arch has made its mark with new acquisitions and ground up development, and it hasn't taken the company long to demonstrate its entrepreneurial spirit," Brian Steiner, principal and co-founder of Maxim Capital Group, said in prepared remarks. "At Maxim, we appreciate pioneers, and in our commitment to lending, visionary companies like Arch are top-priority on our list of potential partners."
This project marks the fourth addition to Arch's portfolio since the company's January launch. The firm has closed on the acquisitions of a value-add multifamily property and a single-tenant office building in Los Angeles and has picked up a development assemblage in a Miami suburb.
Maxim Capital could not immediately be reached for comment.