Why Construction Firm McKissack Added Natural Disaster Relief to Its Repertoire
---
---
Superstorm Sandy woke a lot of people up to the dangers that natural disasters can have on an unprepared region like New York City.
One of those people was Cheryl McKissack Daniel.
McKissack Daniel is the CEO and president of the country's oldest minority-owned construction services company McKissack & McKissack, which had not done any disaster relief work when the storm hit in October of 2012.
Since McKissack had an on-call contract with the Dormitory Authority of the State of New York, it was one of a number of firms the state called on for help with inspections in the wake of the disaster.
"And we stepped up," McKissack Daniel told Commercial Observer from her 20th floor offices at 1001 Avenue of the Americas between West 37th and West 38th Streets. "We had to mobilize about 200 inspectors in about four days."
McKissack's inspectors conducted about 6,000 property inspections to assess the damage on homes on Long Island, Queens, Staten Island and upstate New York in the months after the storm, she said. That represented less than half the estimated 15,000 to 20,000 homes that needed inspection.
Thanks to that work her company—more than a century old—was able to win a request for proposals from the Governor's Office of Storm Recovery to be the property manager for about 14,000 damaged lots that the state took over following the storm. (Today, McKissack is still being paid to maintain about 700 lots throughout Staten Island and Long Island.)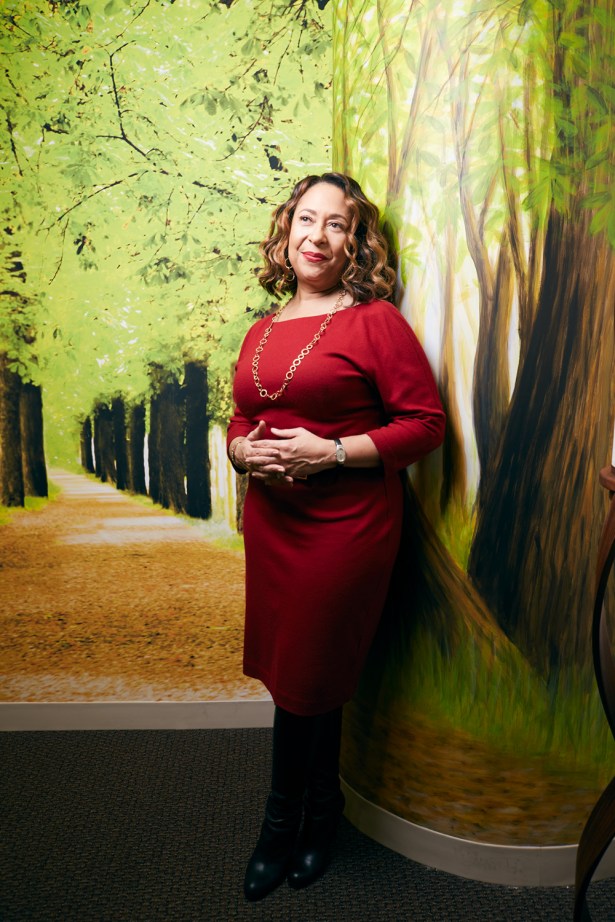 "What's always running through my mind is, how do I position McKissack to be a prime contractor in a profitable area of business," said McKissack Daniel, 56, whose day-to-day functions include landing new business and building relationships. "And we can't do it by being like everybody else. We have to take those chances. And that was a big chance."
The chance, of course, was trying to work disaster relief without any prior experience.
But just like that, McKissack—which provides construction management, program management services and minority and women-owned business enterprise (MWBE) compliance work—added disaster recovery to its core competencies.
Since Sandy, the 100-person firm has completed case management services after major flooding in Louisiana (in August 2016) and debris removal from Miami-Dade County last September after Hurricane Irma struck.
Now McKissack has a bid in Texas with partner ICF to be a program manager and handle recovery efforts in Houston (which was devastated by Hurricane Harvey in August 2017). This would entail collecting data on the damage, and handling issues for home and business owners, among other things.
"For us," she said, "it's diversity in our markets and in our services, so if one goes down, the other one can keep going strong."
In New York City, the firm has been working on a number of large-scale projects—which it landed in part because city and state projects need to include a minority- or woman-owned firm for public projects—including a role as a consultant on the redevelopment of the LaGuardia Airport for Skanska and its partners. Her firm is also providing architectural advisory and engineering consulting services to New York State's Empire State Development for the Moynihan Train Hall project and acting as construction manager for a new 82,000-square-foot Studio Museum in Harlem at 144 West 125th Street. (A spokeswoman representing LaGuardia Gateway Partners—the consortium of companies redeveloping the airport—referred CO to Skanska, which did not immediately return a request seeking comment.)
In addition, McKissack is providing construction management services for various city-owned and leased sites operated by the New York City Economic Development Corporation, including at the Hunts Point Cooperative Market in the Bronx. There the city is planning to erect two new buildings—one of 115,000 square feet and the other of 133,000 square feet—and expand the main property by 40,000 square feet.
"Small- to medium-sized MWBE contractors often face significant barriers that prevent them from winning city contracts, such as high insurance requirements, limited access to networks and information and a lack of access to capital at affordable rates," according to an EDC statement sent to CO. "By working with firms like McKissack & McKissack, we are helping to reduce some of those barriers while providing the opportunities for prequalified contractors to develop the experience they need to compete for future projects."
McKissack estimates its annual revenue this year to be around $50 million, which would be a roughly 67 percent uptick from 2017 when the company took in $30 million. And both years are ahead of 2016's $32.5 million in revenue.
The big financial jump in revenue is mostly attributed to McKissack's work on an NBBJ-designed building on the campus of Coney Island Hospital in a joint venture partnership with Turner Construction this year in Coney Island, Brooklyn. The $700 million project includes constructing a new hospital tower, a 350-space parking structure and a flood mitigation system to protect the hospital from future storms. (The Brooklyn hospital suffered from major flooding during Superstorm Sandy and lost its power grid and emergency room.) The project is expected to be completed in 2020.
Representatives from NBBJ and Turner did not immediately respond to inquires seeking comment.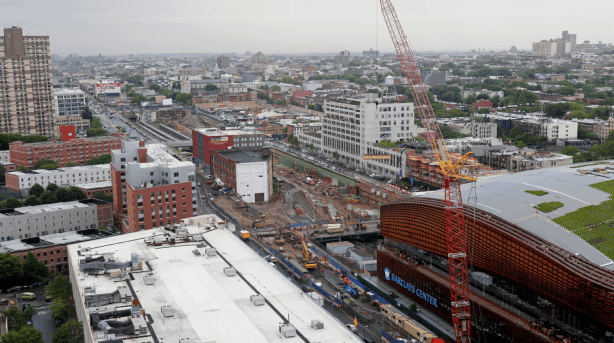 And McKissack has been working on the Vanderbilt Yard repositioning since 2009 and is almost done with that project. Greenland Forest City Partners (the partnership of Greenland Group and Forest City Realty Trust) is coming to the end of its nearly decade-long project to move the Long Island Railroad train tracks at the Vanderbilt Yard to make way for the foundation of Pacific Park and the Barclays Center. They've also rebuilt the Carlton Avenue Bridge. McKissack will complete the job later this year.
"McKissack & McKissack is known throughout the engineering and construction industries as being synonymous with skill, integrity and attention to detail," Robert Sanna, an executive vice president with Forest City New York and the head of construction, said in a statement to CO. "Choosing them as the first contractor to work on Pacific Park was an easy decision, where they've been doing tremendous work in redeveloping and modernizing Vanderbilt Yard."
The biggest change has been working more closely with Greenland since Forest City reduced its ownership in the project to just 5 percent in January. Greenland has more foreign executives, which require more translation.
"They are being cautious because they are not from here and they are not used to our regulations," McKissack Daniel said. "They probably run their crews 24/7 [in China]. You can't do that here. It's an awakening, how we do business here. But we don't have a problem with them."
A native of Nashville, Tenn., McKissack Daniel has two grown children (ages 23 and 22) and four stepchildren (in their 30s) with her husband Dr. Samuel Daniel, a gastroenterologist at Mount Sinai.
She has engineering, architecture and construction running in her blood for generations: Her grandfather and his brother were among the first licensed black architects in the country (the licenses hang in the conference room of the firm's main New York office at 1001 Avenue of the Americas), and they founded the company in 1905. Her father, William, led the firm from 1968 until 1983, when her mother, Leatrice, took over.
McKissack Daniel earned a bachelor's degree from Howard University in civil engineering in 1983 and then a master's degree in the same field two years afterward. Following graduate school she moved to New York City in 1985 to work as a civil engineer at Weidlinger Associates (which merged with Thornton Tomasetti in 2015), and then three years later she became an estimator for projects at Turner Construction. A year later she joined the family firm in Nashville, and the following year, in 1991, she launched the New York City office. Today, McKissack has two offices in Manhattan and one in Philadelphia.
In 2000, McKissack Daniel became the president and CEO of the entire company, succeeding her mother.
McKissack Daniel's twin sister, Deryl, has her own architecture, engineering and construction firm McKissack McKissack in Washington D.C., which is unrelated to the family firm.
And McKissack Daniel's younger daughter is studying engineering at Pratt Institute, although it's far too early to forecast if she will end up running the family firm.
"We'll see," the proud mother said.
As a minority and a woman that leads a construction company, McKissack Daniel's firm has its own database of trusted MWBE subcontractors that it hires to work on projects. McKissack also vets and meets with other firms and  mentors executives of smaller companies from time to time.
Conveniently, work has been growing for MWBE firms because in 2014 Gov. Andrew Cuomo upped the state's goal to give contracts to MWBE firms to 30 percent from 20 percent annually. While that goal yet to be met, the rate of MWBEs that worked on state-contracted projects reached 27.2 percent in 2017, up from 25 percent in the prior year.
A large portion ($2.2 billion) of the 2017 figure included construction work, according to a recent press release from the governor's office. Also, the state has newly certified more than 6,600 MWBEs since 2011 and now has a listing of more than 8,600 certified firms, including ones prior to that time.
Employing the new rules hasn't always been easy. There have been instances where construction companies trying to use MWBE firms from the state list have found themselves employing small firms that can't complete the work or those that don't exist in business any more.
"You go to that list. You call contractors for days, and they don't exist," McKissack Daniel said. "[Because] you could be in business today in construction and doing well, and a year from now be out of business, but you are still on the database."
To prevent that from happening, clients can hire McKissack to vet subcontractors.
For example, at LaGuardia Airport's redevelopment McKissack's only job is to find MWBE subcontractors.
But McKissack Daniel was a little let down at the size of the job her firm was given for the airport redevelopment; she said McKissack was only able to have four employees at the site.
"Our role to me [on this job] is minimal," McKissack Daniel said. "I'm disappointed that we are not doing [construction management] work with them. But I'm happy to be a part of it because it is one of the largest projects going on in New York right now. And whatever our role is it gives us an opportunity to learn…and it gives us an opportunity to put it in our portfolio and say on the next job we'd like to do more."
On another transportation project McKissack has a much bigger role. It is the independent engineering consultant for the Metropolitan Transportation Authority's capital construction projects—a role the company has had since 2009. It signed a second contract with the agency for three years in March 2016, to oversee $32 billion in planned projects or work under construction. The company reviews designs and provides risk assessments.
Some major projects McKissack can boast about completing are the long-awaited Second Avenue Subway extension, the design and planning of the East Side Access tunnel and the Canarsie Tube Rehabilitation (the reason why the L train is shutting down for 15 months).
McKissack Daniel describes her role as the agency watchdog.
"We trust what the agency is saying about its projects, but we verify what they say," McKissack Daniel said. "We make sure what they say is what is actually happening."
A case in point, when the MTA's new $2.4 billion 7 line subway station at Hudson Yards, which opened in 2015, was suffering from leaks in 2016, McKissack provided oversight on the issue to the MTA's board.  
"We participated in finding all of the paperwork and coming up with what we thought happened with the leaks—where did it come from," McKissack Daniel said. "I can't say what it was. We can't talk about our findings on that one because we'll probably end up in a lawsuit."
Thanks to the work with the MTA, McKissack Daniel is focusing on how to expand the company's transportation sector, just like she did with disaster recovery side of the business—this time in other cities.
"We are working on three strategic hires right now to give us that national presence and the expertise to compete against the AECOMs and HNTBs," McKissack Daniel said. "There are clients out there that want a smaller firm—they don't want a big conglomerate. There's plenty of room for us right now."
144 West 125th Street
,
AECOM
,
Barclays Center
,
Cheryl McKissack Daniel
,
Forest City Realty Trust
,
Greenland Group
,
LaGuardia Airport
,
McKissack & McKissack
,
Metropolitan Transportation Authority
,
NBBJ
,
New York City Economic Development Corporation
,
Robert Sanna
,
Skanska
,
Turner Construction