Private Educational Institutions Are Getting Schooled by Brooklyn Real Estate
---
---
Ruth Arberman, the founder of The Sterling School—a privately run elementary school for second through sixth graders in Boerum Hill, Brooklyn—has spent five hellish years looking for a new location for her school.
Arberman has visited various sites, including a cellar space on Smith Street under a MET Foodmarkets grocery store, which didn't have windows. She scoffed at the idea of teaching her students without daylight, but that wasn't nearly as bad as the price.
" 'Well, you could do wonderful things with lighting, and by the way it's $70 per square foot,' " she recalled her broker saying. (Her budget was just $40 per square foot.)
Arberman then went to another space where a tenant was going to sublease to her, but the landlord wanted to sell the building and blocked the sublease.
She came close to a deal in Sunset Park a few years ago at Industry City. But she learned from her architect that the space wasn't legally zoned yet for school uses, just manufacturing. (See our story on Industry City.) 
And this saga has kept The Sterling School smaller than it otherwise would be. "It's frustrating to say to parents, 'I'd love to help, but we don't have space this year.' It's hurts my heart because I have been that parent," said Arberman, who founded the school originally for her 8-year-old son in 2000 when she couldn't find a specialty school for him.
"You're dealing with a market with rising real estate prices," she added, "which makes it challenging even if it's zoned right."
Aberman's 18-year-old school currently operates in 4,000 square feet at 299 Pacific Street, and its search is finally coming to an end: The Sterling School is in contract to purchase a 13,000-square-foot condominium unit at 124-134 Atlantic Avenue, a former medical condo, from Fortis Property Group. The asking price is approximately $4.3 million, according to TerraCRG's Peter Schubert, who is marketing the property for the seller. (The school would give up its current space for the new digs.)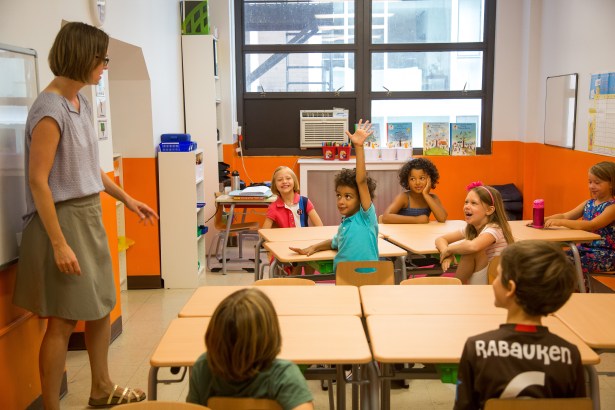 But to give a sense of how dire the situationis for a school like Sterling, last year, the school got 78 applicants for six spaces (there are currently 10 teachers and 24 students). This year it already has 22 applications for just eight seats with about six months to go before the new school year begins. Tuition is $53,000 annually.
Finding a Brooklyn space or development site in which to expand or open a new school has been nightmarish for independent schools as the real estate market in the borough heated up over the last decade, according to brokers and education experts.
The average per-square-foot price for a mixed-use property in Brooklyn was $434 in 2017, about double 2010's $213, according to TerraCRG's annual reports on the borough. The sale price of multifamily buildings meanwhile has skyrocketed to $371 per square foot from $144 per square foot from seven years earlier.
Adding to the situation is the increased demand for private school admission from the onslaught of upper middle class and wealthy families moving to the borough; the mean household income in 2016 in Brooklyn shot up to $75,810 from $62,656 in 2010, according to the latest data from the United States Census Bureau's American Community Survey.  
Brooklyn grew to a population of more than 2.6 million people in 2016 from 2.5 million in 2010, according to a Brooklyn Chamber of Commerce report released last month based on United States Census Bureau data. The borough is gaining on the city of Chicago, which is home to 2.7 million people, to overtake it as the third largest city in the United States—if Brooklyn was its own city, that is.
One private school consultant told Commercial Observer that the migration of wealthy families to the borough has only made the acceptance rate tighter at private schools.
"There has been burgeoning demand in Brooklyn for private school admission as more affluent families have moved into the borough," said Emily Glickman, the president of Abacus Guide Educational Consulting, which assists families in finding and applying to private schools. "Every private school tries to seem as competitive as possible. But in fact, Brooklyn private schools are highly competitive due to the lack of seats and the ratio of private school applicants."
Glickman, who grew up in Brooklyn and went to elementary school at The Packer Collegiate Institute (which dates back to 1845), couldn't provide a total number of private school seats in the borough, and there isn't an organization that tracks private school enrollment ratios in the city.  
"The expansion of the residential market and the demand and the amount of people now in Brooklyn present challenges for the infrastructure to keep up with," said Martin Cottingham, a principal at Avison Young (not that kind of principal) and native Brooklynite who still resides in the borough. "The price point [for real estate] is typically challenging for most schools. And you have limited sites that can offer the amenities that most schools need, like a gymnasium or an auditorium, which has high ceiling heights."
Cottingham, who has worked with a variety of public, charter (a publicly funded independent school) and private schools, is currently in search of a second location in the borough for a "high-end" Brooklyn private school in areas like Downtown Brooklyn, Carroll Gardens and Cobble Hill—some of the more popular residential areas of Brooklyn. (He declined to identify his client.) Cottingham said prices have been challenging for private schools, which prefer to own than lease because they want to be in an area for a long period of time and not worry about having to move every few years.  
"Most of the folks [at schools] that we have been in dialogues with [over the years], they would prefer to own," Cottingham said. "The challenge is the resources. Once they are educated about the market and price points, it's kind of hard to reach for most schools."
The German School Brooklyn, a bilingual English and German school, which claims to be the first German international school in New York City, opened its doors in September 2014 at 17 Eastern Parkway (the Union Temple of Brooklyn) near Grand Army Plaza in Prospect Heights. Tuition hovers around $22,500 per year for kindergarten through fifth grade and $25,000 for grades six through eight, according to the school's website.
It has roughly 8,000 square feet and has been searching for an additional location between 25,000 and 40,000 square feet for two years, according to the school's broker. The school had just 15 students in its inaugural year, then 51 in 2015, 96 in 2016 and 130 last year. This upcoming September it will enroll 170 students, according to the Head of School and Founder, Katherin Nagle. Last year it saw nearly 70 applications but could only admit 40 new students because of space constraints.
The second location would be for the middle and high school and allow them to admit more students, but they haven't been able find the right space even after visiting 50 sites, Nagle said.
"They wanted to stay within a mile or so within that site, but upon seeing how tight the market was and how much capital they would have to invest into a dilapidated building, they realized that Prospect Heights is too expensive," said the school's broker, Richard Novak of CPEX Real Estate. "So we expanded the search."
And it now includes Downtown Brooklyn, Gowanus, Crown Heights, Park Slope and Greenwood Heights.
Nagle said they had an agreement with an owner to purchase a development site in Gowanus last summer—then they did an environmental study on it that showed it was contaminated. They dissolved the contract while they analyzed how much it would cost to clean up the site and were going to resubmit a new bid to the owner, but the site sold to an investor.
"[The investor] doesn't even know what they are doing with it, but they see the potential, and they can sell it in in a few years," Nagle said. "That's also a challenge—that you have a lot of people with a lot of money."
The Union Temple of Brooklyn will give German Brooklyn School roughly 5,000 square feet more in the building starting in 2019, Nagle said. It will help but still isn't enough.
The 865-student Brooklyn Friends School, one of the storied and more highly regarded private schools in Brooklyn, had its own trouble just a few years ago in the search for a space to expand.
The institution for preschool through 12th grade, founded in 1867, has been at its main campus at 375 Pearl Street in Downtown Brooklyn since the 1970s.
But in 2007 school administrators realized the 20,000-square-foot upper school at 47-55 Willoughby Street in Downtown Brooklyn was too small. So it started a search that took five years for the institution to find the 44,200-square-foot location at Forest City New York's 116 Lawrence Street and another year to negotiate a 49-year lease in 2013, according to CPEX's Managing Partner Brian Leary, who handled the deal for the school.
When the new upper school opened in September 2015, it served 195 students with the ability to grow to 240, as Commercial Observer reported at the time.
(Forest City declined to comment about the deal, and Brooklyn Friends top administrators did not return requests for comment.)
Even though Brooklyn Friends was one of the lucky ones when it came to finding replacement digs, the space at 116 Lawrence Street was far from perfect. It has about 7,700 square feet on the lower level, 11,500 square feet on the first floor and 25,000 square feet on the third floor, skipping the second floor, which is leased to National Grid. So the school worked out a deal with National Grid to install a new elevator shaft and staircase that passes through the second floor.
"The intent initially was to purchase a building," Leary said, but "their geographical requirement was to be within five square blocks of the original school. We had a very hard time [finding the space.]"
Besides real estate prices, private schools face steep competition from other independent institutions, as well as charter and public schools.
Ascend Public Charter Schools, which has opened 10 schools in Brooklyn since 2008 and now has nearly 4,400 students, plans to submit an application this spring to the State University of New York Charter Schools Institute (the governing body) to open two more schools in the borough, according to a recent announcement by Ascend. The schools would both serve 224 students from kindergarten to first grade starting in 2019 and add a grade each year until they become kindergarten through 12th grade schools.
Brooklyn Lab Charter School, which opened its first school in 2014, signed an 81,648-square-foot deal at 77 Sands Street in Dumbo for its third location, as CO reported on Feb. 15. The charter school already has space at 240 Jay Street and 40 Flatbush Avenue Extension, both in Downtown Brooklyn.
Meanwhile, the New York City Department of Education, the largest school district in the country with 1.1 million students in 1,800 schools throughout the five boroughs, is partnering with developers to open new schools in huge buildings.
Some of the schools in the works are a 300-seat, 87,000-square-foot public school at JEMB Realty's 36-story, 500,000-square-foot office development at 1 Willoughby Square in Downtown Brooklyn. Then there will be two new public schools incorporated into the 900-unit building Alloy Development has planned at 80 Flatbush Avenue, also in Downtown Brooklyn. The Flatbush Avenue schools will support a combined 700 students—a 350-seat elementary school and a new home for the Khalil Gibran International Academy, which will increase its size to 350 students from 300. In addition, Khalil Gibran International, the city's first public high school that specializes in Arabic language, will have an auditorium, a gymnasium and a library, which the existing school at 362 Schermerhorn Street in Boerum Hill does not.
Finally, a public school for pre-k through eighth graders is planned to be built with the Greenpoint Landing project, where Park Tower Group in joint ventures with L+M Development and Brookfield (BN) Property Partners, is building 5,500 housing units along a 22-acre waterfront stretch in Greenpoint.
A representative for the New York City Department of Education did not respond to a request for comment.
The development of public schools and the real estate costs have not stopped some private institutions like BASIS Independent Brooklyn in Red Hook and Kiddie Academy in Williamsburg from pulling the trigger for new digs in the last several years.
BASIS, an organization that has some charter locations in the U.S. as well as private schools around the country and in China, launched its private institution in Brooklyn at 556 Columbia Street in 2014. The school started with kindergarteners through eighth graders but has added a pre-k and high school since. Its first class of eighth graders is now in the 11th grade, making the first high school graduation in June 2019.
The school has 815 students and the  building is owned by an investing partner of BASIS, so the school was able to custom design the property for its needs. Approximately 80 percent of the students are from Brooklyn, and the rest are from Manhattan, Queens and one from Staten Island, according to Head of School Hadley Ruggles. Although she declined to provide the number of applications the school has received or the length of its waiting list, she said BASIS has seen increased demand.
"We are seeing the need and the demand," Ruggles said. "It makes sense. I think there is a real allure to raising a child here rather than moving to a suburban area."
Maryland-based Kiddie Academy, a nationally franchised chain of institutions that provides various early childhood education programming, opened the doors to its first Brooklyn location in Williamsburg last December after an exhaustive four-year search. The school, opened by franchisee Howard Chen, is in an 8,000-square-foot space at 282 South 5th Street, a new project by Midwood Investment & Development.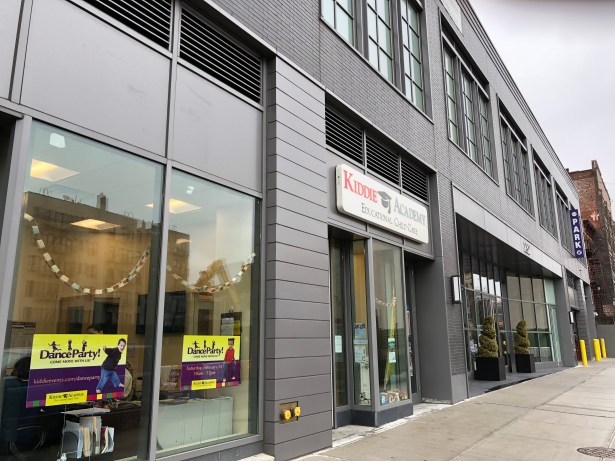 Kiddie Academy serves 99 children at an average price of $520 a week for a full-year program. It has 200 locations across the United States including three in Queens, two on Staten Island and 13 on Long Island, N.Y.
"It certainly was a long search process," said Joshua Frick, the chief development officer of Kiddie Academy, who negotiated the lease for the Brooklyn location. "Finding real estate in urban markets like Brooklyn is a challenge. If [Chen] could have found something more affordable in Williamsburg, he was always open to purchasing but knew that wasn't realistic."
Over the past couple of years, some of the legacy private schools have been successful in purchasing properties nearby their schools.
Park Slope-based The Berkeley Carroll School, a top Brooklyn private school founded in 1883, has about 980 students, according to its website. It purchased the 8,800-square-foot building at 703 Carroll Street for $4.6 million in September 2014 to expand to the building adjacent to its lower school. A spokeswoman for Berkeley Carroll declined to comment.
And the historic Packer Collegiate, which has an annual tuition of $44,700, purchased 100 Clinton Street for $16 million in April 2015, according to public records, a defunct office building near Packer's main campus at 170 Joralemon Street in Brooklyn Heights.
The school, which has added about 200 students to its enrollment since 2004 (to a total of 1,032 preschoolers through 12th graders), was in need of more space for current students, according to Head of School Bruce Dennis.
When the new building opens later this year, Packer will be able reorganize the campus more efficiently, Dennis said. From there, the school will expand its programs for its older students on the main campus with the vacated kindergarten rooms.
In the case of Packer, the school does not plan to increase enrollment, just improve the experience for current students.
"Our goal is to provide the best education that we can for the students that we serve. We could open another campus in Queens or Bay Ridge if we want to take over the world," Dennis said. "Candidly, we don't see it as our obligation to meet the needs of this huge increase of construction [in Brooklyn] to the detriment of the families that we serve."
CPEX's Leary said zoning changes to parts of Brooklyn over the years made it possible to build taller condos and offices, which led to the development boom in the borough and ultimately the increase in real estate prices. He said the city needs to do something to help preserve spaces for more schools.
"Is it schools, a temple or a church that builds a community? Or is it a developer building apartments?" Leary said. "I really firmly believe the academic component is more important than anything else in the community…They are being pushed out of their communities, which we need to maintain the community."
1 Willoughby Square
,
100 Clinton Street
,
116 Lawrence Street
,
124-134 Atlantic Avenue
,
17 Eastern Parkway
,
170 Joralemon Street
,
282 south 5th Street
,
299 Pacific Street
,
362 Schermerhorn Street
,
375 Pearl Street
,
40 Flatbush Avenue Extension
,
47-55 Willoughby Street
,
556 Columbia Street
,
703 Carroll Street
,
Abacus Guide Educational Consulting
,
Ascend Public Charter Schools
,
Basis Independent Brooklyn
,
Brian Leary
,
Brooklyn Chamber of Commerce
,
Brooklyn Friends School
,
Brooklyn Lab Charter School
,
Bruce Dennis
,
CPEX Real Estate
,
Emily Glickman
,
Forest City New York
,
Fortis Property Group
,
German Brooklyn School
,
Hadley Ruggles
,
Howard Chen
,
JEMB Realty
,
Katherin Nagle
,
Khalil Gibran International Academy
,
Kiddie Academy
,
L+M Development
,
Martin Cottingham
,
Midwood Investment & Development
,
National Grid
,
New York City Department of Education
,
Park Tower Group
,
Peter Schubert
,
Richard Novak
,
Ruth Arberman
,
TerraCRG
,
The Berkeley Carroll
,
The Packer Collegiate Institute
,
The Sterling School
,
Union Temple of Brooklyn
,
Avison Young
,
Brookfield