While Williamsburg Suffers L Train Problems, It's LIC's Time to Shine
---
---
Long Island City, Queens, has long been treated like Williamsburg, Brooklyn's not-quite-ready-for-prime-time little brother.
Both waterfront communities are one stop from Manhattan and have seen great gusts of development since the beginning of the millennium, but Williamsburg has been the pricier, more desirable and cooler of the two. (Even though LIC had a much greater transportation network: eight subway lines, 15 buses and two ferry stations.)
Well, that's likely to change when the L train takes a 15-month hiatus starting in April 2019 so the Metropolitan Transportation Authority can repair tunnels damaged by 2012's Superstorm Sandy, real estate professionals say. (The L shutdown will interrupt 225,000 riders that ride the line between Manhattan and Brooklyn daily.)
"A bunch of residents that came to tour our building said 'Williamsburg and Greenpoint is not for us—my commute can't suffer [15 months] or longer,' " David Brause, the president of Brause Realty, which is completing a 38-story rental tower in LIC, told Commercial Observer.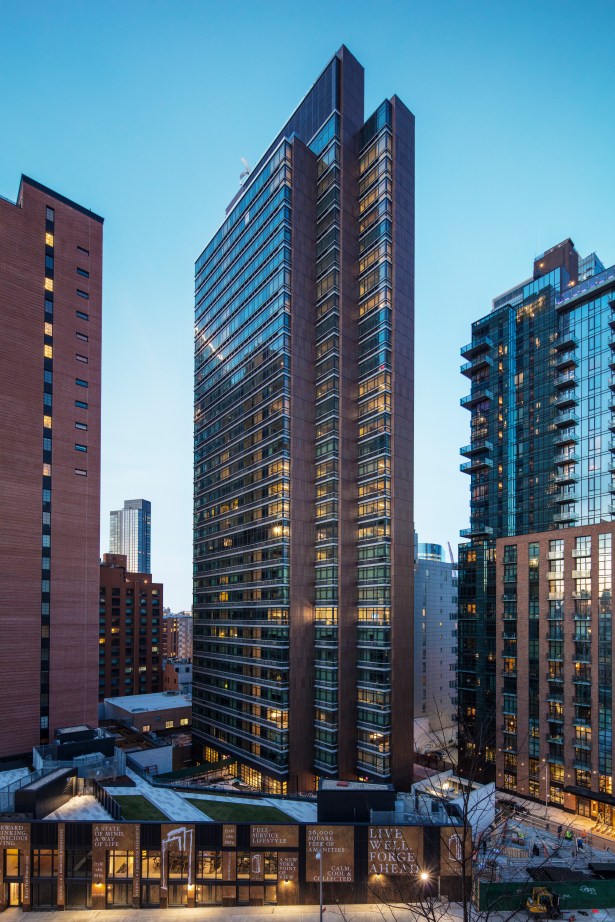 As Brause pointed out, "This is not an isolated story."
Brause is among a fair number of developers and brokers that informed CO of the exodus from Williamsburg to LIC. David Maundrell, Citi Habitats' executive vice president of new developments for Brooklyn and Queens, said that just this past weekend his office had five people from Williamsburg looking for rentals in LIC.
"It's really just worrisome to a lot of people that there is no real solution but buses and Uber," said Eric Benaim, the president, chief executive officer and founder of Long Island City-based Modern Spaces. "In four or five minutes you can be in Midtown Manhattan [from LIC]. And we have great parkland, and there are a lot of things to do here now."
And he added, "There is obviously a buzz. I get all the time that 'I'm hearing a lot of good things about Long Island City.' "
Another thing pushing residents to the Queens neighborhood: cheaper rents. The average rental unit in LIC was priced at $2,291 per month for a studio and $2,904 for a one-bedroom apartment, according to Modern Spaces' fourth-quarter 2017 market report. Meanwhile, in Williamsburg it was $2,671 per month on average for a studio and $3,076 for a one-bedroom, according to Citi Habitats' report for the same period.
And besides price and proximity to Manhattan, this isn't your grandfather's LIC—heck, it isn't even your father's LIC. There are more than 170,000 residents, 106,000 workers and 6,600 businesses in the neighborhood, according to the local economic development organization, the Long Island City Partnership.
Since 2006 more than 14,100 rental apartments and condominium units have been completed and there are another 19,100 in the planning stages or currently under construction. By 2020, the retail market is poised to more than double in size, adding 508,000 square feet to the current 325,000 square feet.
"Long Island City was once viewed as a location for convenience. Ten years ago you would move to Long Island City because you worked in [the] Grand Central [Terminal area], and you moved to Williamsburg because you wanted to live there," said Stribling & Associates' Patrick Smith, a resident of LIC and a residential agent that works in the area. "But what has happened over the course of the past 10 years is Long Island City is now perceived as a lifestyle neighborhood."
Waterfront parks and good restaurants have sprouted up in the last few years in LIC, including Michelin-starred Casa Enrique and the highly respected Italian eatery Levante; art institutions like MoMA P.S. 1 and the Sculpture Center; two Food Cellar grocery stores and a Duane Reade; fitness facilities such as The Cliffs at LIC and Brooklyn Boulders; and schools, including the expanded P.S./I.S. 78Q and Cornell Tech on Roosevelt Island (which is technically a part of Manhattan, but it's pretty much in LIC).
And some of the retailers are picking up on the Williamsburg-to-LIC shuffle. The Gutter, a bar and bowling alley that opened in Williamsburg in 2007, opened an outpost in LIC last year. And Sweet Chick, the popular chicken and waffles concept started on Williamsburg's Bedford Avenue by John Seymour and rapper Nasir "Nas" Jones, announced in November 2017 plans to open an LIC eatery.
"LIC has some great restaurants and places to hang out," said Helena Durst, a principal at Durst Organization. "It has a very cool vibe to it."
Durst, in fact, is comfortable making a 765-foot tall bet in the neighborhood. The developer filed plans last July with the New York City Department of Buildings to erect a rental tower at 29-55 Northern Boulevard with 958 units—70 percent of which will be market-rate—and 15,000 square feet of retail. There will also be more than a half acre of open space.
Durst purchased the site in December 2016 from Property Markets Group and Hakim Organization for $175 million. The previous developers were planning a 66-story building at the site, which has a landmarked Clock Tower building with 53,000 square feet of commercial space. The developer is still planning out amenities in the building, but it banks on attracting professionals looking for value.
"We see the residential market continue to grow as people keep getting priced out of Manhattan," Durst said.
Durst is hardly the only one who's placing bets in LIC and as the skyscrapers keep rising, developers are trying to one-up each other with their amenity packages.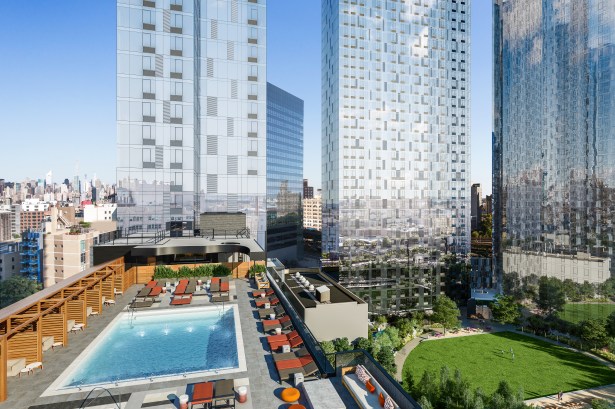 "Renters are looking for new products that are highly amenitized," said Erik Rose, a managing director for residential development in the New York region for Tishman Speyer. "They'll even move out of buildings that are two and three years old for the latest and greatest."
Tishman Speyer is expected to complete construction of its 1,871-unit, three-building rental named Jackson Park in LIC at the end of this year. The tallest structure—at 28-34 Jackson Avenue—will rise 53 stories.
The complex surrounds a two-acre private park, complete with dog run, children's play area, outdoor seating, Ping-Pong tables, barbecue pits and bocce courts (because bocce tournaments are a thing in LIC, Rose said). In addition, there will be a 45,000-square-foot, five-story building with lounges, fitness center, 75-foot pool, sauna and full basketball court.
Brause Realty and Gotham Organization have really turned it up at their 38-story LIC building at 44-28th Purves Street named The Forge. Leasing for the 272 units started in August 2017, and it's already 50 percent leased. The building comes with 26,000 square feet of amenity space including an outdoor pool (pools, by the way, are commonplace at new luxury LIC rentals), movie screen, hammocks, fitness center, bike storage, residents' lounge and rooftop lounge with views of the Manhattan skyline and art installations. The building is also feng shui-certified, and the developers are seeking a Leadership in Energy and Environmental Design Silver designation.
Nearby is G&M Realty's two-building 1,151-rental-unit complex at 22-44 Jackson Avenue. The project includes a 48-story structure and 41-story tower, both at the former site of 5 Pointz, the once-great graffiti complex. Amenities will include bike storage, pet grooming and other pet services, a swimming pool, a game room, a laundry room, a fitness center and a courtyard.
And Rockrose Development Corp. is building a 54-story rental at the former Eagle Electric Factory at 43-22 Queens Street called Eagle Lofts with 790 units. Building highlights: roof decks and 15,000 square feet of interior amenity space for a fitness center, an entertainment lounge, rooftop barbecue areas, a yoga studio, a media screening room, a children's playroom and a library. And all apartments will come with washers and dryers.
Last April, Rockrose opened a 51-story building with 974 apartments (195 affordable) in LIC at 43-25 Hunter Street called Hayden. It's already 85 percent leased and has 18,000 square feet of amenities—5,360-square-foot fitness center, full-sized basketball court, billiard room, solarium, yoga studio, Zen garden, media room, children's playroom, rooftop terraces and all the units have washers and dryers.
The competition for renters is so stiff that landlords are giving away rent to woo tenants.
"You can do a two-year lease with one to three months of free rent," Smith said. "Some developers are paying brokers' fees."
But LIC will be more than just another outer-borough bedroom community. Large mixed-use projects with office and retail spaces are on the way to beef up the office market.
Tishman Speyer is building The Jacx, a 1.2-million-square-foot office and retail building at 28-10 Queens Plaza South, where WeWork has already signed on for 225,000 square feet and Bloomingdales inked a deal for 550,000-square-foot offices.
The Jacx will also include over 50,000 square feet of curated retail space, including a market, food hall, upscale dining, boutique fitness center, 175 bike spaces and an onsite valet garage for 550 vehicles, according to the project website.
Another mixed-use megaproject is the TF Cornerstone-led development in the 4.5-acre Anable Basin inlet section of LIC.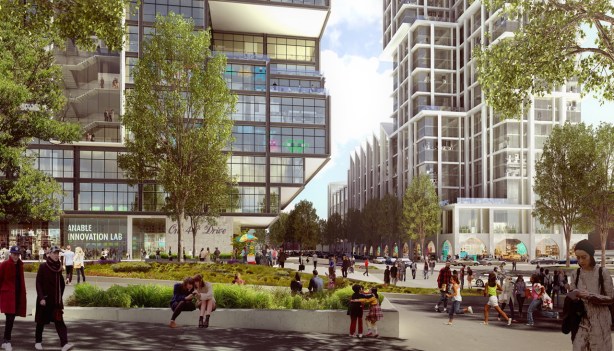 Alongside partners Greenpoint Manufacturing and Design Center, Coalition for Queens and BJH Advisors, TF Cornerstone was selected by the New York City Economic Development Corporation last July to build it. The two-tower development will feature 1,000 apartments, and one of the two towers will reach 650 feet.
In addition, it will house 400,000 square feet for offices and 100,000 square feet for light industrial use. The plans also call for an 80,000-square-foot public school, a 25,000-square-foot performing arts training facility and 19,000 square feet of retail.
"One of the primary goals of this project is to support the commercial, technology, artisan and industrial businesses of Long Island City, while also balancing that work environment with market and affordable housing," Jake Elghanayan, a principal and senior vice president at TF Cornerstone, said in a statement when the project was announced. "By providing dedicated space for skilled job training programs, the project will generate a diverse set of economic and employment opportunities for New Yorkers."   
Most of the Williamsburg folks looking to move to LIC are renters seeking short-term space—for 15 months—while the L train is shut down, according to Smith.
Home buying is a whole other subject. The L train shutdown won't deter potential homebuyers from plunking down money in Williamsburg if they have the long game in mind, Smith said.
Part of the problem in LIC is a lack of inventory. Until now there was not much in the way of condos in the neighborhood, as most developers took advantage of 421a to build rentals with an affordable component. Nearly 2,800 of the 17,000 units planned in LIC between now and 2020 will be condos, according to Citi Habitats' Maundrell.
But many condo projects have been announced recently, and Benaim is predicting a shift away from rentals soon.
"I think there is going to be a condo boom probably like by the third quarter of this year," Benaim said. "We [will be marketing] buildings as small as 12 to 15 units and as large as 800 units."
That 800-unit condo project at 23-15 44th Drive is called Court Square City View Tower. Developer Jiashu "Chris" Xu's United Construction & Development Group is building the planned 66-story structure that is slated to rise 984 feet, making it the tallest structure in Queens.
Other LIC residential condo projects include Slate Property Group and Carlyle Group's 88 unit building at 21-21 44th Drive and the 65-unit 5 Court Square by David Wu.
Condos are already achieving similar pricing to Williamsburg. The average condo in LIC sold for $1.1 million at $1,174 per square foot, according to data from Modern Spaces' fourth-quarter 2017 report. In Williamsburg on the other hand it averaged $1.2 million at $1,264 per square foot, according to the Citi Habitats report.
"[LIC] has an extremely strong condo market, because there is really no supply and a lot of demand," Maundrell said. "The demographic that is moving into Long Island City would like to buy but they can't."
With all of the new skyscrapers that will be popping up around LIC, one could mistake it for parts of Manhattan—just don't call it Billionaires' Row for non-billionaires.
"I wouldn't call it Billionaires' Row, because Billionaires' Row has Central Park to look at," Maundrell said. "And Billionaires' Row doesn't have rental buildings."
It might not be West 57th Street in Manhattan, and it might not be Bedford Avenue in Williamsburg—but it is something exciting.
21-21 44th Drive
,
22-44 Jackson Avenue
,
23-15 44th Drive
,
28-10 Queens Plaza South
,
28-34 Jackson Avenue
,
29-55 Northern Boulevard
,
43-25 Hunter Street
,
44-28th Purves Street
,
5 Court Square
,
BJH Advisors
,
Bloomingdale's
,
Brause Realty
,
Casa Enrique
,
Citi Habitats
,
Coalition for Queens
,
Court Square City View Tower
,
David Brause
,
David Maundrell
,
Duane Reade
,
Durst Organization
,
Eagle Lofts
,
Eric Benaim
,
G&M Realty
,
Gotham Organization
,
Greenpoint Manufacturing and Design Center
,
Hakim Organization
,
Hayden
,
Helena Durst
,
Jackson Park
,
Jake Elghanayan
,
Jiashu Xu
,
John Seymour
,
Levante
,
Long Island City Partnership
,
Metropolitan Transportation Authority
,
Modern Spaces
,
MoMA P.S. 1
,
Nasir Jones
,
New York City Department of Buildings
,
New York City Economic Development Corporation
,
patrick smi
,
Property Markets Group
,
Rockrose Development
,
Sculpture Center
,
Stripling & Associates
,
Sweet Chick
,
TF Cornerstone
,
The Forge
,
The Gutter
,
The Jacx
,
Tishman Speyer
,
United Construction & Development Group