Brooklyn Investment Sales Drop for Second Straight Year: Report
---
---
Brooklyn investment sales plummeted for a second consecutive year, according to a new market report from TerraCRG released today.  
The borough's 1,359 sales in 2017 resulted in $6.32 billion worth of transactions, a 19 percent drop from 2016 when it was $7.76 billion for 1,507 sales. And it was a nearly 34 percent drop from the recent peak of $9.5 billion set in 2015 with 1,895 deals.
Yet the brokerage remained optimistic about Kings County, noting that 2017's numbers were still above recent prior years ($4.4 billion in 2012 and $5 billion in 2013.)
"2015 was really an outlier year where prices were at peak and there were bigger transactions," Ofer Cohen, the founder and chief executive officer of TerraCRG, told Commercial Observer. "I think a $6 billion to $7 billion market in Brooklyn is a normal market—it's not low, it's not high."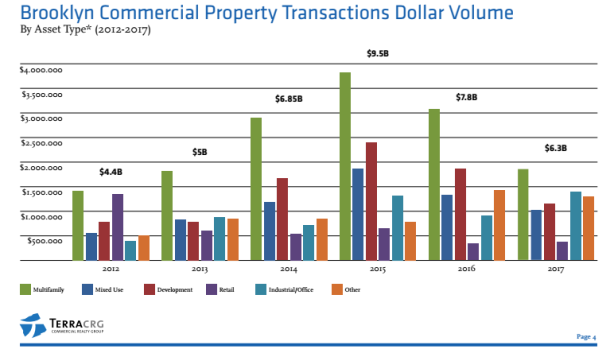 While transactions and dollar volume sank, the price per square foot for most sectors of the market was up.
Multifamily sales led the way with $1.63 billion worth of transactions in 354 deals in 2017, but that was down from $2.69 billion and 454 sales a year prior, amounting to a 39 percent drop. However, the average price per square foot in 2017 was $371, up from $361 per square foot.
In the mixed-use sector, there was $900.5 million in sales from 456 deals in 2017, which was a 21 percent decline from $1.14 billion in 2016 when there were 523 deals. Meanwhile, the price rose on average to $434 per square foot in 2017 from $419 per square foot in the previous year.
And development sites also took a large hit last year: The dollar amount of transactions dropped 38 percent to $1.01 billion in 2017 from $1.6 billion in 2016. The number of deals increased to 258 from 214 during the year, and average prices per buildable square foot rose to $224 from $206 per square foot a year prior.
Timothy King, a managing partner of CPEX Real Estate, said the decline in dollar volume and the number of transactions occurred because there are fewer investment properties and what is on the market has asking prices that were achievable during the peak a couple of years ago.
"This is very typical of a declining marketplace," King said. "Sellers [are pricing] a long way from reality for what it might have been worth two years ago."
He predicted that "2018 will be some continuation from 2017. I don't know if there is anything that has changed dramatically. Because the disconnect between buyers and sellers is so great, I think we will probably muddle along for another year or so."
Some brighter spots for the borough were the industrial and office sector (which TerraCRG counts as a single sector) and—surprisingly—retail.
The industrial and office segment had $1.2 billion in transactions in 2017, up 52 percent from $787.4 million in 2016. However, the number of deals dropped to 80 from 99 over the year. Here the average price per square foot was $409 last year, an increase from $341 in 2016.
And retail saw a 23 percent jump in dollar volume to $348.5 million compared with 2016 when it was $282.7 million, and a 48 percent increase in the amount of transactions completed to 96 from 65. The price per square foot for retail properties averaged $605 per square foot in 2017, down from $694 per square foot in 2016.
"Retail in Brooklyn is not to be compared with national retail because Brooklyn for the most part is still very under-retailed," Cohen said. "You have a lot of neighborhoods that got a lot of new buildings with new [residents], and these people want to eat and drink. So amenity retail is on the rise."
For 2018, Cohen said the overall market will tick back up to around $7 billion to $7.5 billion, predicting that there will be a boost in development sites transactions.
"I know that residential developers are going to come back into the market after digesting the Affordable New York [tax abatement]," Cohen said.