Mesa West Originates $165M Refi of Two San Diego Apartment Complexes
---
---
Mesa West Capital has originated $165 million for San Diego-based Sunroad Enterprises to refinance two San Diego, Calif. luxury rental complexes, Mesa West announced today.
The five-year, non-recourse and first-mortgage financing was split into two pieces, with Mesa West keeping a $145 million A-note and New York-based investment manager Clarion Partners keeping the remaining $20 million on its books, according to a news release from Mesa West. The deal closed December 19.
"With Clarion, we had a conversation with the borrower to bring in a partner, and leverage was important to the borrower," Mesa West Vice President Jason Bressler, who told Commercial Observer. "We identified Clarion as being active in multifamily in Southern California. HFF really helped us figure out the parameters borrower was looking for, and Clarion was a natural fit to get the execution the borrower wanted."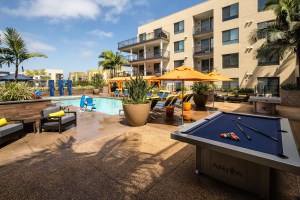 The debt is backed by Ariva Apartments and Vive on the Park, located at 4855 Ariva Way and 8725 Ariva Court, respectively, in Kearny Mesa, a suburb of San Diego.         
"We continue to be bullish on multifamily," Bressler said. "It's an asset class, in whole, that's always going to bounce back very quickly. These properties are brand new and are very high quality and what each benefits from is they are in a central location with certain demand drivers."
Ariva Apartments is comprised of 253 rental units within two four-story buildings. Construction was completed in 2014 and the building was fully occupied within 16 months of opening, according to a press release from Mesa West. The complex includes a cardio and strength playground and assigned, underground parking.
Monthly rents for Ariva range from $1,815 for 595-square-foot studios to $2,700 for a 1,241-square-foot, two-bedroom pad, according to the property's website.
The seven-story Vive on the Park was constructed June 2017 and is home to 302 units. Amenities include a pool and spa, a fitness center with multiple stories, rooftop lounges with barbeque pits, social areas with sand fire pits, a business center, a clubroom, a game room, a social club and on-site dry cleaning.
Monthly rents at Vive on the Park range from $1,835 for a 546-square-foot studio to $3,530 for a 1,409-square-foot, three-bedroom apartment.
"The sponsor has done an excellent job in leveraging the portfolio's quality finishes, high-end and diverse amenity offerings and central Kearny Mesa location in the lease up of these two projects in a very competitive market," Mesa West Principal Steve Fried, who led the origination team with Bressler, said in prepared remarks. "We are confident in their ability to maintain the strong leasing velocity to meet the demand for this type of product in one of the most rapidly developing pockets in San Diego County."
Ariva Apartments and Vive on the Park are the two most recent residential developments for Sunroad's planned 40-acre community called Sunroad Centrum, which will surround the nearby Centrum Park and will be included as part of the Spectrum Technology Center—the redevelopment of the former 232-acre General Dynamics aerospace facility—in Kearny Mesa. Once completed, Sunroad Centrum will include 1,622 multifamily units and approximately 856,000 square feet of commercial office space, according to the release.
HFF Senior Managing Directors Tim Wright and Aldon Cole—out of the firm's San Diego office—arranged the financing. Wright and Cole did not immediately respond to a request for comment. Sunroad Enterprises could not immediately be reached.
4855 Ariva Way
,
8725 Ariva Court
,
Aldon Cole
,
Ariva Apartments
,
Clarion Partners
,
HFF
,
Jason Bressler
,
Mesa West Capital
,
Spectrum Technology Center
,
Steve Fried
,
Sunroad Enterprises
,
Tim Wright
,
Vive on the Park