Gibson Dunn's Joanne Franzel Is Making Serious Deals in Meatpacking and Hudson Yards
---
---
Joanne Franzel is a partner in global law firm Gibson, Dunn & Crutcher's New York office, doing deals with Related Companies on Hudson Yards and scooping up properties for Jamestown in Manhattan and beyond.
Not bad for a part-timer.
Gibson Dunn had a policy requiring attorneys work full time for 18 months prior to becoming partner, and Franzel—a member of the firm's real estate practice—wasn't interested in going full time. But the policy was eliminated, and after about 35 years at the firm, Franzel was promoted to partner two years ago.
After she had her older son David, now 30, in 1988, Franzel started working flextime, and she hasn't looked back.
"During all those years raising my kids, I would never have gone back to a full-time schedule," Franzel said. "By the time they were out of college, I was in a groove, working on a flex basis and able to work on interesting and challenging deals, while keeping a semblance of work-life balance. I increased my overall hours somewhat, but I just wasn't willing to change my life in a big way."
Eric Feuerstein, a partner at the firm and a co-head of the real estate practice group, said Gibson Dunn is committed to accommodating "these priorities so stars like Joanne can thrive here."
Franzel, 62, paved the way for a few other part-timers to obtain partner status this year.
"She was certainly the trailblazer," said Danielle Katzir, of counsel at Gibson Dunn in the Los Angeles office, who became one of those part-time partners, the only two in the real estate practice. "She…was an incredible role model for us and the face of the firm's commitment to a flextime policy."
Trailblazer does indeed feel like the right word but not just in the area of getting a better deal for women at her law firm but also for the work she's actually doing.
Franzel lobbed a huge grenade last month when she led Jamestown's first foray into the Bronx. The landlord picked up a 10-story, 280,000-square-foot office building with retail at the base at 260 East 161st Street a few blocks from Yankee Stadium from Acadia Realty Trust for $115 million. (She declined to say anything about the deal.)
Franzel has helped Jamestown nab some notable properties like the Falchi Building in Long Island City, Queens (which she also sold for Jamestown).
She represented the company in its $310 million 2008 purchase of 1250 Broadway (along with MHP Real Estate Services) at the corner of West 32nd Street, and then she worked on Jamestown's behalf last summer in the property's sale for $565 million.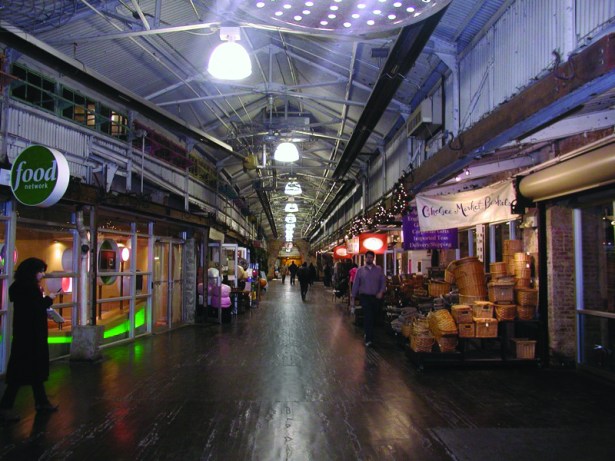 But it is at Jamestown's 1.2-million-square-foot office and retail property at 75 Ninth Avenue between West 15th and West 16th Streets, Chelsea Market, where Franzel focuses a considerable amount of her attention on retail leases.
"You know, these are little deals, and you know you could sort of look down your nose and say, eh, it's only a few hundred feet but the whole is greater than the sum of its parts," Franzel said. "And for me it's just been really exciting to be part of what Jamestown has done creatively in making this one of the top tourist destinations in town."
Michael Phillips, a principal and president of Jamestown, said of Franzel, "She's insightful, collaborative, knowledgeable, understands uniquely the types and breadth and width of the tenants we deal with from small license agreements to multinational long-term leases."
And in addition to heavyweights like Jamestown, Franzel worked with a joint venture of Related Cos. and Oxford Properties Group at Hudson Yards on the Far West Side.
With Hudson Yards, not only does Franzel get to work on the largest private real estate development in U.S. history, but from her office at 200 Park Avenue, she has a direct view of the site (at least until One Vanderbilt is erected), which runs from West 30th to West 34th Streets between 10th and 12th Avenues.
When talking with Commercial Observer, Franzel proudly pointed to the new buildings rising from what will become an 18-million-square-foot commercial and residential city within a city, talking about the deals her firm has done there.
Her personal transactions have included Time Warner's 1.5-million-square-foot office space acquisition at 30 Hudson Yards, the lease and development and construction agreement for Blackrock to relocate its headquarters to 847,000 square feet in 50 Hudson Yards and Milbank, Tweed, Hadley & McCloy's lease in more than 250,000 square feet at 55 Hudson Yards (at that site, she also handled the land acquisition for the office tower).
Franzel said Hudson Yards "is one of the most exciting projects I've worked on in my entire career."
She explained, "Related and Oxford are essentially building a small city along the Hudson River, which is development on a massive scale and incredibly complex and requires the input and cooperation of many parties, both public and private, profit and not-for-profit. Seeing how all of these forces interact to create a new environment for people to live, work and play, and having a small role in this visionary project, has been a major thrill."
Franzel's 26-year-old son Jonathan Franzel, an associate at Newmark Knight Frank, has been able to take advantage of his mother's acumen in his own real estate deals.
"When I was a year into the business and running around with tenants and drafting contracts or reading leases, she taught me a lot of the technical skills and things to look for in reviewing a lease and how to find what's important to your client, whether it be a landlord or a tenant," Jonathan said. These days he consults her on how to handle "people issues and relying on her judgment with the best way to solve [them] without offending anyone."
Heather Mutterperl, a principal of Invest-corp, said Franzel has been Investcorp's attorney in probably 15 property sales across the country since 2000. The deals have ranged in size from $25 million to over $100 million with the last one being a hotel that traded for $37 million in October 2015 in the Midwest.
Mutterperl said she appreciates that Franzel doesn't get worked up when things go awry.
"She's steady, attentive, and she doesn't get rattled," Mutterperl said. "She maintains her cool when things are not going right. She works extremely well when opposing counsel is difficult, neutralizing some tough situations."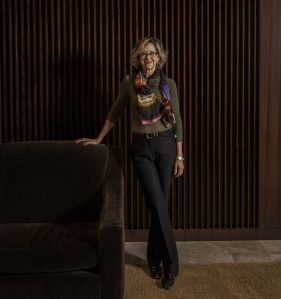 In addition, Mutterperl said of Franzel, "Joanne has an ability to synthesize a ton of information, distill it down to layman's terms. She's a problem-solver dealmaker." (Like the attorneys cited in this story, Mutterperl was wary of providing specific examples.)
Last month Franzel represented the West Side Montessori School on a pro-bono basis. The school is launching a new preschool program in cellar-level space at the Annunciation Greek Orthodox Church at 302 West 91st Street. The deal logistics, Franzel said, included handling "interesting facilities issues, trying to find ways to accommodate the day-to-day needs of two not-for-profit entities with unique uses and with any not-for-profit there are always unique compliance issues relating to rules of the New York attorney general and other governmental requirements for these types of users."
The Long Island native acquired her bachelor's from Brown University and law degree from the University of Pennsylvania. After graduating, Franzel commenced working for Gibson Dunn in the Los Angeles office. (It was during her interviews for a job that she met the person who ended up introducing her to her future husband.)
"I fled to L.A. because I didn't want to work on Wall Street," Franzel said.
It was there that she got to work on a real estate deal—a French-speaking investor buying Beverly Hills houses—and realized she liked it. One of her big first deals in New York City was selling a 29-property Bing & Bing portfolio to real estate entrepreneur Martin J. Raynes in 1985. The sale price exceeded $250 million, according to Brick Underground.
Before the sale, Franzel and her husband moved into one of the buildings, at 235 West End Avenue between West 70th and West 71st Streets. In 1990, the couple moved two blocks north into a co-op, where the Franzels still reside.
Even while always handling a serious work load, it was important to the transactional attorney to be home on Fridays and weekends with her musician husband, Jeff, and their sons Jonathan and David—the latter works in cybersecurity.
To facilitate that, Franzel avoided clients that would require night and weekend hours.
She acknowledged that, had she taken a more aggressive approach to her career, she could have been a bigger shot.
"If I worked more hours, I'd make more money," Franzel said. "If I had made that decision years ago to run for partner, I would have been further along. I'd like to think I could have been one of those high-share partners if I had chosen that route. And there certainly are other women at the firm, and at other firms, that have chosen that route, to develop a big book of business and be the big shot, be 'the playa.' It's not for everybody, and it wasn't for me. It was too important for me to be able to leave here at 6 o'clock and go home, and Jeff would pick up the food at Fairway, and I would cook dinner, and I'm sitting down at that table with my kids."
While her kids are grown up, Franzel still enjoys working part time—fielding calls in the morning and drafting documents late into the night with The Late Show With Stephen Colbert playing in the background.
In her free time, Franzel enjoys Gyrotonic training sessions and classes. "It is my addiction," she said. "Whenever I'm on vacation I find a gyro studio and I go workout for an hour. I found one in Valencia, when I was there." And she hangs out with friends and watches her husband perform. On summer weekends (and less frequently during other parts of the year), the couple can be found at their Westport, Conn., home. After renting what Franzel calls "my shitty little house" for a number of summers, the Franzels purchased it this August.
Whether she's on vacation, at her country house or enjoying personal time, Franzel pulls her weight at work. "I always kind of joked because part time for her is really full time for any other profession," Jonathan said.
"Joanne," Feuerstein said, "is truly a standout example of how someone can work on a self-tailored schedule and always provide outstanding service to our most demanding real estate institutions on their most sophisticated deals."
1250 Broadway
,
200 Park Avenue
,
235 West End Avenue
,
260 East 161st Street
,
302 West 91st Street
,
50 Hudson Yards
,
55 Hudson Yards
,
75 Ninth Avenue
,
Acadia Realty Trust
,
Annunciation Greek Orthodox Church
,
BlackRock
,
Brown University
,
Chelsea Market
,
Danielle Katzir
,
David Franzel
,
Eric Feuerstein
,
Falchi Building
,
Gibson Dunn & Crutcher
,
Heather Mutterperl
,
Invest-corp
,
Jamestown
,
Joanne Franzel
,
Jonathan Franzel
,
MHP Real Estate Services
,
Milbank Tweed Hadley & McCloy
,
Newmark Knight Frank
,
One Vanderbilt
,
Oxford Properties Group
,
Related Companies
,
Time Warner
,
University of Pennsylvania
,
West Side Montessori School
,
Yankee Stadium