Friend of the Court: REBNY Is Not Afraid to Dip Its Toes in Legal Matters
---
---
While it may not be a litigious body, the Real Estate Board of New York is willing to get down and dirty in the legal system when needed.
The 122-year-old trade association doesn't jump into the ring on every real estate-related legal case; it picks ones that have potentially serious impact on REBNY's 17,000-plus members.
"In terms of examining the cases, [they] range from tenant behavior to smoking to construction," explained Carl Hum, the general counsel for REBNY. "We have to be vigilant about all of these different areas of law. They touch upon the industry. They touch upon our membership and they touch upon how buildings are managed and constructed."
In 2017, REBNY was involved in six legal cases—one as a plaintiff and the rest as a nonlitigant. In those five cases, REBNY filed amicus curiae, or "friend of the court" briefs (from someone who is not a party to the case), to convey its members' strong opinions on the matter. In two of the cases, REBNY came out victorious, and the other four are ongoing. Commercial Observer takes a brief look at the six.
Keeping New Construction Decisions With City Agencies
A group of Upper West Siders had a beef with the New Jewish Home (previously called Jewish Home Life Care) and its plans to erect a 20-story nursing home and rehabilitation center at 125 West 97th Street between Amsterdam and Columbus Avenues.
Called the Living Center of Manhattan, the new building is slated to be the first nursing facility in New York City based on the Green House elder care model and will replace the nonprofit's current outdated nursing home at 120 West 106th Street.
Parents from the adjacent Public School 163 and residents of three neighboring buildings were upset about the environmental impact the construction would have on them and filed a lawsuit in 2015. They wanted the New Jewish Home to redo its environmental review of the project to reduce dust and noise, according to a DNAinfo story at the time.
The plaintiffs "challenged the issuance of a certificate of need" by the state health department, "which constituted authorization to construct a proposed nursing facility," according to REBNY's Sept. 20, 2017, friend-of-the-court brief on behalf of the nursing home. Before giving permission to New Jewish Home, the New York State Department of Health conducted a Final Environmental Impact Statement, or FEIS. The lower court annulled the agency's authorization, claiming it "failed to take the requisite 'hard look'…for potentially significant adverse construction impacts," REBNY's filing states. The Supreme Court Appellate Division's First Department (which covers Manhattan and the Bronx) reversed the decision, emphasizing "that it is not the province of the courts to second-guess the thoughtful deliberations of agencies and that those decisions must stand unless arbitrary, capricious or unsupported by the evidence," the brief notes.
REBNY took a stand out of fear the case "would undermine the integrity of the [New York State Environmental Quality Review Act] environmental review process," the brief says.
Hum said that REBNY "felt that this was important to weigh in on the city's land use procedures and [to reaffirm that the] EIS was done properly. We wanted to uphold the EIS."
The Court of Appeals made its determination on Dec. 13, 2017, according to Richard Leland, a partner at Akerman and REBNY's attorney in the case. The court upheld the validity and appropriateness of the EIS, a coup for REBNY.
Following the decision, REBNY President John Banks said in a statement, "This ruling reaffirms the consistent approach to environmental review in New York City's land use procedures. The board filed a friend-of-the-court brief in this case because we thought it was important to uphold this approach."
As for REBNY's involvement, Bruce Nathanson, the senior vice president of the New Jewish Home, said in a statement provided to CO, "REBNY was extremely helpful in conveying to New York's highest court the need for established and predictable environmental review procedures to ensure that both developers and nonprofit institutions like ours know what is expected in an EIS. REBNY made the point, from a practical development perspective, of how important it is to know that compliance with the detailed procedures set out in New York City's CEQR [or City Environmental Quality Review] Technical Manual should be sufficient to establish that an EIS complied with law."
A spokesman for New Jewish Home said that while the EIS matter was settled, the nonprofit organization is awaiting a decision on an unrelated case.
"Once that's been adjudicated a construction schedule will be determined," he said.
Responsibility for Compensation When Construction Workers Injure Themselves Off-Site
Another case where REBNY flexed its muscles involved an accident in connection with the construction of a Tribeca high-rise condominium.
In 2012, ironworker Robert Gerrish tripped and fell at a work site in the Bronx.
"He was bending and cutting steel rebar to be used for the construction of a new building located at 56 Leonard [Street in Manhattan]," court documents read. Since Alexico Group owns 56 Leonard Street and Lendlease was the construction manager, Gerrish sought to hold the landlord and Lendlease liable under New York's Scaffold Law, a labor law.
Lendlease subcontracted with Collavino Structures (one of the defendants), which subcontracted with Gerrish's company, Navillus Tile (nonparty), for the Bronx work. Collavino leased space in the Bronx Yard from Harlem River Yard Ventures (nonparty) for the construction work. Alexico and Lendlease were being charged with not "providing reasonable and adequate protection and safety" at the yard.
Gerrish sued Alexico and Lendlease for labor law violations. In April 2015, the New York County Supreme Court dismissed the plaintiff's labor law claim. Last February, the Supreme Court Appellate division, first department, reversed that decision.
In October, REBNY filed a brief with the New York State Court of Appeals, contending that "the Appellate Division erred in concluding that the trade contract between Lendlease and Collavino provided a nexus to impose liability on appellants for an alleged violation of labor law that occurred on property that 56 Leonard did not own and where Lendlease did not supervise or control the work side."
The organization further said the ruling would have a "detrimental effect on the real estate, construction and insurance industries by expanding their liability to an uncontrollable, limitless degree and driving up the cost of construction and insurance in New York to the state's detriment."
This case awaits an outcome.
A spokesman for Lendlease said the company does not comment on pending litigation. A spokeswoman for Alexico Group didn't respond with a comment.
Let the Conversions Recommence!
Last June, REBNY appealed a 2016 ruling that upheld the city's moratorium on hotel conversions into condominiums.
The issue relates to a bill that Mayor Bill de Blasio signed into law in June 2015 banning the conversion of more than 20 percent of the space in Manhattan hotels with at least 150 keys into other uses. Its intention? To try to cap the number of hotel owners turning their properties into residential condos.
Having 29 hotel owners as members, REBNY filed papers with the Appellate Division in June 2017.
"For those 29 REBNY members, Local Law 50 limits their right to use their property to realize its full-market value," the appeal indicates.
The board also claimed that the law shouldn't have been passed as it was a land-use matter It should have been under the purview of the City Planning Commission rather than the City Council, REBNY said.
"We believe the trial court's findings were in error," Banks said in a statement provided to CO. "We are confident the appeals court will find this restriction on hotels unconstitutional, circumvents city land use procedures, constitutes an unlawful taking and is without legitimate public purpose."
The case is ongoing, according to Hum.
Whether a Minority Partner Can Dissolve a Partnership
REBNY gave voice to a case that it fears could alter the nature of partnership agreements, which are commonplace for holding and operating real estate (particularly because of the tax advantages they offer).
In a case against Marc A. Malfitano, the majority partners of Poughkeepsie Galleria Partnership in Upstate New York said that Malfitano didn't have the right to terminate their partnership agreement.
While a lower court sided with the majority owners, the Court of Appeals decided to take up the case.
This past June, REBNY, and other real estate organizations, filed a brief with the Court of Appeals, saying, "Allowing a minority partner to deviate from the express terms of the partnership agreement in his dealings with the partnerships poses a significant threat to the stability and viability of real estate partnerships across the entire real estate industry throughout New York State—and the country."
The case is scheduled for oral arguments on Feb. 13, according to a REBNY spokesman.
Rent-Regulation Redux
This March, the Court of Appeals will determine if over 100,000 homes may return to rent-regulated status.
That is something that REBNY is fighting, landing squarely in the corner of landlord Alan Wasserman, the owner of 285 West Fourth Street, who faces a lawsuit from tenant Richard Altman over alleged rent overcharges. Altman claimed his unit was subject to rent stabilization and the landlord said otherwise.
In April 2015, the Appellate Division of the Supreme Court's First Judicial Department decided in favor of the landlord and dismissed the case, but on appeal, the tenant won with the court "eliminat[ing] post-vacancy deregulation (deregulating an apartment after it became vacant by lawfully raising the rent above the deregulation threshold)," according to New York Law Journal. In the first part of last year, REBNY filed a brief to support Wasserman.
On March 22, the Court of Appeals will issue a decision, REBNY's spokesman said.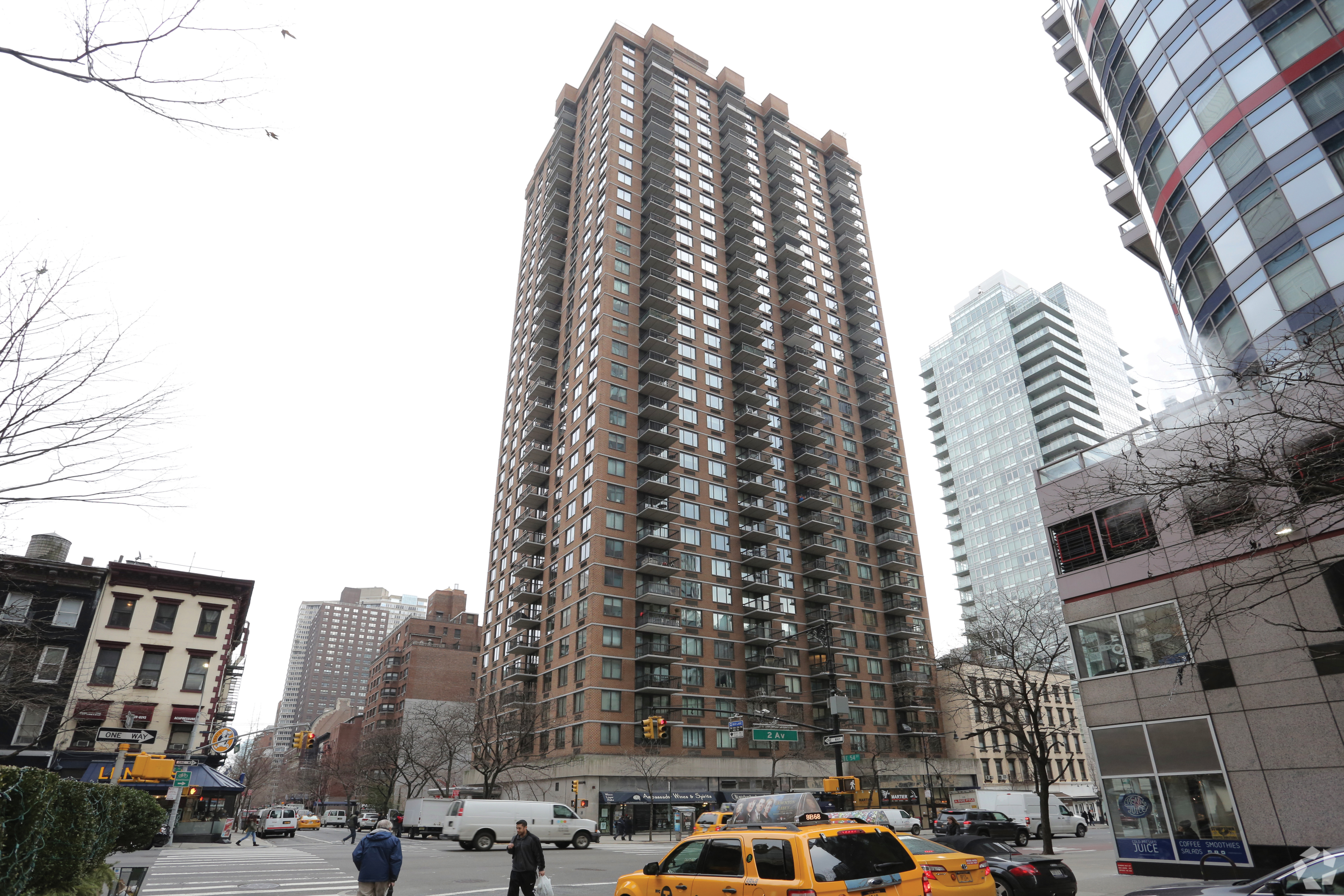 Can a Co-op Board Be Responsible for Secondhand Smoke From Another Unit?
In January 2017, REBNY got involved in a secondhand smoke case in Sutton Place.
A shareholder at Connaught Tower at 300 East 54th Street, Susan Reinhard, claimed in a 2013 lawsuit that she was entitled to a 100 percent, eight-year maintenance abatement to exceed $120,000, plus reimbursement of legal fees, because secondhand smoke from another apartment was seeping into her pad, and the co-op board didn't remediate the situation.
A Manhattan Supreme Court judge ruled in her favor in 2016. The court held that "building owners are capable, and tenants are incapable, of providing smoke-free apartments by imposing strict no-smoking policies or by constructing or rehabilitating buildings so that smoke cannot travel between apartments," as per REBNY's amicus curiae.
REBNY took issue with this premise, saying that the decision did not reflect the fact that "cooperative boards are not legally empowered to 'impos[e] strict no-smoking policies,' " according to its amicus curiae. It also disagreed with awarding the maintenance abatement to Reinhard as habitability damages as she "had no intention of using the apartment as a primary residence but rather only as a pied-a-terre." The warranty of habitability policy, REBNY said, "guarantee[s] adequate shelter in one's home, i.e., the place where one resides."
Regarding wider implications, REBNY argued that if the lower court's decision was upheld, it would "require all residential buildings—including cooperatives and condominiums which…can only act by a supermajority vote of apartment owners—to guarantee that its residents will not smell smoke (or any unpleasant odor which is allegedly attributable to smoke) in their apartments."
Finding that Reinhard did not produce sufficient evidence that the odor made her apartment uninhabitable, REBNY scored a victory when the Appellate Division reversed the lower court's decision last May.
120 West 106th Street
,
125 West 97th Street
,
285 West Fourth Street
,
300 East 54th Street
,
56 Leonard Street
,
Akerman
,
Alan Wasserman
,
Alexico Group
,
Bill de Blasio
,
Carl Hum
,
City Planning Commission
,
Collavino Structures
,
Connaught Tower
,
Harlem River Yard Ventures
,
John Banks
,
Lendlease
,
Living Center of Manhattan
,
Marc A. Malfitano
,
Navillus Tile
,
New Jewish Home
,
New York State Department of Health
,
Poughkeepsie Galleria Partnership
,
Real Estate Board of New York
,
REBNY 2018
,
Richard Altman
,
Richard Leland
,
Robert Gerrish
,
Susan Reinhard