In the Limelight: Architect Antonio Di Oronzo Brings Flair to NYC's Hottest Clubs
---
---
Developer Massimiliano Senise first met Antonio Di Oronzo through mutual friends at a Bruno Mars concert at Madison Square Garden nearly four years ago. It didn't take Senise long to realize the architect was special.
"The way he was talking, I immediately realized that he knows things," said Senise, a principal of Est4te Four. "He is also a professor, so I was very impressed by him—this guy is not just an architect he has an academic background."
A professor hanging out at Bruno Mars concerts? We hadn't heard of too many others, either.
But it makes sense given the kinds of projects that Di Oronzo is known for. In addition to the courses in architecture and design as an adjunct professor at City College, The New School and New York University Di Oronzo's 12-person boutique firm Bluarch Architecture, based at 112 West 27th Street, has designed dozens of nightclubs in New York City, and done work on everything from a shoe store and a hair salon to mixed-use buildings, to the lobby lighting in the MetLife Building to residential condominium units. And now Di Oronzo is working on ships for Carnival Cruise Lines. (The 49-year-old also does interior design and bespoke furniture.)
"If there is one thing that I'd say that has shaped the firm is we rarely say no," said Di Oronzo, the founder and principal of Bluarch. "If someone comes to us with something we haven't done before it's an opportunity."
While Senise praised Di Oronzo for his skills, the pair also clicked because of Italian roots. So last year, when the builder needed an architect for his Spring Place project—an elite private fashion and art club (with eateries, co-working space and lounge) at 6 St. John's Lane in Tribeca—Di Oronzo was one of the first people he called.
And Di Oronzo's concept for the 140,000-square-foot club, which occupies the fifth, sixth and seventh floors as well as the rooftop of the building, beat out four other architects' designs.
"He came up with this timeless space with an understated elegance that would be able to attract people from the arts and fashion industry," Senise said.
Spring Place has industrial-style concrete walls and columns with blackened steel fixtures for lights. But it is warmed by wooden floors and contemporary furniture, (designed by Di Oronzo himself and fabricated in Italy). Large sheets of glass allow light to flow through the outdoors into the space. Noticeably missing from a club for creative types is bright colors and striped or mixed-matched designs. Di Oronzo thought it was best to keep the design simple.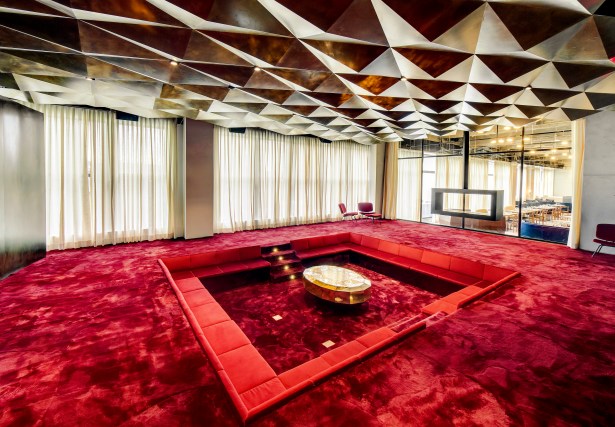 "We try to find beauty in ways that are understated," said Oronzo, a divorcee in Greenwich Village. "We don't like noise."
The fifth floor includes collaborative working spaces, boardrooms and conference rooms. The sixth floor is a social space with a restaurant and bar, lounge, music room and private dining rooms. The seventh floor, meanwhile, has private office suites and a lounge. And the rooftop houses a restaurant and lounge.
And then there is the signature space, "the sunken living room" on the sixth floor. The 1,000-square-foot space features burgundy sheepskin carpeting with a mirrored coffee table in the center. And a burgundy velour bench wraps around the room, creating a square shape. It screams luxury and was exactly what the developers wanted.
"We were looking for a space that we could replicate in other spaces," Senise said. "We were asking Antonio to come up with a space to promote interaction between members. So he came up with the Greek amphitheater where everybody is facing each other."
Senise said he and his partners are hoping to open more Spring Place locations around the country and the world, and they want to use Di Oronzo's sunken living room as a common signature space.
Following the success of that project, Di Oronzo and Senise have teamed up for a six-story condominium conversion development at 160 Imlay Street along the waterfront in the Red Hook section of Brooklyn. The project is a conversion of a 225,000-square foot industrial building to 70 loft condo units with 12- to 16-foot ceiling heights. The apartments will overlook the Statue of Liberty and the Manhattan skyline. Currently under construction, it will be completed in May.
Units are priced around $1,100 a foot, and the size of the condos range from about 885 square feet for a one-bedroom to 4,250 square feet for a penthouse triplex, which has a 1,200-square-foot private rooftop deck. The project also includes 25,000 square feet of office space and about 20,000 square feet of retail on base floors.
"When you convert from an industrial building to a residential building, there is major infrastructural work that takes place because you have to do all of the life safety items, and you have to bring in enough gas, water and electricity," Di Oronzo said. "In this case, for example, you have to have a whole infrastructural system for floods because it's on the water."
Est4te Four chose Di Oronzo for the project because of his ability to handle both.
"He is an architect that has very good knowledge of permitting and codes," Senise said. "I've worked with many architects, but I usually end up making a distinction between the architect of record and who would make the designs. But in [Di Oronzo], I find two in one."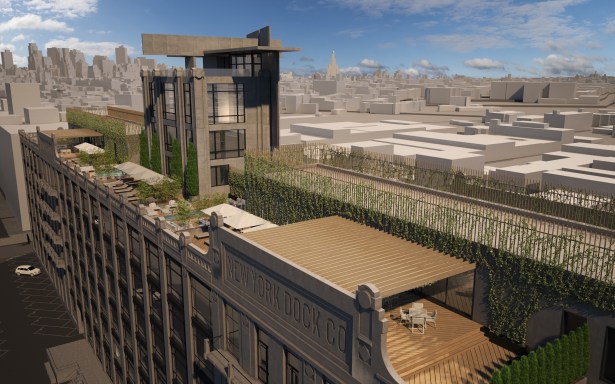 Another recent project Di Oronzo designed is a concrete retail and office building in Long Island City, Queens, at 40-17 28th Avenue. The project will be three floors, comprising about 14,500 square feet, and underground, it will have four floors of parking with 124 spaces.
Di Oronzo's vision is that the ground floor will house a restaurant, and above will be two floors for offices. And Di Oronzo drew up plans for a rooftop café, making the rooftop rentable.
"The reason why you put food and beverage at the rooftop is because you basically create value for the building beyond the floor area that you have at your disposal," Di Oronzo said.
Born in Rome to a family with construction in its blood, some of Di Oronzo's earliest memories were going with his mother to visit buildings his grandfather, a contractor, was constructing. But Di Oronzo preferred conceptualizing buildings to taking hand to shovel.
"For me, the idea of being a contractor wasn't very interesting," he said. "I like the idea of [designing] something that is going to withstand large amounts of time."
He studied architecture at the University of Rome, graduating in 1994. Then he became an officer in the Italian version of the Army Corps of Engineers for two years.
Afterward, he spent a few years working for an architecture firm in Italy, before he moved to the United States and earned a master's degree in urban planning from City College in 1999. Upon completing his degree, he remained in New York City and worked as an architect at Gruzen Samton and later at Eisenman Architects before becoming sick of designing for others. Di Oronzo launched Bluarch—with no clients—in 2004.
"I don't know if it's an issue, but I don't have the personality to be responding to someone and also delivering someone else's vision," Di Oronzo said. "There was no other way for me to be an architect. I always suffered working for other people to the point where had I not been able to open my office, I would have not been able to continue doing this profession."
To financially support himself he began teaching a variety of courses in architecture at City College, The New School and NYU, logging about 14 to 16 hours a week in academic work. (Today, he does about six hours a week at Parsons School of Design at the New School.)
In 2005, a year after starting the firm, he landed his first projects: a nightclub called Home at 532 West 27th Street and another called Guest House at 542 West 27th Street for the same owner. Di Oronzo's first office was in 542 West 27th Street, so he was able to convince the owner of both clubs to let him design the projects. He did them for free.
Those projects paved the way for many club jobs. He estimated he has designed nearly 30 such establishments in the five boroughs over the years. (The majority of them he declined to cite by name due to confidentiality agreements.)
One super popular nightclub he designed was the now-shuttered Greenhouse at 150 Varick Street in Soho, a 6,000-square-foot eco-friendly nightclub that was Leadership in Energy and Environmental Design (LEED) certified. It had a curved ceiling and walls made of bamboo. The club was outfitted with environmentally friendly custom LED light bulbs.
The club was famous for attracting celebrities but also for brawls like the Chris Brown vs. Drake fight in 2012. The establishment closed in 2014 after police raided it for "having too many customers and blasting music above the legal limit," according to The New York Post.
Nightclubs were his entrée deeper into the hospitality sector. For example in 2015, he designed the Times Square Diner at 807 Eighth Avenue between West 48th and West 49th Streets, which features a curvilinear and waffle pattern ceiling and wooden walls with hanging bulbs.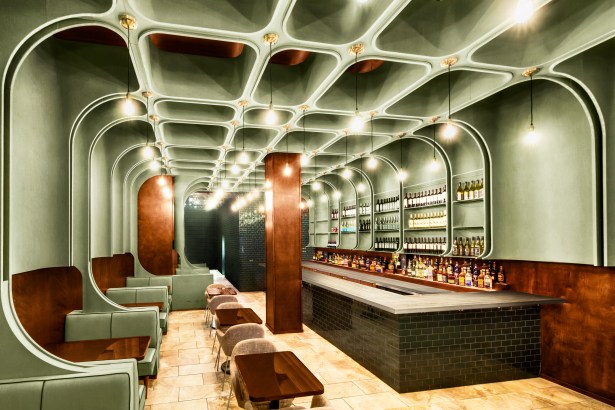 Di Oronzo's time as a professor also helped him find work. A student of Di Oronzo's was a waiter at a restaurant owner by investor Jack Trantides, who was about to build a new lounge in Astoria, Queens, but needed an architect. So the student referred him to Di Oronzo in 2008. The result was Central Bar Lounge at 20-30 Steinway Street, which also has curved wooden ceilings as well as a bar wrapped in soft white leather.
"He's definitely very talented at what he does," Trantides said. "And if you are looking for something not typical, he has a unique quality of creating a beautiful palette for your eye."
Di Oronzo teamed up with Trantides and other investors for another venue: Hudson Eatery, a restaurant that opened in 2012 at 601 West 57th Street but was shuttered in 2016 after the business collapsed.
The design was a flashy mixture of copper walls and ceilings with wooden medallions and hundreds of lights. There were also red leather booths. While Trantides and the investors loved the design, he admitted their idea to run a casual diner in the space was flawed, and that's why it failed.
"It was intimidating for people to come into the space for a casual dinner," Trantides said. "If I had made it a high-end brasserie, it would have fit that concept a bit better. That has nothing to do anything with Antonio. If you like and accept the design and you don't make it work with your concept, well it's not his fault."
Di Oronzo's portfolio is continuing to expand. His next big project will be to design a 5,200-guest cruise ship with 1,977 cabins for Carnival. The 180,000-ton ship will be the largest every built for Carnival, according to a spokesman from the company. It will unchartered waters for Di Oronzo, who has never designed a boat before. That project should be completed in 2020.
"Antonio from Bluarch has been a pleasure to work with, creating new designs for Carnival Cruise Line," Petu Kummala, the director of interior design and architecture for Carnival, said in a statement to CO. "His creativity and understanding was apparent from the moment we started to work together."
The job is tricky as a boat is not stationary, so its furnishings must be. He is limited in his choice of materials because of fire hazards and ceiling heights in most of the cabins are lower than in the average building.
"Ninety percent of the ship has eight-foot ceilings," Di Oronzo said. "So you're soaring moments as an architect are limited."
But he added, "We never solicited any business from [Carnival]. They came to us because they wanted us to design the next generation of cruise ships of the Carnival Cruise Line. There was no way I was going to say no."
112 West 27th Street
,
150 Varick Street
,
160 Inlay Street
,
20-30 Steinway Street
,
40-17 28th Avenue
,
532 West 27th Street
,
542 West 27th Street
,
6 St. John's Lane
,
Antonio Di Oronzo
,
Bluarch Architecture
,
Bruno Mars
,
Carnival Cruise Line
,
Central Bar Lounge
,
City College
,
Eisenman Architects
,
Est4te Four
,
Gruzen Samton
,
Guest House
,
Jack Trantides
,
Madison Square Garden
,
Massimiliano Senise
,
New York University
,
Spring Place
,
The New School